The blueprint comes out of recommendations found in the report from the Truth and Reconciliation Commission, a group formed to examine the impact of residential schools. It aims to see schools across the province engage more with indigenous groups, increase the study of indigenous languages and knowledge in schools, increase access to services and programs for First Nations students and eliminate racism in the classroom.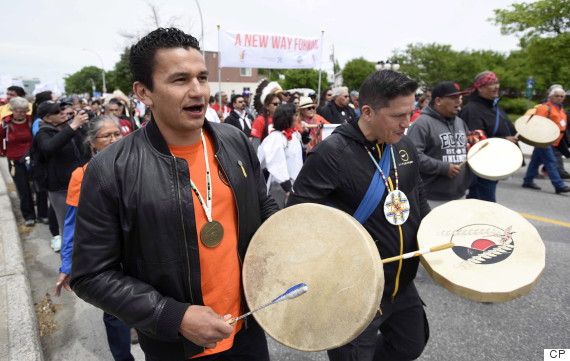 Wab Kinew, shown here at the Walk For Reconciliation in Gatineau on May 31, 2015, says students and elders want to see if schools live up to the agreement. (CP)
First Nations advocate Wab Kinew, now working at the University of Winnipeg, says it will have a tangible impact.
He says it will help to make schools a more welcoming environment for indigenous people. "Students and elders are comparing it to a treaty signing so the real test will be how well we live up to this treaty signing."
The University of Winnipeg recently became the first university in Canada to require all students to take an indigenous course in order to graduate.
"We're at the very front end of a renaissance of indigenous culture here in this province."
Education Minister James Allum says it's just another step on the path to reconciliation. "We're at the very front end of a renaissance of indigenous culture here in this province, here in this community and in this country," he says. A steering committee will be formed to work out more specifics over the next five years.

Also on HuffPost

10 Indigenous Voices That Inspire Us

Suggest a correction

WINNIPEG — Universities, colleges and public schools across Manitoba have signed a historic agreement to advance indigenous education. They all put pen to paper Friday on the first Indigenous Education Blueprint in the province.