B.C.'s Alcohol Consumption On The Rise Again, Says UVic Study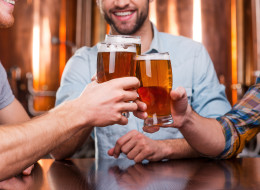 British Columbians drank their way to the largest increase in alcohol consumption in more than a decade according to a new study done by the University of Victoria.
"This is quite a noticeable change. It's about three per cent the total consumption has gone up in one year,"  said Dr. Tim Stockwell.
The University of Victoria's Centre for Addictions Research has been studying alcohol consumption for more than a decade. 
By looking at the sale of alcohol in 2014/15, they found that the numbers show the average British Columbian drinks the equivalent of 528 bottles of beer or 100 bottles of wine per year.
Story continues after infographic. Click for full size.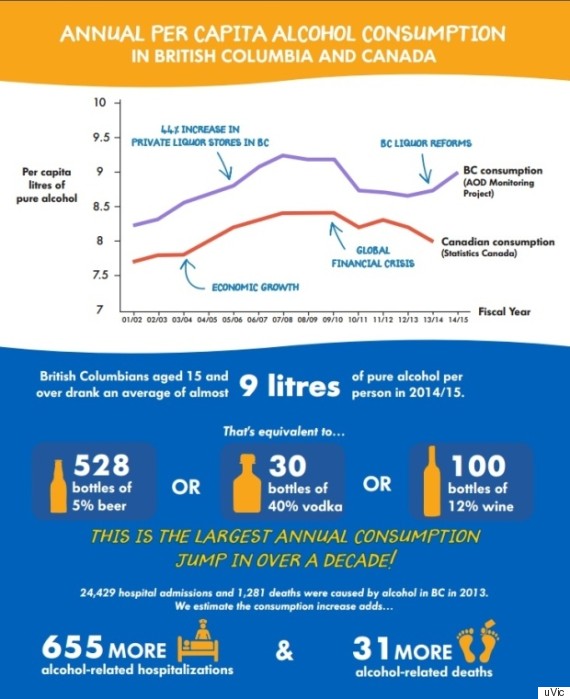 The research team says the rising level of alcohol consumption could be linked to the recent liquor reforms.

"We can't be certain, but it won't have helped that the liquor laws have been relaxing availability and improving affordability with happy hours and the like," said Stockwell. 
The research team estimates the increase in consumption translates into an extra 655 hospital admissions and 31 deaths in B.C.
While the rate of drinking is increasing after several years of decline, the total amount drunk remains below the average consumption recorded in 2007 by the researchers, following the expansion of private liquor stores in B.C.
Also On HuffPost:
17 Terribly Weird Alcoholic Beverages You Should Know About
Έχει χαρακτηριστεί ως η καυτότερη βότκα του κόσμου, με 250.000 scovilles (η κλίμακα Scoville χρησιμοποιείται για να μετριέται η θερμότητα των καυτερών φαγητών). Ακόμα και ο παρασκευαστής της γράφει στην περιγραφή του προϊόντος «Είναι τόσο φρικτή που σας προτείνουμε να μην την αγοράσετε καν».

Μακαρόνια, γάλα, τυρί και ρούμι. Απλά κρατήστε το μακριά από παιδιά.

Το κάπνισμα κάνει κακό στην υγεία. Αυτό το σφηνάκι που περιέχει Jägermeister και μαγιονέζα, μάλλον δεν είναι καλύτερο.

Κατά την κινέζικη και κορεάτικη παράδοση, πρόκειται για ένα «υγιεινό τονοτικό». Παίρνουν τα μωρά ποντικάκια αμέσως μετά τη γέννα, τα ρίχνουν ζωντανά μέσα σε ένα μεγάλο βάζο με κρασί από ρύζι και τα αφήνουν εκεί μέχρι να γίνει η απαραίτητη ζύμωση. Μόλις το κρασί απορροφηθεί, τρώνε τα ποντίκια. Ναι, αυτό συμβαίνει στην πραγματική ζωή.

Αυγό τουρσί εμποτισμένο σε Jäger ρίχνεται μέσα σε ποτήρι το οποίο έπειτα γεμίζει με περισσότερο Jäger. Σκεφτείτε καλά: θα καταναλώνατε ποτέ αυγό τουρσί, μέσα σε οτιδήποτε, με τη θέλησή σας; Είναι μια σημαντική ερώτηση.

Δεν μεταφράζεται, για προφανείς λόγους. Το λικέρ αυτό περιέχει, όπως καταλάβατε, τρία μόρια: ένα από φώκια, ένα από ελάφι και ένα από σκύλο. Υποτίθεται πως αυξάνει τη δραστικότητα και την αρρενωπότητα στους άντρες. Αν είστε τόσο απελπισμένοι...

Λες και η βότκα χρειαζόταν ένα βρώσιμο σκορπιό από την Κίνα για να γίνει πιο δυνατή. Η συγκεκριμένη βότκα πίνεται ως συστατικό σε κοκτέιλ ή και σκέτη ενώ ο σκορπιός που περιέχει λέγεται πως προσθέτει «μια λεπτή, ξυλώδη γεύση». Μούρλια.

Δεν είναι απλά μια πίτσα με μπύρα. Είναι η ΠΙΤΣΟΜΠΥΡΑ, το ποτό των ονείρων σας. Μια ζυθοποιία στο Σικάγο ανέμιξε δύο από τις μεγαλύτερες αδυναμίες των καταναλωτών και δημιούργησε αυτόν τον (επικό; αηδιαστικό; όπως το δει κανείς) συνδυασμό.

Αυτό το κατασκεύασμα από τζιν, ωμό κρόκο αυγού, αλάτι και πιπέρι αποτελεί εναλλακτική στο Στρείδι του Λιβαδιού (μπέρμπον, ταμπάσκο και ωμό αυγό), αν και αμφότερα ακούγονται κάπως εμετικά.

50% μπύρα + 50% γάλα = μια αηδία και μισή. Δύο συστατικά που δεν θα έπρεπε ποτέ να συναντηθούν και ένα ποτό που δεν θα έπρεπε να προφέρουμε καν το όνομά του (εκτός κι αν δεν ξέρετε τι σημαίνει «Horse Jizz», οπότε τόσο το καλύτερο για εσάς).

Πάρτε μια ζωντανή κόμπρα, σκοτώστε την και ανοίξτε την στη μέση, αφαιρέστε τη χοληδόχο κύστη της και πάρτε από μέσα της τη γλυκιά χολή της. Αναμίξτε την με κρασί από ρύζι και σερβίρετε σε όποιον πιστεύει πως θα πάρει τη δύναμη της κόμπρας αν το πιει. Σίγουρα υπάρχουν κάμποσοι.

Το μόνο που χρειάζεστε είναι βότκα, ταμπάσκο και μια γερή δόση μαγιονέζας κατευθείαν από το μπουκάλι. Γιαμ γιαμ γιαμ.

Εκτός κι αν είστε ο Dude, ένα ποτό με βάση το γάλα μάλλον δεν θα είναι ποτέ η πρώτη σας επιλογή στο μπαρ. Οι καβαλάρηδες της κεντρικής Ασίας, ωστόσο, έχουν διαφορετική άποψη. Αυτό το παραδοσιακό γαλακτοκομικό ποτό απολαμβάνεται εδώ και αιώνες στην εν λόγω περιοχή, ενώ παρομοιάζεται με πόσιμο γιαούρτι. Γιατί ποιος δεν έχει σκεφτεί να απολαμβάνει ένα γιαούρτι στη μορφή ροφήματος;

Απλά ανακατέψτε βότκα με Bloody Mary και μια κουταλιά τυρί κότατζ και προσπαθήστε να μην ξεράσετε ενώ το πίνετε -αν δεν το έχετε κάνει ήδη στη θέα της εικόνας του.

Είστε έτοιμοι για μια γουλιά ουισκιού Yukon Gold με λίγο από ΜΟΥΜΙΟΠΟΙΗΜΕΝΟ ΑΝΘΡΩΠΙΝΟ ΔΑΧΤΥΛΟ ΠΟΔΙΟΥ; Το Downtown Hotel στην πόλη Dawson του Yukon έχει γίνει γνωστό χάρη σε αυτό το κοκτέιλ. Για να βιώσουν την πλήρη εμπειρία, οι θαμώνες καλούνται να αφήσουν το δάχτυλο να ακουμπήσει τα χείλη τους, ενώ πίνουν την τελευταία γουλιά από αυτό το μακάβριο ποτό.

Τι καλύτερος τρόπος για να σπάσεις τα νεύρα του δικτάτορα της Βόρειας Κορέας από το να ρίξεις μερικά από τα πλέον αμερικάνικα είδη τροφίμων σε ένα μπλέντερ μαζί με λίγη βότκα και να δώσεις στο κοκτέιλ το όνομά του; Πιο συγκεκριμένα: 1 Big Mac, 1 μεγάλη μερίδα πατάτες των McDonald's, 1 πικάντικη σάλτσα BBQ των McDonald's, 1 milkshake των McDonald's (όλες τις γεύσεις) και 1 μηλόπιτα των McDonald's. Και φυσικά, βότκα.

Αυτό το κατασκεύασμα είναι η καλλιτεχνική δήλωση του James Gilpin και δυστυχώς δεν πωλείται στα καταστήματα. Ο Gilpin συλλέγει καθημερινά τα ούρα δύο ηλικιωμένων διαβητικών ασθενών, αποσπά από αυτά τη ζάχαρη που βρίσκεται σε υψηλή περιεκτικότητα και έπειτα την χρησιμοποιεί στη ζύμωση της παραγωγής ουίσκι. Λογικό.