Adam Scotti, Trudeau's Photographer, Captures The PM Like No One Else
Few have helped Justin Trudeau shape his image more than Adam Scotti.
In an era of social media, Facebook shares and Twitter posts, Scotti has been giving Canadians bite-sized stories of Trudeau as a candidate, a party leader, and now the prime minister of Canada.
"Adam has a unique ability to capture, not only a moment in time, but a moment of connection and values," said Kate Purchase, Trudeau's director of communications.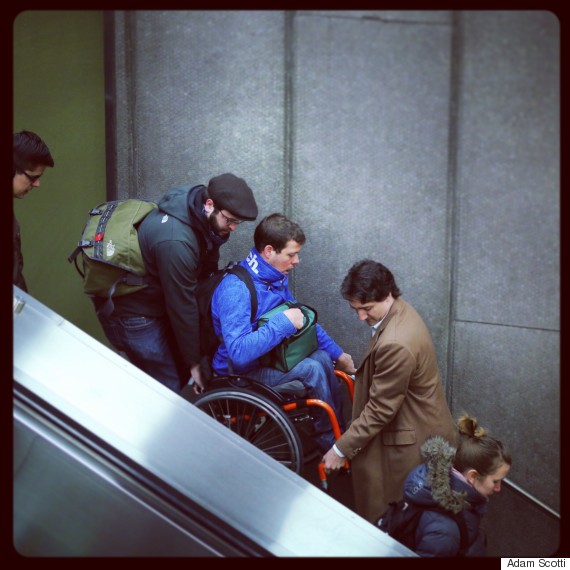 Justin Trudeau helps a man in a wheelchair get down the steps at the Montreal Metro station in 2014.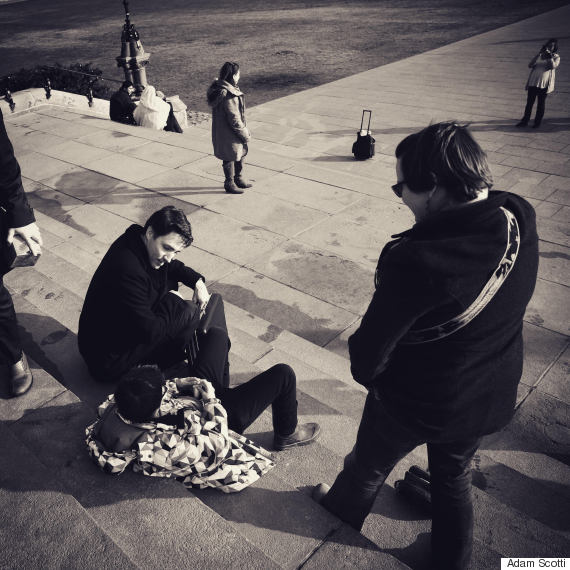 Prime Minister Justin Trudeau, a former teacher, sits down to chat with a boy who was "having a rough day on a school trip to Parliament Hill."
Gerald Butts, Trudeau's closest adviser, calls Scotti "an artist" and lauds his impact on an election campaign that was told in pictures.
"What I love about Adam is we can talk through the kind of picture I want and he figures out a way to make it better than I could have imagined," Butts said. "Adam sees things most other people don't see. He helps us connect people with the prime minister in a unique way."
Private and fiercely protective of his boss, Scotti, 26, would be the first to say Trudeau's image needs little managing.
"I'm privy to a lot more of his time in his life than others are, but I wouldn't say that he is any different in front of me than he is in front of other cameras. It's just the access.
"Everybody always says 'Oh, it's just for the photo op' and really, what I try to do is recognize people as much as I can. I wouldn't be with him if I didn't like him as an individual," Scotti told The Huffington Post Canada. "How he fathers his kids, and how he works as a team with Sophie, it's a measure of how great people they really are. How down-to-earth they are."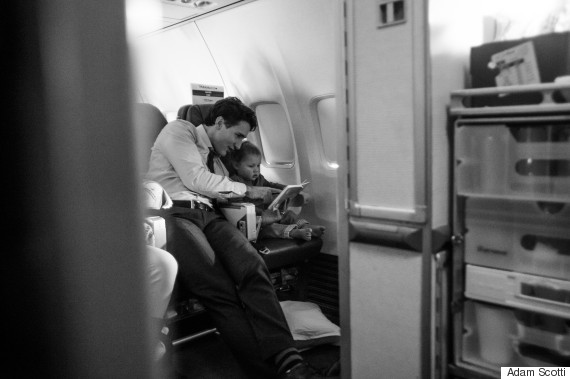 Justin Trudeau reads to his son, Hadrien, on the campaign trail.
Since the 2011 election campaign, Scotti has spent months crisscrossing the country with Trudeau and his longtime assistant, Tommy Desfossés. Working 18-hour days, crammed in tight quarters, often the back seat of a car, meeting new people and an ever expanding team, "you become very fast friends."
Scotti has watched the momentum build around Trudeau over the course of two or three years.
"We would expect 100 people and get 200 people, but you really don't know what that means once people get into the voting booth."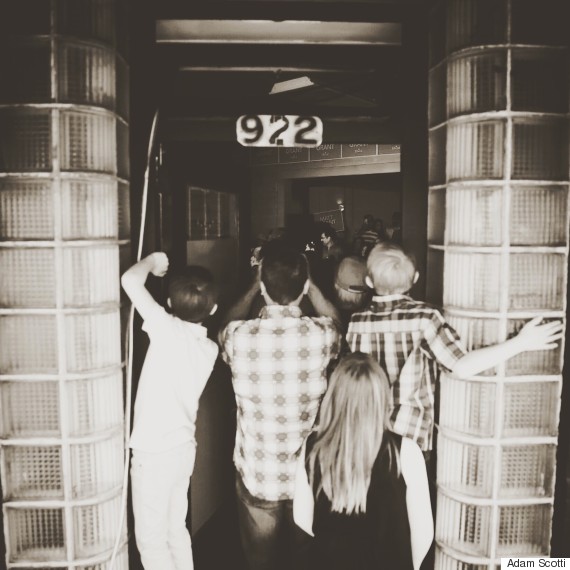 Supporters try to get a glimpse at a Calgary campaign event.
Trudeau genuinely loves to meet people, Scotti said. He often stresses life lessons on the road to Scotti and Desfossés — stop and help people. Scotti has photographed many of those moments, such as the time in Toronto when Trudeau jumped out of the car at a red light to let another driver know he had a flat tire. Scotti likes to capture people's reaction to Trudeau. "See how comfortable they are with talking to him and opening up immediately to him."
The best photos, Scotti said, are those that convey a story you're trying to tell in a self-evident way.
"I look for a story, any story, that illustrates what we are doing, where we are, the people who are there and the general emotion of what we are doing, whether it is a sad moment, or a very intense moment or a very happy moment, like meeting new people."
"I'm privy to a lot more of his time in his life than others are, but I wouldn't say that he is any different in front of me than he is in front of other cameras."
Scotti said he views his job as a "documentary person."
"I am there from sunrise to sunset, and sometimes beyond that, in order to fully document his life, those in his office and those we work with … all across Canada."
He is well aware that his photos will end up with Library and Archives Canada as a visual record of Trudeau's time in office. "It's a very rare privilege … and a great honour."
It runs in the family
Documenting Trudeau's life wasn't what Scotti originally intended to do — despite his family pedigree. His father, Bill McCarthy, was former Progressive Conservative prime minister Brian Mulroney's official photographer. (Scotti was given his mother, Annamaria's last name).
Scotti has faint memories of watching his father and Mulroney together on television when he was little. What he learned from his father was that the public's perception doesn't always match the man they intimately know.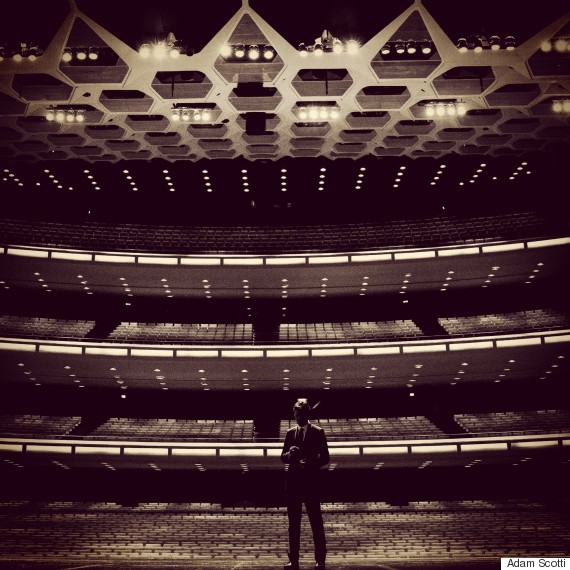 Justin Trudeau at a campaign event at Montreal's Place des Arts.
"My father always reminded me that he wasn't working for the party, he was working for the man, the individual, and to him, Mr. Mulroney is a great Canadian and a great individual."
The family moved in 1991 to Malaysia, where his mother, a public servant, worked for first the Canadian International Development Agency and later Foreign Affairs. During his teenage years, the family lived in Ghana, Rwanda and Sudan. That's where Scotti started toying around with photography. He helped out local NGOs and decided he wanted to be a photojournalist specializing in Africa.
"It really hit me when I realized the impact I could have on people's lives and how much I could help people with it."
His father lent him camera equipment and showed him how to "use stuff from time to time." He no doubt "developed an eye" after looking at thousands of his dad's pictures. But being a raucous teenager, Scotti shunned his father's advice.
He applied to enter Ryerson University's photo program but didn't get in. He turned to McGill for African Studies — hoping to learn more about his subject matter.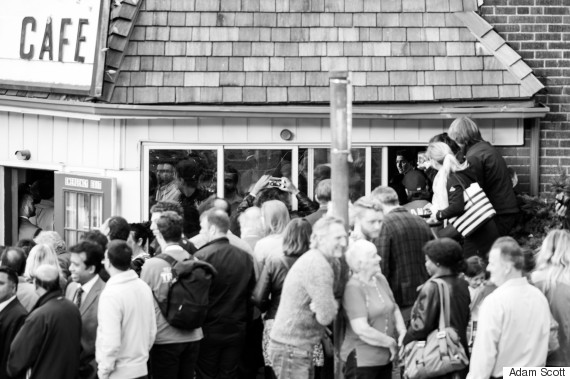 Hundreds show up to a campaign in Ontario.
That is where 21-year-old Scotti met Trudeau, at a model UN conference that he attended as a photographer for the university paper. Trudeau's office asked if he'd shoot a fundraiser for his Papineau riding association. And Scotti later offered to take pictures during the 2011 election campaign — in between his finals.
"It was a new experience and a new world in which to practice photography and learn about it."
They had "fun," and so when Scotti finished a one-year journalism program at University of King's College in Halifax the following year, he moved back to Montreal hoping to get some work on Trudeau's leadership bid.
"I am there from sunrise to sunset, and sometimes beyond that, in order to fully document his life, those in his office and those we work with … all across Canada."
He worked on the digital side of the campaign, freelancing and occasionally volunteering. All the pictures he took, he got to keep — for a coffee table book later perhaps. Side work at McGill helped pay the bills. After the leadership campaign, Scotti remained in Montreal, found work as a copy and layout editor with fashion magazine LouLou and, in April 2014, was hired by the party full-time to follow Trudeau in the lead-up to the election.
"Not just as a photographer but as an assistant and jack of all trades."
Desfossés, who spent countless hours at his side, describes Scotti as a tireless worker.
"I can't tell you how many sleepless nights he spent editing pictures or how many times he helped me doing my job, because it was only the two of us on the road," he wrote in an email. "The other thing that always impressed me about Adam is his passion for his art; always trying new things and reinventing himself without ever falling into clichés."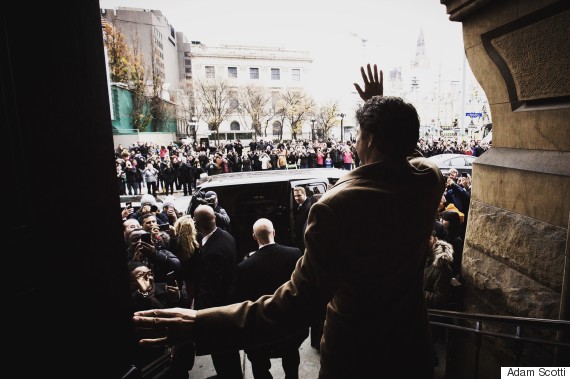 Prime Minister Justin Trudeau leaves his office.
Now that he is the official photographer of the prime minister and no longer on the campaign trail, things are a bit less hectic. A typical day starts early and finishes about 9 p.m. or 10 p.m. If Trudeau is reading and signing documents for most of the day, Scotti catches up on edits and plans ahead, checking out venues for future events.
If the schedule is packed, as it often is, he goes from event to event, finding times in between meetings to edit and file photos back to headquarters to be put out on social media and given to different government departments or whoever else might need them, he said.
His father is absolutely excited about his new job.
"He really can't get over it," Scotti said. "I would say he is almost giddy on some days when I tell them different stories. He loves to try to remind me how to relax, but he is not fully cognizant of what the digital world means.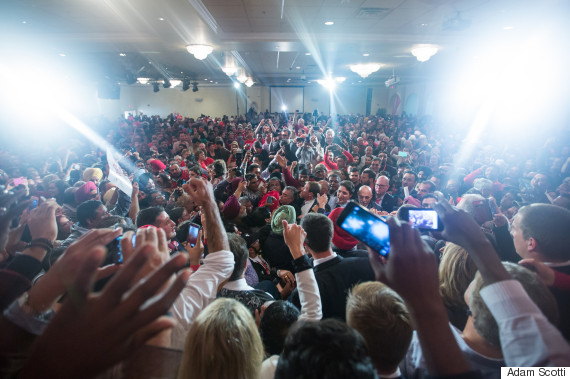 An event in Calgary just before election day.
"Back in his day, he would take 20 or 30 rolls of film in a given day or two days and would send it off. He might develop one roll if they really needed a frame but he would send them off, and see those photos two or three weeks later. Whereas, we haven't even left yet, and I have sent photos back to our team at headquarters who are preparing tweets, I'm putting my own stuff on social media, people are handing me business cards to send them photos, which I try to do on the spot, and when you then get back to your hotel, it's not 'I'm done for the night.' It's editing, captioning, and posting all the photos that you have taken to share with a wider audience again."
The most difficult pictures he's taken are the ones with the 3,000-person crowds.
"I have to try wipe the fog off my lens to be able to take a photo. None of those events are easy 'cause, especially in today's world, everybody has a camera. So when you say, 'Do you mind if I just cut in front of you to take a photo?' they look at you like you have three heads... because (they) want to take a photo on (their) iPhone too," Scotti said.
"But once people make the switch and realize what you are doing there, they are very, very helpful. But it's trying to get through a crowd of 3,000 people in 30 minutes to get all the material that you or your bosses need. It's always a trial-and-error process. Sometimes it works; sometimes it doesn't. You just need to anticipate as best you can."
I ask him if he ever takes pictures with his phone. He looks up at me with a strange look. "No…. No. No."
Scotti's favourite pictures — the more artisy and behind-the-scenes insider ones — are on Instagram
RELATED ON HUFFPOST:
Trudeau's Photographer Explains Favourite Shots
Hartley Bay, B.C. — "As we were walking around in this very very small Northern B.C. town, a woman spots the boss walking by through her window and quickly invites him in to say hello. "I didn't really care to go into her house, that was somebody's home and he was invited and we weren't. I happily stayed outside and ended up getting this great photo through the window with this wonderful woman that he ended up meeting."

Amherst, N.S. — "This is a great story of how interconnected we are as Canadians to different parts of our country. The photo in the background is the prime minister meeting this woman in Calgary at the Stampede and the photo was taken in Nova Scotia, and she showed up saying 'Hey! I'm the one on your bus.' I think we saw her one more time in the campaign in a totally different area as well. Each time, it was just a magical moment, because this woman was just so excited to see him, meet the team and now she actually got to be a part of it, in a way she could only have imagined as the setting of a great campaign bus wrap."

Hamilton, Ont. — "Here's a picture from one of our rallies with former prime minister Jean Chrétien, and he is a force all on his own to get people riled up and very, very excited. But it was fun to watch the two of them work in tandem and then see Mr. Chrétien stand aside and listen to the prime minister deliver his remarks in his speech and get the crowd worked up. I think this expression on his face really says it all without having to caption it."

Calgary, Alb. — "This is from the early days of the campaign. We were a very ragtag small team flying coast to coast. We were still flying commercial at this point. We ended up getting to Calgary in this room which — we were only expecting about 150 people — ended up having three or four hundred. And there are even more people waiting around out back in the parking lot. Of course, everybody wanted to be inside, and we crammed [in] as many people as we could. As soon as you cross this point where these kids and their father are standing, you actually got hit by a heatwave — just because it was so warm and humid inside with all the bodies."

St. Thomas University, Fredericton, N.B. — "Here is a photo of Meghan Gulliver out East in New Brunswick. She actually got a tattoo that reads: 'Just watch me' with the maple leaf on it. And it's a photo of her showing me her tattoo with the prime minister in the background, which just reminds me how much of an impact we can have on people's lives and how meaningful he is to some people, which is a great reminder of why we are in this job in the first place."

Brampton, Ont. — "Here we are at the Brampton rally, with about 7,000 supporters, in the last month of the campaign. It was absolutely amazing to see a hockey arena filled up with well-wishers and to see the family move throughout the crowd. A lot of what we do on a day-to-day basis is not just tell you know here's a photo of the PM — or the candidate at the time — it is the story around him. What did the event look like to other people. Here is a great example of how enthusiastic people were just to be there."

Calgary, Alb. — "I love [this one] because of the hands. Everybody wants to meet him, everybody wants to shake his hand. Everybody wants to share a story that they've had, either with him or with a family member of his, whether it is his mother or his father, and they just want to be a part of that — and I think it really comes across in this. And it also comes across in terms of how open he is, and how engaged he is in meeting people. He could stand in one spot for two or three hours shaking hands in this manner. And he will be just as high energy at the end as when he started."

Calgary, Alb. — "This is the inside of the previous photos event. After having moved around the room a bit and gotten some of the typical photos that you would need from these events, I moved to the back of the room as that is how he had planned to exit and then my camera started fogging up. There were, I think it was 2,000 or 3,000 people inside, and you can see the lens flaring. And what I would have to do is take a photo, wipe my camera lens, take another photo and then it would fog up by that time again. And at that point, I think it really hit home that something crazy was about to happen."

Toronto, Ont. — "It was primarily myself and the EA Tommy [Desfossés], travelling around with the boss. It's a very barebones team. He would always remind us that if you see something wrong, try to fix it, don't expect other people to come along and fix it. And sure enough that is displayed here, when he noticed that somebody unbeknownst to them had a flat tire, and he ended up getting out as we were at a red light to let them know about their flat tire. It's just a comical moment illustrating who he is and 'do have fun in your job, but also try to help others as much as you can, no matter what that is.'"

Ottawa, Ont. — "This is just a photo of my father, who was visiting me on the Hill one day for lunch, and of course, is just happy to see me at work doing the same job that he did in the halls of Parliament and also happy to run into the boss. "He asked if the prime minister liked his Mickey Mouse tie, which is a family mainstay for us. We all like Mickey Mouse ties to try to lighten the mood and remind ourselves to have fun every day."

Ottawa, Ont. — "They let me be there for private moments. It enables me to do my job to the best of my ability, and it means that, for the historical record, there is a thorough telling of the story but also, for themselves, they have great memories to look back on. And certainly for the kids, they have great memories to look back on. And especially in day of iPhones and Samsung Galaxies at least this allows them to have a very good quality image as opposed to a just dinky camera phone. "Everybody always says 'Oh, it's just for the photo op,' but really what I try to do is recognize people as much as I can. I wouldn't be with him if I didn't like him as an individual. How he fathers his kids, and how he works as a team with Sophie, is a measure of how great people they really are. How down-to-earth they are."

Manila, Philippines — "Here's a photo from one of our meetings. It's not so much about the one or two key players in the meeting but it's a story around the meeting and who else is taking part and what else is going on. "For example, I have my mother's last name simply because my parents decided to give me my mother's last name. Growing up, I have always been very attuned to women in the workplace, as my mother was the breadwinner for the family for a while and it's given me a different perspective of many of the things that we do. And this is just one of those moments where one side of the room had a lot more women than the other. And it hits home. It's nice to be able to illustrate that in an artistic way without necessarily meaning anything from it, as opposed to pointing it out and saying this is still a reality."

Ottawa, Ont. — "This is a more lighthearted moment from the past year, where our office had been given a bunch of old negatives from a TV show that had gone into archives and copied them. But old negatives are not necessarily true colours, so what you need to do is you need to take an iPhone, invert the colour and then you can look at the negatives themselves as how they were shot. So this is a fun photo of old technology meets new and a reminder how things used to be done in this job and what goes into the job now. "He loves to learn about new technology, so any fun fact or fun work-around, whatever you call it, he likes to learn it. They are photos of Mr. Trudeau senior, and some of Justin, but not many, and it's all stuff that we scanned and put away on hard drive for future reference…. Most were taken by the first person to be photographer to a PM, Robert Cooper."

Montreal, Que. — "Here is a picture of him working on his speech before his nomination in Papineau in November of last year. And I think Ella is drawing alongside him on a different piece of paper. It's always great to have the kids around, it reminds us to relax a little bit, have some fun, have a couple of laughs, and they are a great calming influence on us all because they remind us of those things."

Ottawa, Ont. — "This is a picture of the candidate at the time, Mr. Trudeau, being informed by Air Canada staff that Prime Minister Harper did, in fact, call the election as we were on our way to Vancouver to walk in the Pride parade as well as launch the campaign on the West Coast. "We'd asked the cabin crew if they could radio down to ground control, and ground control notified them as soon as anything had happened. We got a little printout, teletext message or telegraph message, as to what had happened and when we would actually vote. … We were all relieved to finally get things kicked off in a more official manner."

Iqaluit, Nunavut — "This was our second to last week, flying out of Iqaluit heading home, and just the beauty of it. We actually managed to take off in the evening, and we saw the northern lights from the plane. Seeing the Northern Lights is one thing, but seeing them from the plane is an entirely different experience."
Scotti's tools:
He inherited his father's equipment and is now tied to a Canon. He shoots with two Canon 5D Mark III cameras, one with a 24 to 70mm f/2.8 lens, the other with a 70mm to 200mm f/2.8 lens so he can be ready for anything that happens "near or far."
He carries extra lens with him, a 16-35mm f/2.8 lens and a 300mm f/4.
His more personal fun camera is a small Fuji x1 that he combines with an an adapter to use his dad's old Leica lens. "It's cheaper and the digital viewfinder means I see exactly how my photo will turn out."