Ann Makosinski, B.C. Teen Inventor, Wins $50,000 In Latest Achievement
The B.C. teen who has already been on "The Tonight Show Starring Jimmy Fallon" twice is making bank again, this time for a phone-charging travel mug.
Ann Makosinski, 18, won $50,000 from Shell this month for her resolution to "reduce the impact on the electrical grid by patenting body-heat-generated power."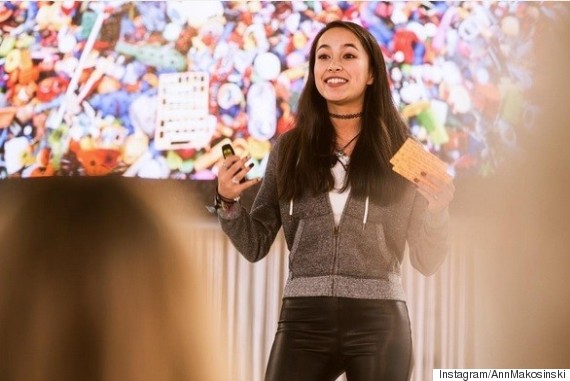 The University of British Columbia student was among those awarded the Quest Climate Change Grant. She pioneered a body heat-powered flashlight, and her latest invention is the E-DRINK cellphone charging mug, which uses heat from hot water to funnel electricity to mobile devices.
She showed it off to Fallon on a recent segment, who praised her design as "pretty impressive." She also received $5,000 as part of her appearance on the show.
This is one teen worth watching. Makosinski has already won several high-profile international awards for her incredible inventions. Check out her accomplishments — so far:
Invents body heat-powered flashlight

YouTube

Nabs $25,000 Scholarship

Submitted by Ann Makosinski

Honoured by TIME magazine

Submitted by Ann Makosinski

Has appeared on "The Tonight Show" twice

Lloyd Bishop/NBC via Getty Images

Creates body-heat powered headlamp

Submitted by Ann Makosinski

Has given TEDx Talks

In-demand speaker

Submitted by Ann Makosinski
Makosinski, who is currently studying arts and science, says she hopes to get both the E-DRINK and flashlight in stores in the new year with support from a partner company.
But the teen says she's looking forward to spending her holidays at home, and admits to the Times Colonist that her past few months "got a little nuts."
Also on HuffPost:
Calgary native Eden Full's invention, the SunSaluter, began as a science fair project, albeit one promising enough that the now 23 year old dropped out Princeton to launch her eco start-up. The SunSaluter is a low-cost, low-tech device that uses gravity and a couple water bottles to make a solar panel follow the sun, increasing energy output by 40 per cent. Intended to help provide small-scale, affordable clean energy in the developing world, the SunSaluter has now now been installed in 16 countries and counting.

Bike-share systems are now a common sight around the world, and many are powered by Bixi technology, which began in Montreal in 2008. While Bixi wasn't the first large-scale bike-share, the NY Times describes it as one of the "most innovative" thanks to the durable, vandal-proof design and the solar-powered, wifi-equipped docking stations. Bixi has admittedly had some business problems, declaring bankruptcy in 2013 before being rescued by the city of Montreal with the international division sold to an local environmentalist multimillionaire. But Bixi's bike-share tech fuels 20 systems around the world, including New York, Chicago, Madrid, Guadalajara, Toronto and London, England.

One of the first green modes of modern transport was the electric streetcar reportedly invented (but not patented) by Toronto immigrant John Joseph Wright in 1883 for that year's Exhibition. Though it didn't quite work, Wright pulled it off the following year. For the 1885 Ex, he switched from a third-rail system to overhead electrical power lines with the first public use of Belgian inventor Charles J. Van Depoele's trolley pole. This is the same basic technology that still powers many streetcars today, including Toronto's, as well as downtown bus systems like in Vancouver. Though the initial experiment was abandoned in 1989, Transit Toronto says, "city officials had been convinced of the advantages of electric operation, reducing the cost and environmental impacts of horse car operation."

Winnipeg inventor Harry Wasylyk invented the garbage bag in 1950, but despite preventing leakage, plastic garbage bags haven't been particularly good for the environment as they pile up in landfills where they can last a thousand years. Luckily another Canadian, University of Toronto chemist Dr. James Guillet, invented a biodegradable garbage bag in 1971 that decomposes when exposed to sunlight.

Surrey, B.C. resident Tom Colclough recently built a prototype biodome in his backyard where he's been able to vertically grow 6,000 strawberry plants inside a 3,000-square-foot climate-controlled plastic bubble using no soil, less energy and 1/10th the water of traditional farming. "Everyone wants local food and to be food secure," Colclough, told the Vancouver Sun. "You could put one of these in the Yukon with underfloor heat, in the desert or in a refugee camp and people could grow their own food."

Hayley Todesco, an 18-year-old Calgarian, was the Canadian winner in the 2014 Google Science Fair for inventing a process to clean oilsands waste using bacteria and sand filters. Her process breaks down the toxic naphthenic acids 14 times faster than current method. "The significance of these results is the discovery of a sustainable way to decrease the detoxification of tailings ponds from centuries to decades," she said.

Nivatha Balendra, a 19-year-old science student at McGill University, is researching the Pseudomonas, a bacteria that she discovered consumes oil and could be used in the future as an organic solution for oil spill cleanups. She's also an intern at l'Institut national de la recherche scientifique- Institut Armand-Frappier where she's hoping to develop it into a product for industrial use.

Zoo animal poop releases methane, a greenhouse gas 21 times worse than carbon dioxide. So rather than let zoo waste go to waste, 300 ZooShare investors raised $2.2 million to build North America's first Zoo biogas plant at the Toronto Zoo. As well as recycling manure, the plant will also "digest" food waste and turn both into renewable energy that feeds directly into the Ontario power grid.