Operation Backpack Shows Syrian Kids The 'Most Generous And Caring' Side Of Canadians
Inside dozens of donated backpacks — all stuffed with bright markers and books — is a note, some written by kids, welcoming Syrian refugee children to Surrey, B.C.
"Welcome to Canada, a land of kindness," reads one handwritten message. It's signed, "Love, Jake."
Former columnist Laila Yuile started Operation Backpack in November in response to news Syrian refugees would be resettling en masse in the Lower Mainland. She wanted to nip any negativity in the bud, and replace it with warm wishes for the newcomers.
Surrey, one of the province's biggest cities, could see about 800 Syrians resettle within its borders between now and the end of February.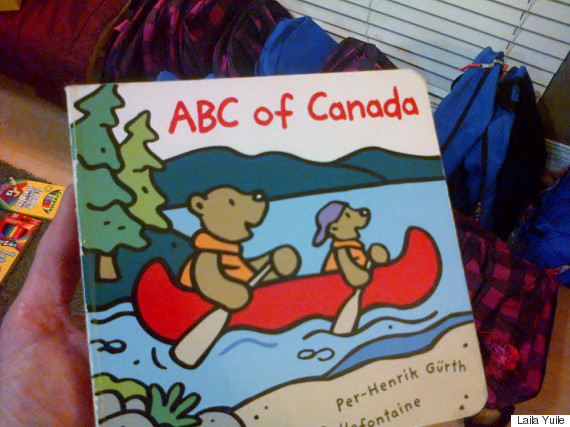 A book donated to Operation Backpack. (Photo: Laila Yuile)
Yuile said some were concerned about refugee children entering an "already crowded," underfunded school system — which the columnist said is a valid point. But bearing witness to racist comments targeting Syrian children was "appalling."
"Particularly since many of these children have had childhood experiences of war none of us could imagine," Yuile said.
Her idea to fill backpacks with school and art supplies for incoming Syrian children picked up steam on social media. She explained her motivation for the project in a blog post on Nov. 20.
"My first thought was of these children being able to feel at home, to feel like they are welcome, valued and that they have the basic tools to 
 well.. be kids," Yuile wrote.
"To me, that means at least having a backpack to get started. A place to carry your 'stuff.' Basic school supplies. Crayons. Pencil crayons. Pens, pencils, erasers, notebooks, drawing paper
 and a stuffie to hold when new places, people, and experiences change your world forever."
The idea spread and offers of donations started coming in. Lori Dennis of Surrey-based Options Community Services reached out to Yuile to offer help in distributing the backpacks through their refugee resettlement program.
It's an example of the "exceptionally heartwarming" generosity locals have shown, Yuile said.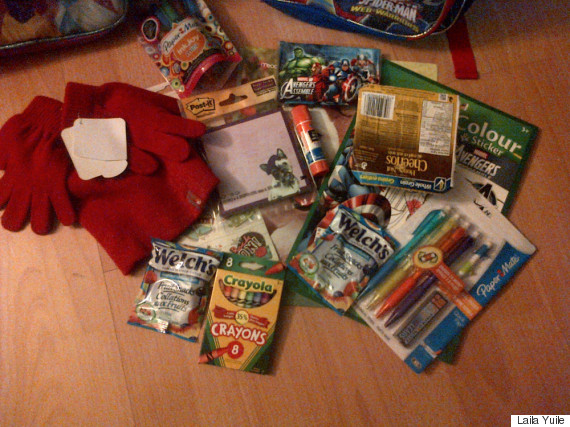 Example of donated items found inside the backpacks for Syrian refugee children. (Photo: Laila Yuile)
"Some people donated full backpacks loaded even with clothing," Yuile said, adding that some families shopped together for the brand-new items. Included in each bag is a stuffed animal donated by Cloverdale Rodeo and West Coast Amusements.
And the 57 backpacks picked up on Monday are just the beginning.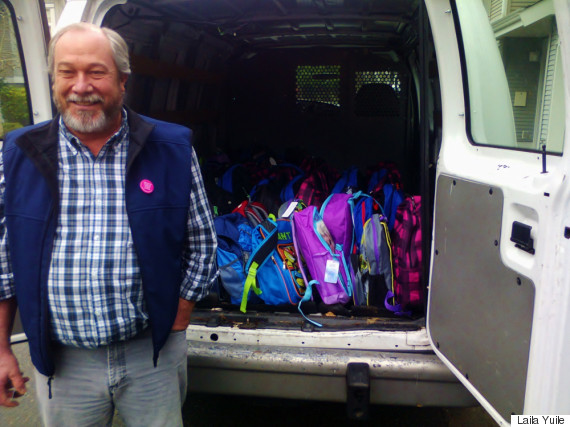 Joe Woodsworth, Options Community Services senior manager, poses with backpacks stuffed with donations for Syrian refugee children. (Photo: Laila Yuile)
Teachers at White Rock's Peace Arch Elementary will have 30 more ready for pickup in January, and a local Muslim centre and independent school are preparing another 100 backpacks on top of that.
"It was a way to welcome these children to our city, and let them [know] we care," said Yuile of why she conceived the project in the first place. She praised contributions made by local children.
"Kids are already often the most generous and caring," she said when it came to collecting warm clothing for the local homeless population. "So this was a natural extension to welcome other kids."
Also on HuffPost:
Trudeau Greets Syrian Refugees
Prime Minister Justin Trudeau greets 16-month-old Madeleine Jamkossian and her father Kevork Jamkossian, refugees fleeing the Syrian civil war, during their arrival at Pearson International airport, in Toronto on Dec. 11, 2015.

Prime Minister Justin Trudeau gives newly arrived Syrian refugee Sylvie Garabedian a winter jacket as her mother Anjilik Jaghlassian looks on.

Prime Minister Justin Trudeau greets Syrian refugees Lucie Garabedian, her father Vanig Garabedian, mother Anjilik Jaghlassian, and sister Anna-Maria Garabedian.

Prime Minister Justin Trudeau greets new Syrian refugees Georgina Zires, centre, 16--old Madeleine Jamkossian, and her father Kevork Jamkossian.

Prime Minister Justin Trudeau examines welcome bags before greeting refugees from Syria at Pearson International Airport in Toronto.

Prime Minister Justin Trudeau poses for a selfies with workers before he greets refugees from Syria.

Ontario Premier Kathleen Wynne offers a teddy bear to 16-month-old Madeleine Jamkossian and her father Kevork Jamkossian.

UP NEXT: Canada's response to the Syrian refugee crisis

In 2011, internal conflict erupted in Syria that would later escalate into a full-blown civil war that rages on to this day, now complicated by the arrival of Islamic militants from neighbouring Iraq. Since the start, the United Nations High Commissioner for Refugees has called on countries to help resettle some of the most vulnerable Syrians who can never return home, a call that grew louder as the crisis has escalated. Here's a look at how Canada responded over time. (Information by The Canadian Press) Syrians hold a large poster depicting Syria's President Bashar Assad during a rally in Damascus, Syria in 2011.

- Canada closes its embassy in Damascus, a move that would come to have major repercussions for refugee resettlement out of the Middle East as that visa post was handling the majority of the files for refugees from other countries who had sought temporary safety in Syria. Those files were then transferred to nearby countries, leaving visa officers scrambling to handle them and the start of a surge in Syrian refugee applications. - By the end of 2012, the UNHCR had registered close to half a million Syrian refugees in neighbouring countries. - Syrian Canadians call on Canada to do more to support the refugees, including speeding up family reunification programs and opening the doors to more refugees, but the government said without an official request from the UN for resettlement, it would not act. Syrian refugee girls wash their clothes at a camp in Idlib, Syria, in October of 2015.

The number of people registered as refugees from Syria or being assisted by the UN hits one million. A Syrian refugee boy at a camp in Turkey in October 2015.

The UN makes its first formal request to member countries to assist in refugee resettlement, asking for 30,000 spaces by the end of 2014. Syrian Kurdish refugees walk in the United Nations Refugee Agency refugee camp in Suruc, Sanliurfa province, in January 2015.

The Harper Conservatives promise to admit 1,300 Syrian refugees by the end of 2014, with the majority sponsored by private groups. The 200 spots available to government-assisted refugees are not new refugee spaces — the Conservatives choose to allocate the 200 they set aside each year for the Syrian program. Stephen Harper speaks in the House of Commons.

Prime Minister Stephen Harper visits a refugee camp in Jordan, one of the main host countries for Syrians. He announces $150 million in humanitarian aid; over the course of the conflict Canada has been one of the lead financial donors for relief efforts in the Middle East and North Africa. By this point, some $630 million has been committed. Stephen Harper and wife Laureen Harper visit Za'atri Refugee Camp in Jordan in January 2014.

The UN High Commissioner makes a new request: an additional 100,000 places for Syrian refugees by 2016. Canada says it is reviewing its options. Antonio Guterres, UN High Commissioner for Refugees, speaks during a press conference in Geneva, Switzerland in October 2015.

Conservative Immigration Minister Chris Alexander admits that fewer than 200 Syrian refugees have arrived in Canada since the July 2013 promise, saying the UNHCR was slow passing on referrals. Chris Alexander speaks in the House of Commons.

By the end of the month, just over 1,000 Syrian refugees have arrived in Canada, meaning the government missed its deadline. A Syrian Kurdish refugee walks in a UNHCR refugee camp in Suruc in January 2015.

The Conservative government commits to allowing 10,000 more Syrian refugees in by 2018, most through the private sponsorship program. The focus is to be on religious minorities. Syrian refugee girls sit at the United Nations Children's Fund (UNICEF) 'Child Friendly Spaces' in the Zaatari refugee camp, near the Jordanian border with Syria in 2014.

The government finally meets its July 2013 promise to resettle 1,300 people, achieving it by increasing the number of government-assisted refugees. Stephen Harper gives the thumbs up during a photo opportunity.

The Conservatives order an audit of the government-assisted refugees coming out of Syria, citing security concerns. The review identifies no problems but delays the processing of those files for several weeks. Chris Alexander speaks at a press conference in Toronto in September, 2015.

The Conservatives pledge that if re-elected, they will allow a further 10,000 Syrians in over the next four years, continuing a focus on those being persecuted because of religion. Stephen Harper takes questions from the media on the campaign trail.

- Three-year-old Alan Kurdi dies during his family's escape from Syria. The photograph of his body on a Turkish beach and word his family had considered Canada as an eventual destination sees Canada's refugee response become a dominant issue in the election campaign. - The Conservatives increase available resources for the processing of refugee applications, promise to speed up resettlement of the 10,000 originally promised places and announce they'll match donations for Syrian relief. - The Liberals say they'll bring over 25,000 government-assisted refugees as soon as possible and encourage the private sector to take in more. They later promise to bring them in by the end of the year. A handout photo courtesy of Tima Kurdi shows a photo of her three-year-old nephew Alan Kurdi.

The Liberals win a majority government and say they remain committed to refugee resettlement. Justin Trudeau waves to the crowd as they arrive to Liberal election headquarters in Montreal.

The Liberal government announces its plan to resettle 25,000 Syrians. Immigration Minister John McCallum holds a news conference with Health Minister Jane Philpott and Defence Minister Harijit Singh Sajjan.