'Significant Number' Of Harper Patronage Appointees Have Offered To Resign: Liberals
OTTAWA — The federal Liberal government says a "significant number'' of Conservative appointees have offered to step down after being asked to quit, while others will be called before parliamentary committees to explain their credentials.
But the Prime Minister's Office is refusing to provide even a numerical breakdown, citing privacy concerns for the individuals involved.
That's a sharp reversal from earlier this month, when government House leader Dominic LeBlanc announced he'd sent letters to 33 people who had been given pre-election appointment renewals by the former Harper government, which the Liberals said amounted to an "abuse of process.''
LeBlanc said he wanted their voluntary resignations and gave them until Dec. 18 to respond.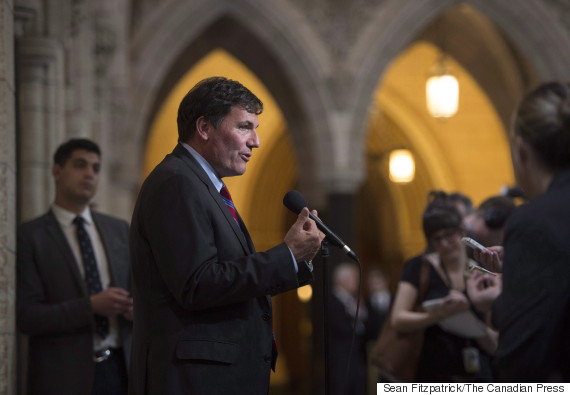 Leader of the Government in the House of Commons Dominic LeBlanc speaks to reporters in Ottawa on Nov. 5, 2015. (Sean Kilpatrick/The Canadian Press)
"Generally speaking, a large majority of the 33 appointees answered, with a significant number of them offering to step down,'' PMO spokeswoman Andree-Lyne Halle said Wednesday in an email.
"It will now be up to ministers to pursue the process with individual appointees.''
At issue are previous government appointments to boards and tribunals that were due to expire after the Oct. 19 federal election — some of them many months after the election — but were renewed in advance by the Conservatives before last summer's election call.
Among those appointed were members of the Immigration and Refugee Board, the National Energy Board and Via Rail's board of directors, as well as top executives at Canada Post and Telefilm Canada.
Out of 33 appointees identified in news reports as having received letters from LeBlanc, 19 had been re-appointed under good behaviour provisions, meaning they can only be removed with cause.
Others were appointed at pleasure, meaning their appointments can be terminated without reason.
The Prime Minister's Office says those who were appointed under good behaviour, but who have refused to voluntarily resign, will be referred to parliamentary committees for hearings.
"The committee may call the appointee to appear, however the committees do not have the power to overturn appointments,'' PMO spokesman Oliver Duchesneau said in an email.
Duchesneau added that for "those individuals who offered their resignation or were appointed at pleasure, their response will be referred to the responsible minister, who will be communicating with them directly.''
"The Liberal approach here has impugned the integrity of qualified people for no good reason."
— Rona Ambrose
LeBlanc has said the letters are not a judgment on any of the individual appointees. Rather, he said the new government considers the way the appointments were made to be illegitimate, due to lack of transparency and parliamentary scrutiny.
That's not good enough, interim Conservative Leader Rona Ambrose said in an email.
"The Liberal approach here has impugned the integrity of qualified people for no good reason,'' said Ambrose.
"If the government can demonstrate that appointments were made for reasons other than merit, they should publicly state those reasons and remove the appointees accordingly. Unless they can do that, they should be left to continue to do the jobs they have done very well.''
Two of the contested appointees who received letters — both directors of national museums — have already confirmed that they've received assurances from federal Heritage Minister Melanie Joly that she "strongly supports their renomination.''
Margaret Beckel, the director of the Canadian Museum of Nature, and Mark O'Neill, director of the Canadian Museum of History, received the assurances on Dec. 23, according to the Ottawa Citizen.
As Beckel explained to the Citizen, the timing of her reappointment last June for a new five-year term that doesn't begin until June 2016 followed industry standards. Had the government wanted to replace her, it needed at least a year to find her successor.
Another appointee, Telefilm Canada executive director Carolle Brabant, has been in contact with the Heritage minister's office and expects a formal response in the new year, her spokesman told The Canadian Press.
Also on HuffPost:
Best Canadian Political Photos Of 2015
Justin Trudeau hugs his mother Margaret Trudeau as he makes his way on stage for his acceptance speech at Liberal party headquarters in Montreal.

Stephen Harper walks off stage after addressing the crowd on election night in Calgary.

NDP Leader Thomas Mulcar waves to supporters during a campaign stop in Quebec City.

NDP Leader Thomas Mulcair joins in a standing ovation after Justice Murray Sinclair, chair of the Truth and Reconciliation Commission, calls for a national inquiry into missing and murdered indigenous women. Then-aboriginal affairs minister Bernard Valcourt does not.

Rachel Notley reacts on stage after her Alberta NDP won a stunning majority government.

Justin Trudeau is silhouetted as he paddles a canoe down the Bow River hours before a leaders' debate in Calgary.

An infant grabs the nose of Ontario Premier Kathleen Wynne at the Youville Center in Ottawa.

Former Conservative MP Eve Adams is joined by Liberal Leader Justin Trudeau at February press conference where she announced she was crossing the floor.

Justin Trudeau greets NDP Leader Thomas Mulcair during a federal election campaign stop at the annual gay pride parade in Montreal.

Conservative Leader Stephen Harper and former Toronto Mayor Rob Ford leave a campaign rally in Toronto.

Conservative Leader Stephen Harper and NDP Leader Thomas Mulcair exchange words during a French language leaders' debate in Montreal.

Justin Trudeau addresses thousands of supporters during a campaign rally in Brampton, Ontario.

Laureen Harper dances with actor Vinay Virmani at a Conservative campaign event in Brampton, Ontario.

Justin Trudeau throws his son Hadrien in the air during a campaign stop in Iqaluit.

The media bus on the Tory campaign has some trouble on the road.

Wade MacLauchlan waves to the crowd after being acclaimed leader (and incoming premier) at the Prince Edward Island Liberal leadership convention in February.

Prime Minister Justin Trudeau takes part in a bilateral meeting with U.S. President Barack Obama at the APEC Summit in Manila, Philippines.

Conservative Leader Stephen Harper is endorsed by hockey legend Wayne Gretzky during a campaign event in Toronto.

Justin Trudeau and his wife Sophie Gregoire-Trudeau walk to Rideau Hall with Trudeau's future cabinet to take part in a swearing-in ceremony in Ottawa.

Prime Minister Justin Trudeau gets emotional after speaking about the final report of the Truth and Reconciliation commission.

Stephen Harper takes a shot on a campaign staffer playing goalie on the tarmac at the airport in Kitchener, Ont.

NDP Leader Tom Mulcair shares a laugh during a campaign stop in Petty Harbour, N.L.

Dwight Ball is cheered on after his Newfoundland and Labrador Liberals win a majority government, ending 12 years of Progressive Conservative rule.

Justin Trudeau balances his young son Hadrien as he waits for the Toronto Blue Jays batting practice.

Then-Transport Minister Lisa Raitt urges Green Party Leader Elizabeth May to leave the stage during her controversial speech at the Parliamentary National Press Gallery.

Disgraced Senator Mike Duffy arrives for his trial in Ottawa in April.

Conservative Leader Stephen Harper meets with members of Scouts Canada as they make a campaign stop on the shores of McIvor Lake in Campbell River, B.C. The organization said they didn't sanction the photo-op, and reminded members that the group is non-partisan.

Convicted ex-Conservative MP Dean Del Mastro arrives at court for a bail hearing in Peterborough, Ont. in June.

Justice Minister Peter MacKay leaves Parliament Hill shortly after announcing he will not run for re-election. MacKay is now expected to make a bid for Conservative leader.

Just days after the election, Justin Trudeau and then-prime minister Stephen Harper place a wreath during a ceremony marking the one year anniversary of the attack on Parliament Hill.