5 Signs Your Home Is Outdated And How To Fix It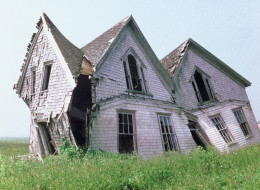 A new year is the perfect opportunity to try out a new look. But we're not talking about getting a haircut, we're talking about your home. Rearranging furniture and repainting cabinets can have a profound impact on an old home, not only increasing its value, but also making it more enjoyable for home owners to live in.
In the slideshow below, interior designer and host of "Love It Or List It" Hilary Farr, reveals five things that make a home look outdated, and five solutions to make it look more modern. From too much wood to bulky furniture — including big-backed stereos and TVs, these items have got to go.
Things That Make Your Home Look Outdated
Once quite popular, halogen potlights now make ceilings look like airport runways. "It's not green and it's not the most attractive way to light a home, we know better now," says interior designer and co-host of "Love It or List It," Hilary Farr.

If you can't reduce the amount of potlights in your home, swap the bulbs for soft white LED blubs, says Farr. "They are quite expensive, but will save a lot of energy and money." Adding dimmer switches will also help you control the balance of light.

From baseboards to kitchen floors to cabinet doors and wainscotting, Farr says old homes tend to be filled with a wide variety of finishes. "It just looks tired and so '90s."

Minimize the amount of wood in your home by painting trims and doors a soft white, then buff the floors or sand and refinish them to make them stand out, says Farr.

Another look that worked in the '90s but doesn't belong in 2016 is carpets, and especially coloured carpets and nylon carpets. And if you still have carpets in a bathroom, it's time to pull it out, not only is it outdated, it's just nasty, says Farr.

If you must have carpets in bedrooms or as a runner on stairs, choose materials like wool or bamboo in neutral tones, says Farr. "It will be healthier than synthetic which gives off toxins, and will wear better over time, and will instantly upgrade the look of your home to this century."

Whether in natural wood or white washed, kitchens with intricate mouldings and carved bits aren't just old fashioned, they're out-dated, too, Farr says.

An over-the-top kitchen can be taken down a few notches by removing and re-sanding some of the carved wood pieces. If your backsplash is the problem, consider demolishing it or, if possible, lying new tiles right on top. Even new knobs can help make an old kitchen looks modern, says Farr.

They may be comfortable, but they sure aren't fashionable. Bulky leather sofas with matching love seats are much too big for the average home, says Farr.

Sorry, not much else you can do here. Fortunately, there are smaller pieces that are both comfortable and affordable, says Farr.
But don't tear up and toss out your furniture just yet. With thousands of Syrian refugees coming into Canada over the next few month, it's the perfect opportunity to donate pieces that don't quite fit in with your decor.
And don't worry, making your home look 2016 chic won't necessarily break the bank either. While complete renovations can start as high as $25,000, Farr recommends making small upgrades like adding a fresh coat of paint and changing light fixtures. Even new towels can breathe new life into an old powder room.
Of course, if you do have the budget for it, a kitchen reno is definitely the way to go.