TSX Post-Christmas Slump Continues As Oil Falls
TORONTO — Falling oil prices dragged the Toronto stock market to a triple-digit loss on Wednesday, the second day of a post-Christmas slump.
The S&P/TSX index ended the day down 103.46 points at 13,142.29 after losing 64 points on Tuesday.
"We started the year with crude prices dictating the performance of the TSX and we're going to end the year that way as well."
The price of oil fell $1.27 to settle at US$36.60 a barrel after the U.S. Energy Administration said the country's crude oil inventories rose by 2.6 million barrels last week.
Energy stocks have taken a battering in 2015 as producers, including OPEC, have fed a worldwide supply glut and global demand has been tepid. Crude has slid from a high above US$105 in June 2014 to levels not seen since the depths of the 2008 financial crisis.
"We started the year with crude prices dictating the performance of the TSX and we're going to end the year that way as well," said Craig Jerusalim, portfolio manager at CIBC Asset Management.
The financials subsector of the TSX fell nearly 0.6 per cent on the day, and Jerusalim said they too, were feeling the pinch from the oil price.
"Despite attractive valuations and still positive earnings growth, the big six banks are unlikely to perform well until crude prices stabilize and Alberta credit visibility improves," he said.
Jerusalim said signs point to the Toronto market becoming uncoupled from oil prices next year as the broader index has returned to more normalized valuations after years of inflated returns.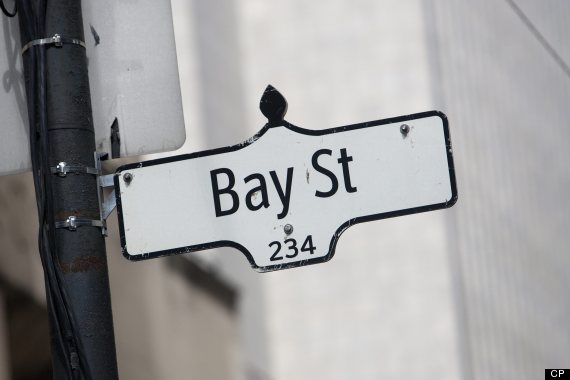 TSX continues to fall as the post-Christmas slump continues amid low oil prices. (Photo: The Canadian Press)
Even energy companies may rebound, he said, as the healthiest players snap up their rivals.
Canada's oil-sensitive loonie fell on the day after several sessions of marginal gains, dropping 0.32 of a U.S. cent to 72.02 cents US.
New York markets were also lower on weak volume ahead of the New Year's Day holiday on Friday. The Dow Jones average fell 117.11 points to 17,603.87, while the broader S&P 500 dropped 15 points to 2,063.36 and the Nasdaq lost 42.09 points to 5,065.85.
America's economy will continue its recent momentum as cheap oil prices help consumers save at the pump and boosts their spending elsewhere, Jerusalim said.
"Combine that oil price with very low interest rates, a much improved employment picture, strong and improving housing — really, I want to invest in Canadian companies that have direct exposure to that U.S. consumer," he said.
Earlier this month, the U.S. Federal Reserve raised its benchmark interest rate for the first time since before the financial crisis, which Jerusalim said was a vote of confidence in the country's recovery.
"We're seeing that first in the U.S. and we'll eventually see that up here in Canada," he said.
In other commodities, February natural gas retreated 15.6 cents to US$2.214 per mmBtu and February gold fell $8.20 to US$1,059.80 a troy ounce.
Also on HuffPost:
What Gets More Expensive When Oil Prices Rise
About 40 percent of an oil barrel yields gasoline; the rest generates a variety of other petroleum-based products, according to the Department of Energy. Anything made out of plastic is derived from petrochemicals--chemical products made from petroleum--and therefore, its production depends on the price of that barrel.

Besides delivery charges, the cost of manufacturing certain medical products depends on oil prices. Heart valves, artificial limbs and other kinds of medical equipment contain petroleum-based plastics. Antihistamines, antibiotics, antibacterials, analgesics and many other items found at pharmacies and hospitals use petrochemicals. Photo by faungg

Deodorants, soaps and lotions are all made from petrochemicals. Vinyl flooring, floor wax and lots of house-cleaning supplies also contain oil. If manufacturers need to pay more to produce these products, their prices at retail stores will likely increase as well.

It might make sense to buy things online and have items delivered to your front door instead of burning gas on shopping trips. But shipping companies also use planes, trucks, ocean vessels and railroads--all of which require oil. FedEx and UPS make customers pay fuel surcharges in addition to regular shipping costs in order to offset increases in the price of oil.

Unfortunately the items you see in stores don't grow on shelves. Most products were once on a truck. As gas prices go up, so do delivery costs. Shop owners will offset an increase in costs by charging you more for their goods.

Farmers need fuel to run their tractors. This means you'll be paying more for fruits and vegetables. You'll also be spending more to maintain your home landscaping--lots of lawn equipment burns fuel. Photo by Soil Science

Nylon and polyester are made in part from petroleum-based fibers. This means the cost of your workout attire might be affected by the price of oil.

Deutsche Bank analyst Micheal Linenberg recently predicted that to offset higher fuel costs, airlines will be increasing fares and decreasing the number of flights and sale offers. If you are thinking of vacationing anytime soon, book your plane ticket now.

Petroleum-based lubricants--such as transmission fluid, grease and motor oil--are what make your automobile function properly. High petrol prices mean that these materials will likely cost more to produce. When you go to the repair garage, don't be surprised to see higher fees for maintenance costs. Photo by sylvar

If you live in a city, then you probably expect to pay a certain rate for using public transport. Increased oil prices will likely affect that fare in the long run.