Syrian Refugees In Canada: McCallum Says 2 More Weeks To Reach 10,000 Target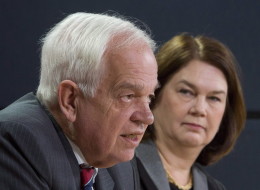 TORONTO — Two more weeks — that's how long the Liberals say it will take to get 10,000 Syrian refugees to Canada, a goal the government was hoping to have met by midnight Thursday.
But they urged Canadians not to focus on the missed deadlines and targets for the Syrian refugee resettlement program and instead focus on what the government has managed to achieve — bringing just over 6,000 Syrian refugees to Canada in a matter of weeks, a historical program they say makes Canada a world leader.
Immigration Minister John McCallum said 25,000 Syrian refugees have been identified, as promised, more than 10,000 applications have been full processed, as promised, and the 25,000 Syrians the government committed to bringing to Canada by the end of February will arrive on schedule.
"The only discrepancy is the delay of two weeks in welcoming the first 10,000 refugees to our shores,'' he said.
"So I think it is up to Canadians to decide whether this two week delay is a matter of utmost importance or whether we should instead focus on welcoming these wonderful new Canadians to our shores.''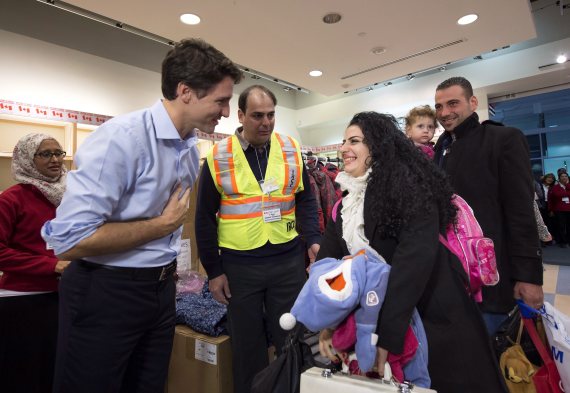 Justin Trudeau greets 16-month-old Madeleine Jamkossian, second from right, and her father Kevork Jamkossian, refugees fleeing the Syrian civil war as they arrive at Pearson International airport, in Mississauga on Dec. 11, 2015. (Photo: Nathan Denette/The Canadian Press)
The Liberals promised last March to bring 25,000 Syrian refugees to Canada and incorporated the pledge into their election platform, saying all it would take is "political will'' to resettle them by the end of the year.
But the reality of rolling out that promise has proven it takes more than that and the Liberals have amended their plan several times.
In November, they said they would resettle 10,000 privately-sponsored refugees by Dec. 31 and a further 15,000 government-assisted refugees by March 1, 2016.
The 25,000 the government committed to resettling itself are to be in Canada by the end of 2016.
McCallum said the reason all 10,000 were not in Canada by Thursday was a combination of Syrians not willing to leave their current homes as fast the Canadian government is asking them to and the fact that it took time to spool up the massive government program.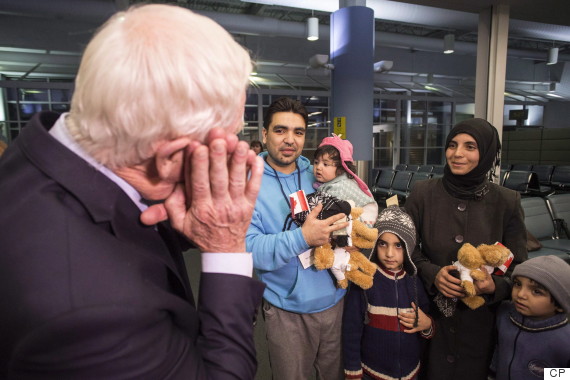 Governor General David Johnston gestures to suggest 'rest' as a family Syrian refugees tell him they had been travelling for two days upon their at the Welcome Centre at Toronto's Pearson Airport on Dec. 18, 2015. (Chris Young/The Canadian Press)
Previously, the difficulties posed by winter weather, the challenge in getting the governments of Lebanon and Turkey to assist with exit visas and other requirements and a slow start to medical screenings were also given as reasons the program took longer to get running than anticipated.
But Health Minister Jane Philpott said without the ambitious targets, nothing would have happened.
"This is something that we will look back at and not be talking about the timelines a decade from now but be talking about the amazing new Syrian Canadians who have become part of our community,'' she said.
Also on HuffPost:
Great Things Canadians Have Done So Far For Syrian Refugees
Joe Woodsworth, a senior manager with Surrey, B.C.-based Options Community Services picks up dozens of backpacks, each filled with school supplies for Syrian children. Operation Backpack is the idea of former 24Hours columnist Laila Yuile.

Malak arrived with her family in July after living in a Jordanian refugee camp for two years. Her teeth were so decayed the 5-year-old girl was kept up at night because of the pain until a local dentist stepped forward to help the family for free.

"Hopefully, together, we can prove that Canada in general and the Maritimes in particular are as generous and welcoming as the rest of the world thinks we are," P.E.I. artist Amy Seymour told HuffPost Canada.

In November, the Edmonton Oilers captain gave $10,000 to Edmonton's Mennonite Centre for Newcomers to support their work in helping to resettle incoming Syrian refugees. The donation helped the group meet its two-month goal in a single day.

The Guelph businessman made headlines last month after stepping forward to say he intended to spend $1.5 million to privately sponsor 50 Syrian refugee families to come to Canada. Estill explained he was tired of seeing refugee applications get snarled in long, bureaucratic processes. "I'm a businessperson, I'm very impatient, and we should just do it now," he said.

"It's really good to know that we're so compassionate and that we want to help," said Darrell McLeod of St. Clare's refugee family sponsorship group. "Everybody's very excited about it. Everyone's been really excited to make things happen."

Westbank Developments founder Ian Gillespie is behind many of downtown Vancouver's glitziest skyscrapers.A descendant of Irish immigrants, he made a pledge in November to furnish a 12-unit West End apartment complex and open it to incoming refugees. He also said he's exploring ways to help Syrians get jobs after they arrive in the city.

A small group of from the Keewatin Otchitchak traditional women's drum group gathered by baggage carousels to greet 17 Syrians to Treaty 1 with a song of welcome.

"I need to point out that the people who are desperate refugees are fleeing from the exact same people who perpetrated the kind of violence we saw in Paris and Beirut last week," the Calgary mayor told reporters a week after deadly attacks in France and Lebanon. "They're running away from the bad guys and, as such, we need to be able to open our arms to make sure that we can provide safety to these folks."

Christine Youssef (pictured) greets newly arrived Syrian relatives on a bus near Pearson International Airport in Mississauga on Dec. 11. Youssef and her mother are sponsoring 43 of their Syrian relatives to come to Canada. Thirteen have arrived and are staying at the family's small Scarborough, Ont. bungalow. Soon, nine of the relatives will move out, making room for more relatives to come in.

When CBC News reporter Eman Bare interviewed Mohamed Al-Noury, 21, and Athar Farroukh, 23, she realized the Syrian refugee couple had no wedding pictures. So Bare put a callout on soical media to surprise the high sweethearts with a wedding. Her request spread and within 24 hours people came forward donating a venue, suit, dress, and cake. "Grateful for a community that makes beautiful things happen," wrote Bare on Instagram below a photo taken at the couple's Saskatoon ceremony.