Joe Bower, Red Deer Teacher, Mourned On Social Media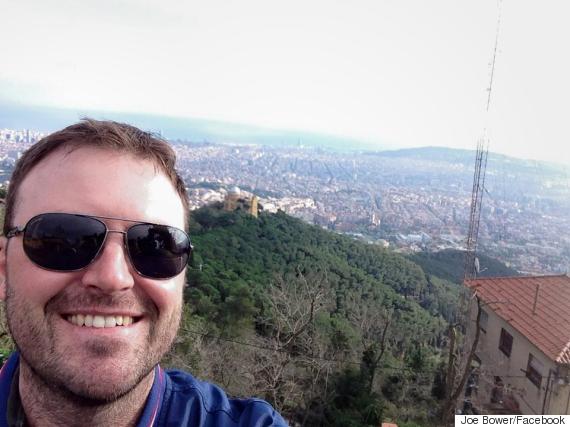 Joe Bower passed away suddenly on Sunday.
Alberta educators and politicians are mourning a beloved Red Deer teacher after his unexpected death on Sunday.
Junior high school teacher Joe Bower suffered a heart attack on New Year's Eve and passed away just days later, according to a Facebook post by his sister Jennifer Bower-Hannotte.
Bower, 37, taught for 16 years in public schools, and was an outspoken advocate for education reform through his blog "for the love of learning."
He was perhaps best known for his work lobbying against grading in schools, even publishing a book titled "De-Testing and De-Grading Schools: Authentic Alternatives to Accountability and Standardization."
"Joe was a wonderful teacher, father, and husband... He was one of those educators that you wish were in charge of an entire state or nation. He was kind, caring, compassionate, and loved children," wrote education historian Diane Ravitch on her blog.
Many people took to Twitter to honour Bower:
Mourning the loss of gifted progressive education advocate, Joe Bower of Alberta, Canada - dead at age 37 (https://t.co/OwQDxgPgFb)

— Alfie Kohn (@alfiekohn) January 4, 2016
.@joe_bower Alberta lost a great educator. Such loss is not only felt now, but for generations to come... #abed #joebower

— Thomas A. Lukaszuk (@LukaszukAB) January 4, 2016
My deepest condolences to @Joe_Bower's family: we have lost a tremendous advocate for education & progressive politics #ABleg #abed #cdnpoli

— Kent Hehr (@kenthehr) January 3, 2016
Alberta is a lesser place without @joe_bower. You gave so much to #abed, your family, your province and to education worldwide #RIPJoe

— Greg Clark (@GregClark4AB) January 4, 2016
Bower's final blog post on Dec. 17 captured his approach to teaching, and life.
"The most important things that children learn in school are not easily measured. The most meaningful things in life may, in fact, be immeasurable."
Like Us On Facebook

Follow Us On Twitter

Also on HuffPost:
Meaningful Teacher Gifts That Say Thank You
Make any gift personal by attaching this fill-in-the-blank sheet to it. Your child's thoughtful comments about their teacher are sure to make them smile. Get the printable: The Suburban Mom

If you're particularly crafty, try making this adorable, personalized tote for your child's teacher. All you need is a plain canvas bag, a needle, embroidery floss, and printable heat transferable paper. Get the instructions: Handmade Mood

This is a cute idea, especially if you get some of your kids' classmates involved as well. This book not only contains money as a small gift, but also compiles wonderful memories and thoughts from the kids. Get the instructions: Everything Is Pink

Give your kid's teacher a laugh by personalizing a bottle of wine. The custom label reads: "Our child might be the reason you drink so enjoy this bottle on us!" You can add an image of your child as well. Get the printable: Evermine Blog

For the teacher who loves nature, these potted succulents are a great idea. To make it more personalized, have your child decorate the clay pots with designs or a special message before planting. Get the instructions: Hello Bee

Every teacher has a notepad sitting on their desk, whether it's to jot down ideas or write notes for students. Either way, a notepad is essential, which is why this cute, DIY one would make a great thank you gift for teachers. Get the instructions: Seven Thirty Three

School's over and vacation time is here, which means teachers will be breaking out their wine glasses sooner or later. So why not have your child create a monogrammed glass for the occasion? Teachers will love it and are sure to use it over and over again. Get the instructions: The Real Thing With The Coake Family

This is a thoughtful gift your child's teacher will surely appreciate. Grab a mason jar and have your child fill it with special notes or memories from the school year. Source: Steamy Kitchen

Here's another thank you printable that's great for older kids to fill out. Get the printable: Thirty Hand Made Days

This is an adorable idea! Not only can you put a small gift in this terra cotta apple, but your child can also personalize it by adding their teacher's name or initials on it. Teachers will love displaying this on their desk and using it to store little knick knacks. Get the instructions: Seven Thirty Three

If you forgot to get your kid's teacher a gift, this simple gift card holder can turn your last-minute idea into something more personal. Just print out the card holder and have your child write a special message to their teacher at the top. Get the printable: Pretty Providence

15 DIY Teacher Cards For Your Kids To Say 'Thank You!'

This is such a creative and unique card your kids can do themselves! Using a wooden spool, a piece of paper, and some string, this simple craft can be made quickly and easily. Source: Fiskars

If you're strapped for time, this is a quick and fun idea! Using a few different colours of paint, have your child stamp their hand on a page to create flower petals. Then, once dry, have them add extra detail, like a stem and grass, as well as write an extra special message on the top! Source: Bautizo y Comunion

We love this creative card! Using a mix of materials – pipe cleaners, stamps, and construction paper – your kids can make a design that really pops out! Source: Craft Project Ideas

This card is adorable! Simple have your child print his or her thumbprints on to a piece of paper using different coloured paints. In each print, write a letter so that the caterpillars says, "Thanks." But don't forget to leave a print for the caterpillar's face! Younger kids especially will love making this card for their teacher. Source: Roots Down Low

This card is absolutely adorable and your kids' teachers will sure get a kick out of it too! While it will require you to grab a coffee sleeve from Starbucks, it doesn't take much else! A printable in the link below gives fills out the rest. All you have to do is attach the coffee sleeve, tie a bow, and have your child sign their name! Source: Eighteen25

This card is slightly more complicated to make than the rest, but it's well worth the effort! Using materials like chalkboard paint, popsicle sticks, and construction paper, you can help your kids make a mini chalkboard card for their teacher. What's great about this card is that you can write any message you like on it. Plus, it has a really unique look to it that your kids' teachers won't soon forget! Source: Kiwi

At the end of the year, teachers certainly deserve a round of applause for their hard work. That's why this card is perfect for showing a little appreciation. This adorable card can double as a gift too, if your kids want to go the extra mile. Just stick a hand lotion in between the hands of the card and voila! You'll have a sweet and punny card in no time! Source: A Mom's Year

This is such a fun idea! Using a pack of dollar store crayons, your kids can create the first letter of their teacher's name on the front of the card. This colourful, pop up effect is so charming and makes for a great activity for your kids! Source: The Foley Fam

This is another two-in-one idea that is both a card and a gift. Have your kids make different coloured flowers out of construction paper and write special messages on them. then use floral wire or pipe cleaners to act as stems and complete your bouquet. To take this card one step further, add your kids' flowers to a potted plant as decoration. This is a lovely gesture your children's teachers will appreciate! Source: Spoonful

Younger kids will love making this card! Take a cork and cut a small triangle off the top and bottom to give it an apple shape. Then let your kids drop it in some paint and stamp it on to the cover of their card. They can either copy the design here or come up with their own. Once dry, your kids can add some finishing touches to their painting and write a special message inside. Source: S Photos

This card doubles as a cute wearable pin! Using materials like construction paper, cardstock, or even tissue paper, you can help your kids create the award ribbon. Then use a hot glue gun to attach a pin to the back and pin the award on the card. This textured card not only looks great, but is a sweet gift for your kids to give to their teacher. Source: Fiskars

This is a pretty sweet idea! The card reads: Dear [teacher's name], Thank you for always going the Extra mile to help me. You deserve 100 Grand on your next Pay Day for all you do. Maybe even a shopping Spree this summer! You filled this school year with Mounds of fun and lots of Snickers. Either way, I could Orbit the Milky Way and never find a teacher like you! You Skor an A+ with me! Your favourite Nerds, [student's name]. Source: Pinterest

Here's a simpler version of the sweet card you previously saw! Instead of using multiple chocolate bars, these just single in on one to make a punny greeting. For instance, using Junior mints to say, "I 'mint' to tell you how much I appreciate you!" Source: Indulgy

It's a known fact that teachers love apples, so why not make them an apple-themed card? Using the stencil found in the link below, your kids can make this cute apple card quite easily! Providing them with construction paper, felt, cardstock, or any other kind of material, they can use the stencil to create the pieces of the apple and put it together. Source: Paper Crafty's Creations

With this cute and colourful idea, your kids can frame an extra special message to their teacher at the end of the year! Using a wood picture frame as a backing, simply help your kids hot glue different coloured crayons around the board, before slipping in their message. The message can anything: a quote, a statement, or even a simple message from the heart. The sky is the limit! Source: Mom It Forward

Teachers We Wish We Had

WHO: William Daniels as George Feeny WHERE HAVE I SEEN HIM? Your favourite '90s show "Boy Meets World." MEMORABLE QUOTE:"If you let people's perception of you dictate your behaviour, you will never grow as a person."

WHO: Lily Tomlin as the voice of Ms. Valerie Frizzle or The Friz or just Ms. Frizzle WHERE HAVE I SEEN HER? You know that teacher from "The Magic School Bus" who took her kids on field trips inside the human body, in outer space and who owned a pet lizard? MEMORABLE QUOTE: "Take chances, make mistakes, get messy."

WHO: Jack Black as Dewey Finn WHERE HAVE I SEEN HIM? Ex-rock star turned substitute teacher Dewey Finn in the "School of Rock." MEMORABLE QUOTE: "You've gotta feel it in your blood and guts! If you wanna rock, you gotta break the rules. You gotta get mad at the man! And right now, I'm the man. That's right, I'm the man, and who's got the guts to tell me off? Huh? Who's gonna tell me off?"

WHO: Tina Fey as Ms. Norbury WHERE HAVE I SEEN HER? The hilarious Ms. Norbury from "Mean Girls." MEMORABLE QUOTE: "OK, so we're all here 'cause of this book, right? Well, I don't know who wrote this book, but you all have got to stop calling each other sluts and whores. It just makes it OK for guys to call you sluts and whores. Who here has ever been called a slut?"

WHO: Robin Williams as John Keating WHERE HAVE I SEEN HIM? English teacher John Keating in "Dead Poets Society" MEMORABLE QUOTE: "Sucking the marrow out of life doesn't mean choking on the bone."

WHO: Hilary Swank as Erin Gruwell WHERE HAVE I SEEN HER? A young teacher who inspires at-risk students to write and pursue an education in "Freedom Writers." MEMORABLE QUOTE: "You know what this is? This is a Fuck You to me and everyone in this class. I don't want excuses. I know what you're up against. We're all of us up against something. So you better make up your mind, because until you have the balls to look me straight in the eye and tell me this is all you deserve, I am not letting you fail. Even if that means coming to your house every night until you finish the work. I see who you are. Do you understand me? I can see you. And you are not failing."

WHO: Dustin Hoffman as the voice of Mr. Bergstrom WHERE HAVE I SEEN HIM? Lisa Simpson's substitute teacher on "The Simpsons" MEMORABLE QUOTE: "I'm sorry, Lisa. It's the life of the substitute teacher. He's a fraud. Today he wears gym shorts, tomorrow he speaks French or runs a band saw or God knows what."

WHO: Michelle Pfeiffer as Louanne Johnson WHERE HAVE I SEEN HER? Ex-marine turned teacher Louanne Johnson in "Dangerous Minds." MEMORABLE QUOTE: "In my classroom, poetry is its own reward."

WHO: Jim True-Frost as Roland Pryzbylewski a.k.a. Prez WHERE HAVE I SEEN HIM? Ex-cop turned teacher on "The Wire." MEMORABLE QUOTE: "Trick 'em into thinking they aren't learning, and they do."

WHO: Maggie Smith as Professor Minerva McGonagall WHERE HAVE I SEEN HER? In the Harry Potter film series. MEMORABLE QUOTE: "I wonder, how you can expect to gain an idea of my usual teaching methods if you continue to interrupt me? You see, I do not generally permit people to talk when I am talking."

WHO: Ryan Gosling as Dan Dunne WHERE HAVE I SEEN HIM? Junior high school teacher in "Half Nelson." MEMORABLE QUOTE: "The sun goes up and then it comes down, but every time that happens what do you get? You get a new day."

WHO: Allyce Beasley as the voice of Miss Grotke WHERE HAVE I SEEN HER? Yoga-loving, feminist and hippie-like fourth grade teacher from "Recess" MEMORABLE QUOTE: "Class, please take this new history book with a grain of salt, since it focuses primarily on the history of white western males."

WHO: Wallace Shawn as Mr. Wendell Hall WHERE HAVE I SEEN HIM? In "Clueless" (the movie and the show), duh! MEMORABLE QUOTE: "Has anyone ever voluntarily read a poem that wasn't part of a school assignment?"

WHO: Embeth Davidtz as Miss Jennifer Honey WHERE HAVE I SEEN HER? The sweet and caring teacher from "Matilda" and Roald Dahl's book. MEMORABLE QUOTE: "I've often thought about it, but I can't abandon my children. And if I couldn't teach, I'd have nothing at all."

WHO: Richard Dreyfuss as Glenn Holland WHERE HAVE I SEEN HIM? High school music teacher in "Mr Holland's Opus." MEMORABLE QUOTE: "Playing music is supposed to be fun. It's about heart, it's about feelings, moving people, and something beautiful, and it's not about notes on a page. I can teach you notes on a page, I can't teach you that other stuff."