B.C. Homeowner Grants Increased After Property Values Skyrocket
VICTORIA — As the average selling price for single-family homes in Vancouver surpasses $2.5 million, the provincial government moved Tuesday to ensure residents with property assessed at less than half that amount are eligible for homeowner grants.
Finance Minister Mike de Jong said the skyrocketing price of some B.C. homes prompted the government to boost the threshold for those eligible for the $570 homeowners grant to $1.2 million.
De Jong said the increase from $1.1 million means 91 per cent of B.C. property owners remain eligible to claim the grant that cuts their annual property tax bill.
The announcement comes as annual property assessments arrive in the mail and many, particularly in Metro Vancouver, reveal dramatic increases in property values.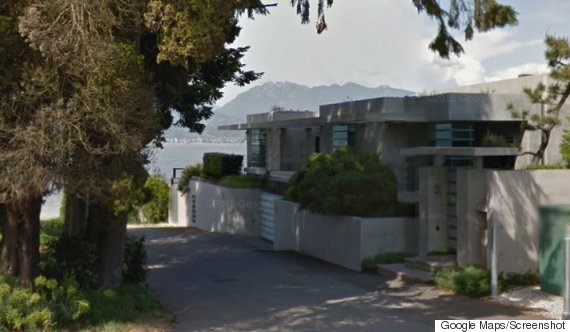 Lululemon founder Chip Wilson's home is Vancouver's most expensive for the third year in a row. (Photo: Google Maps Screenshot)
B.C.'s most expensive home is assessed at almost $64 million and belongs to Lululemon clothing founder Chip Wilson. The Vancouver home's assessed value increased almost 11 per cent from last year.
The recent BC Assessment figures indicate assessed values of detached urban homes in Metro Vancouver have increased between 15 per cent and 30 per cent over the past year.
Assessed property values have jumped in other areas of the province, with increases of almost five per cent in Victoria and nearing eight per cent in Kelowna, but no community came near the double-digit increases in Metro Vancouver.
In the northeastern B.C. mining town of Tumbler Ridge, assessed property values plummeted more than 36 per cent.
"The fact that people's net worth and the value of the equity in their home is going up is a nice problem to have."
De Jong said rising property assessments are generally positive developments for homeowners who are realizing increases in their equity.
"The fact that people's net worth and the value of the equity in their home is going up is a nice problem to have,'' he said. "I haven't met too many homeowners saying, 'I'm offended because I have an extra $200,000 in equity in my home.'''
De Jong downplayed fears of homeowners facing huge tax bills tied to their increased property values, saying local governments set rates, and assessment increases do not necessarily signal coinciding tax hikes.
He added the government has tax deferment programs for seniors or others facing higher costs. Homeowners whose principal residences are valued above $1.2 million are still eligible to receive a portion of the $570 grant.
"I haven't met too many homeowners saying, 'I'm offended because I have an extra $200,000 in equity in my home.'''"
Vancouver Mayor Gregor Robertson said in a statement that the latest assessment numbers reveal the alarming difference between the city's property values and incomes. Robertson called for bold action by the B.C. and federal governments to make housing more affordable.
"Far too many families on modest incomes cannot afford to live in our city or even in this region, which has enormous consequences for Vancouver's economy and quality of life,'' said Robertson.
The statement said the average selling price of a detached home in Vancouver "has surpassed $2.5 million.''
Economist Bryan Yu, at B.C.'s Central 1 Credit Union, said the new grant threshold does capture property values for most British Columbians, but it also signals the death of the single-family home dream for many in Metro Vancouver.
He said most Vancouver-area residents are living in townhomes or condominiums where the average market price is in the $600,000 range.
"Given income levels in the region, they aren't matching growth in terms of the home values for single-family homes,'' Yu said.
Also On HuffPost:
Craziest Vancouver Real Estate Stories Of 2015
This home was listed at just under $3 million in June, and was sold to an offshore buyer for $4.1 million after a couple hours, the realtor said.

This abandoned home (read: eyesore) became a dumping ground over several months in 2015. Piles of rotting trash and unwanted furniture attracted rodents to the area, and the smell was sometimes so bad that neighbours refused to open their back doors. The house was assessed at $813,000, and others in the area were valued at over $1 million.

"Avail now. Bring your tent." A Craigslist ad advertised a backyard for rent for $500 per month. WiFi, use of the home's bathroom, kitchen, laundry, and "art room" were part of the deal. Great for travellers, apparently!

This Tudor home in Vancouver's ritzy Shaughnessy neighbourhood was listed for $5.99 million in May. After 12 days, it sold for just over $8 million. "When you've got too little supply (of detached houses) and too many buyers, that's always what happens," realtor Stuart Bonner told The Province.

Bargain alert: a former grow-op hit the market in March for $930,000. The 1968 two-storey home was in such bad shape that no one could live in it. The house got an occupancy permit back in 2001, and was renovated before it was listed. The price was mostly because of the 6,000 sq.-ft. lot.

This rare, 3.6-metre wide home sold in April for $1.35 million. Tucked in the upscale Point Grey neighbourhood, the floor space is only 945 sq.-ft., but manages to cram in a full kitchen, master bedroom, living room, garage, den and 1.5 bathrooms. The home is believed to be one of the last of its kind in the entire city, according to the realtor.

This house, listed for just under $1.6 million, sold for $2.17 million in March — a mind-boggling 35 per cent over asking. "It was the highest price per square foot ever achieved for an East Vancouver home," realtor Paul Eviston told CBC News.

Chump change, amirite? This 25,000 sq.-ft. mansion, which sits on a 1.09 hectare property, was purchased in December 2014 for $51 million. (Details of the sale were made public in March.) The deal included a movie theatre, grass tennis court, and 10-car garage, according to the CBC.

Talk about a sweet deal! This (very well-decorated) gingerbread house was advertised on Craigslist for $4.5 million in December. It's a one-bedroom home that's a single sq. ft. in size. The baking sheet upon which it stands was not included in the sale. The seller asked for "serious" inquires only.