Sea-to-Sky Highway just north of Horseshoe Bay early Wednesday morning.
The rocks came down around 1:30 a.m. PT between Ansell Place and Eagleridge Drive, closing the northbound lanes.
Snowplows were used to clear away some of the debris and the northbound lanes reopened before 3 a.m. Southbound traffic wasn't affected.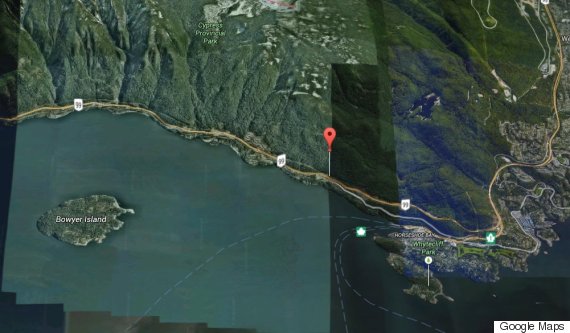 The site of the slide. (Google Maps)

Previous slides in the area

The area of the slide was part of $600 million upgrade of the route for the 2010 Winter Games. Prior to the upgrade in February 2007, the highway was closed for seven hours by a rock slide in roughly the same area.

Rockslides are not uncommon on the route that connects Vancouver with Whistler. In 2008 the route was closed for five days by a much larger rock slide farther north at Porteau Cove.

That section of the highway, which was not widened during the upgrade, has been closed several other times by slides, including closures in 1959, 1960, 1969 and 1982.

Suggest a correction

Several cars were damaged and some drivers were slightly injured early this morning when rocks tumbled across the