Stéphane Dion Stands By $15B Saudi Arms Deal After Executions
A $15-billion contract signed under the previous government to supply Saudi Arabia with light-armoured military vehicles won't be revisited after the execution of dozens of prisoners in that country, the foreign minister says.
Sheik Nimr al-Nimr, a prominent Shia cleric, was one of 47 prisoners recently executed by Saudi Arabia.
"We have said during the campaign — the prime minister has been very clear — that we will not cancel this contract or contracts that have been done under the previous government in general," Stéphane Dion said Tuesday in an interview with Rosemary Barton on CBC's Power and Politics.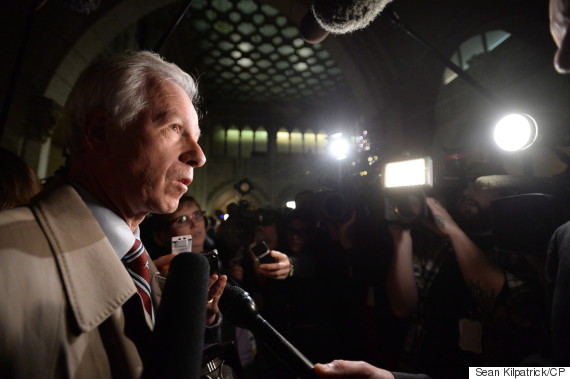 Stephane Dion speaks to reporters on Parliament Hill. (Photo: Sean Kilpatrick/CP)
"We'll review the process by which these contracts are assessed in the future. But what is done is done and the contract is not something that we'll revisit," Dion said.
The issue of whether Canada should sell military equipment to a country with such a poor human rights record was a subject of debate during the last federal election campaign. The arms deal roared back onto the political agenda after the most recent executions in Saudi Arabia were announced over the weekend.
Activists in Canada fear that the light-armoured vehicles (LAVs), being manufactured by General Dynamics Land Systems in London, Ont., could be used by the Saudi regime to carry out further violence against its own people.
'I'd sign it again today,' Baird says
But former foreign affairs minister John Baird said in a separate interview with Barton that the multi-billion dollar deal has merit.
Baird said while Canada and Saudi Arabia "share many different values" there are also common interests. There's an economic interest linked to the deal, he said, but also a shared interest in security as the battle against the Islamic State continues.
"I'd sign it again today," Baird said of the deal, which will support manufacturing jobs in Ontario.
He said the Liberals choosing to honour the commitment made under the last government "says all you need to say."
"It obviously isn't that bad. Obviously we have a lot of military jobs in Canada, we export to a lot of countries," he said.
Canada to restore relations with Iran
Since the Shia cleric's execution, a diplomatic row between Iran and Saudi Arabia has escalated. Iranian protesters stormed the Saudi embassy in Tehran and Iran's top leader, Ayatollah Ali Khamenei, predicted "divine vengeance" for the execution.
Dion condemned the executions and the subsequent violence in Tehran directed at the Saudi embassy.
He said Canada could play a more robust role in easing tensions between the two powers if it had a diplomatic relationship with Iran, despite its questionable record.
"The fact that Canada is not in Tehran is helping nobody. It's not helping the population of Iran, it's not helping Saudi Arabia, it's not helping Israel — so we need to engage Iran in trying to be positive in the region," the foreign minister said.
Baird, who closed the Canadian embassy in Iran during his tenure, said he was deeply skeptical of the new government's openness to a rapprochement with Tehran.
"I don't know how … any reasonable person could expect that you could count on the government of Iran to come in and defend your embassy if it came under attack," Baird said, adding that Canada should demand improvement to Iran's record on human rights, and "some meaningful action in terms of their material support for state-sponsored terrorism," before restoring any diplomatic ties.
ALSO ON HUFFPOST:
Notable Political Quotes From 2015
Here are some of the most notable quotes from the world of Canadian politics in 2015, listed chronologically.

"The prohibition on physician-assisted dying infringes on the right to life, liberty and security of the person in a manner that is not in accordance with the principles of fundamental justice.'' — Text from the unanimous Supreme Court ruling handed down in February legalizing physician-assisted suicide in some cases. Lee Carter and her husband Hollis Johnson kiss outside The Supreme Court of Canada in February. Carter took her mother, Kathleen, to Switzerland in 2010 for an assisted death.

"Military planners will tell us that for a mission to succeed, it must have two things. It must have a well-defined objective and a well-defined exit strategy. This mission has neither. The Conservatives simply have no plan. They have no strategy, other than the obvious political one, and that is putting our troops in danger.'' — NDP Leader Tom Mulcair voicing opposition to the Conservative government's plan to launch a military mission against ISIL.

"Your grief is our grief. We can only hope that, in time, we will find common purpose towards diminishing the causes of such violent crimes. For now, we just want to be there for Marc, our incredibly caring son who loved his brother very much, and to say goodbye, ever so tenderly and quietly to Jean, our love." — Canadian diplomat Roxanne Dube issuing a statement after the March death of her eldest son Jean Wabafiyebazu. Her younger son Marc is accused in the death of his brother in a drug deal gone wrong.

"Whether you are a business leader, a union leader, a municipal leader, someone who leads in our civil society or whether you are a plain-old just great, wonderful Albertan, let me say this to you: Our legislature belongs to you.'' — Alberta Premier Rachel Notley addressing NDP supporters after her May 5 election win, which put an end to more than four decades of Conservative rule in the province.

"I have met, seen, heard and listened to men and women who believe, more than ever, that Quebec must become a country. And that is great, because I think the same thing." — Former media mogul Pierre-Karl Peladeau after being elected leader of the Parti Quebecois in May. Peladeau greets former PQ leader Pauline Marois after his election.

"The residential school experience is clearly one of the darkest, most troubling chapters in our collective history. The survivors showed great courage, great conviction and trust to us in sharing their stories. These were heartbreaking, tragic and shocking accounts of discrimination, deprivation and all manner of physical, sexual, emotional and mental abuse.'' — Justice Murray Sinclair speaking at the June release of the Truth and Reconciliation Commission Report, which documented the devastating impact that Canada's residential school system had on its First Nations population.

"Rid yourself of those racial stereotypes of Indians and indigenous people being dumb and lazy and drunk on welfare. Rid yourself of those things, so new things can come in." — Assembly of First Nations Chief Perry Bellegarde reacting to the Truth and Reconciliation Commission's report and exhorting Canadians to take its findings to heart.

"This is sort of Matthew:6, right? You should do those things quietly, and not let your left hand know what your right hand is doing." — Nigel Wright, former chief of staff to Stephen Harper, testifying on Aug. 13 at the fraud trial for former senator Mike Duffy. Wright was citing scripture to explain his decision to cut Duffy a cheque for $90,000 to cover some of his questionable expenses.

"The first thing that crossed our mind was remembering our own son, Ben, at that age running around. It brings tears to your eye." — Then-Prime Minister Stephen Harper in Surrey, B.C., on Sept. 3, recalling his and Laureen Harper's thoughts upon seeing the photo of a dead Syrian boy on a beach after his overcrowded boat capsized and sparked global outrage at the plight of Syrian refugees.

"I am the one who should be at blame. I blame myself because my brother does not have money. I sent him the money to pay the smuggler. If I didn't send him the money, those people still (would be) alive."— Tima Kurdi, speaking on Sept. 5 in B.C. and taking the blame for the death of her three-year-old nephew, Alan.

"We do not offer them a better health plan than the ordinary Canadian can receive. That's something that most new and existing and old-stock Canadians agree with."— Harper, speaking at an election debate on Sept. 17 about a plan to strip some health-care benefits from refugees. The remark drew criticism that Harper and the Conservatives believed in two classes of Canadian citizens.

"(The public) is not informed. They are being misguided by the government on this particular issue. They were of the view that Muslim women who are wearing the niqab objected to show their identity for security purposes, but that's not the case .... The image of Muslim women, and as a whole the Muslim community, has been damaged by this.'' — Zunera Ishaq, the woman whose fight to wear her niqab while swearing an oath of Canadian citizenship sparked a lengthy court battle and became a hot-button issue on the campaign trail. The quote above came during an Oct. 8 interview with The Canadian Press.

"Sunny ways, my friends, sunny ways." Justin Trudeau to a jubilant crowd on Oct. 19 in his Montreal riding of Papineau, invoking the philosophy of former prime minister Wilfrid Laurier, after he led the federal Liberals to a majority win.

"When the prime minister of Canada calls you, you say: 'OK, I'll do the favour for you.' So whoever is going to be the next prime minister, if they call me for the favour, I'd reach out again." —Hockey icon Wayne Gretzky, 54, explaining on Oct. 22 why he appeared at a campaign event with former prime minister Stephen Harper.

"Because it's 2015." — Trudeau, speaking on Nov. 4, responding to a question as to why he made gender parity a priority when naming his cabinet. Trudeau's hand-picked group of 30 ministers features 15 men and 15 women.

"The Canada-U.S. relationship is much bigger than any one project and I look forward to a fresh start with President Obama to strengthen our remarkable ties in a spirit of friendship and co-operation." — Trudeau in expressing his disappointment to U.S. President Barack Obama's Nov. 6 decision to reject TransCanada's controversial Keystone XL Pipeline.

"Regardless what the attackers were shouting at the time of attacks and whatever their names may be, we Muslims do not consider them Muslims. The attacks in Paris are in fact attacks on Islam and Muslims too." — Statement from the Islamic Supreme Council of Canada and Muslims Against Terrorism reacting to the deadly terrorist attack in Paris on Nov. 13. Prime Minister Justin Trudeau pays respects at a memorial outside the Bataclan Cafe in Paris.

"This is a defining moment for Canada, a defining moment for all of us. And it's even more than that — it's an opportunity. An opportunity to mobilize our communities . . . to reimagine how we take care of the most marginalized and vulnerable among us." —Gov. Gen. David Johnston on Canada's decision to accept 25,000 Syrian refugees into the country in the coming months.

"You are home. Welcome home." — Trudeau to a family of Syrian refugees arriving in Toronto on Dec. 10.

"I was pleading with them to show some kind of decency; all of these born-again Christians were throwing me to the lions." —Sen. Mike Duffy in testimony at his Senate expenses trial on Dec. 15, describing his alleged treatment by the Prime Minister's Office under Stephen Harper.