52 places to visit in 2016
.
The newspaper touts the T-dot as Canada's "premier city," eclipsing the likes of Vancouver and Montreal. The Times extols the virtues of Toronto's recently redeveloped waterfront and the revitalization of former industrial neighbourhoods such as the Junction as reasons to visit.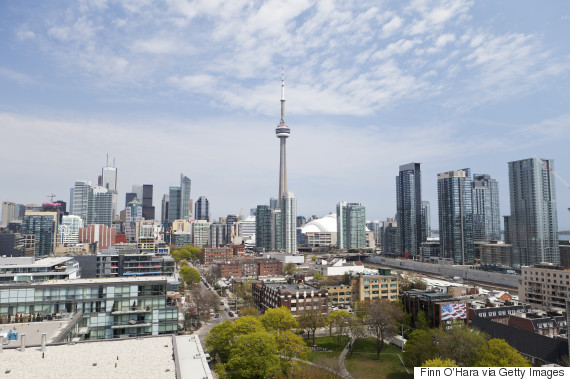 The New York Times calls Toronto Canada's "premier city." (Gettystock)
The article praises Toronto for its cultural diversity and mention's the fact that it plays host to major sports events and the annual Toronto International Film Festival.
What the article failed to mention is the potential cost savings to American travellers at a time when the Canadian dollar is valued at just 71 cents U.S. "Canada's largest city is ready for its close-up," The Times article states, adding that a newly opened express train linking the city's downtown core with Pearson International Airport is yet another incentive to put the city on the travel itinerary.
Social media buzzed with Torontonians revelling in the recognition. "#Toronto is number 7 on the @nytimes list of 52 places to visit in 2016," wrote one user. "Reconfirms how #awesome Toronto really is!" At least one traveller appeared to have been sold on the newspaper's pitch. "Toronto is such an amazing city. I am really considering that one. Especially in July. Weather will be great," tweeted a prospective visitor. Others struck a more skeptical tone.
"Toronto is such an amazing city."
"I think Toronto is wonderful but the seventh-best place in the world for a tourist might be pushing it." "Benefit of a low $ — U.S. will love us again," quipped another. Toronto placed ahead of such major tourist destinations as the Irish capital of Dublin, Washington, D.C., Barcelona, Spain and Sydney, Australia Leading the New York Times' list were top-ranked Mexico City, Bordeau, France and the small Mediterranean country of Malta. One other Canadian destination got recognition from the Times: British Columbia's Southern Gulf Islands placed at number 50 on the list.

Also on HuffPost

New Toronto Restaurants 2015

Suggest a correction

TORONTO — Travellers hoping to take a break from the Big Apple are being offered a Canadian alternative — the Big Smoke. The New York Times has named Toronto as number seven on its list of