Vancouver's Western Front, Critical Of Developers, Gets $1.5M From Developers
Western Front arts centre has decided to accept $1.5 million from developers — despite hosting a conference and exhibit in the fall of 2015, which was highly critical about the role developers have played in shaping Vancouver.
Western Front says the gift from developers Rize has enabled it to buy the building it's housed in, ensuring the future of the Mount Pleasant arts centre in a community that acutely felt the impacts of gentrification.
Still, Caitlin Jones, executive director of the Western Front Society, says she feels "complicated" about taking the money.
"So many artists in Vancouver are being forced out because of high real estate, not only for housing but for studio space … so it is a huge issue," she told On The Coast host Stephen Quinn.
"We felt the Western Front is a real community good, it's a real big part of the arts and culture scene in Vancouver. I felt as executive director it was very important for me to ensure it stays that way."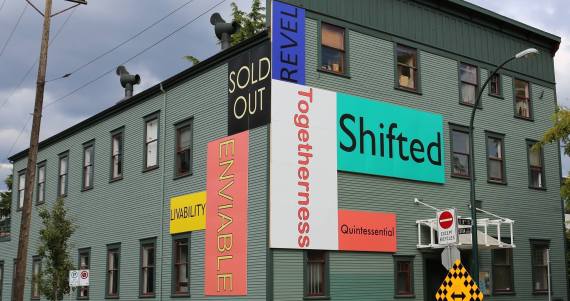 Nils Norman's 'VANCOUVER VERNACULAR' installation on the outside of the Western Front arts centre in Vancouver. (Facebook/Western Front)
The money was given to the City of Vancouver as part of the development process for Rize's new building, The Independent at Main.
Instead of building community amenities into the building itself, Rize agreed to pay the city several million dollars in lieu as a community amenity contribution, which the city divided between affordable housing and arts and culture institutions like Western Front.
Jones says she's not sure if these cash deals are the best way for the city to deal with developers, but she does feel the money is going towards things that are ultimately good for the community.
"We felt … having us in our community, in our homes, was without a doubt a good thing," she said.

Also on HuffPost:
Craziest Vancouver Real Estate Stories Of 2015
This Tudor home in Vancouver's ritzy Shaughnessy neighbourhood was listed for $5.99 million in May. After 12 days, it sold for just over $8 million. "When you've got too little supply (of detached houses) and too many buyers, that's always what happens," realtor Stuart Bonner told The Province.

This abandoned home (read: eyesore) became a dumping ground over several months in 2015. Piles of rotting trash and unwanted furniture attracted rodents to the area, and the smell was sometimes so bad that neighbours refused to open their back doors. The house was assessed at $813,000, and others in the area were valued at over $1 million.

"Avail now. Bring your tent." A Craigslist ad advertised a backyard for rent for $500 per month. WiFi, use of the home's bathroom, kitchen, laundry, and "art room" were part of the deal. Great for travellers, apparently!

This home was listed at just under $3 million in June, and was sold to an offshore buyer for $4.1 million after a couple hours, the realtor said.

Bargain alert: a former grow-op hit the market in March for $930,000. The 1968 two-storey home was in such bad shape that no one could live in it. The house got an occupancy permit back in 2001, and was renovated before it was listed. The price was mostly because of the 6,000 sq.-ft. lot.

This rare, 3.6-metre wide home sold in April for $1.35 million. Tucked in the upscale Point Grey neighbourhood, the floor space is only 945 sq.-ft., but manages to cram in a full kitchen, master bedroom, living room, garage, den and 1.5 bathrooms. The home is believed to be one of the last of its kind in the entire city, according to the realtor.

This house, listed for just under $1.6 million, sold for $2.17 million in March — a mind-boggling 35 per cent over asking. "It was the highest price per square foot ever achieved for an East Vancouver home," realtor Paul Eviston told CBC News.

Chump change, amirite? This 25,000 sq.-ft. mansion, which sits on a 1.09 hectare property, was purchased in December 2014 for $51 million. (Details of the sale were made public in March.) The deal included a movie theatre, grass tennis court, and 10-car garage, according to the CBC.

Talk about a sweet deal! This (very well-decorated) gingerbread house was advertised on Craigslist for $4.5 million in December. It's a one-bedroom home that's a single sq. ft. in size. The baking sheet upon which it stands was not included in the sale. The seller asked for "serious" inquires only.