The MPs include six Liberals, three Conservatives and two New Democrats, all of whom will join five senators on the panel who were named earlier.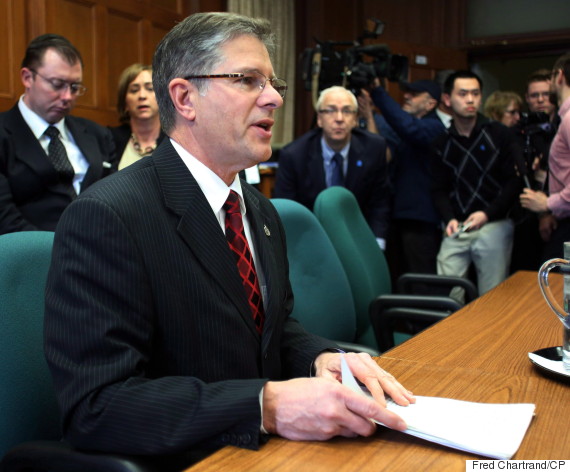 Tory MP Mark Warawa appears before the Commons house affairs committee in 2013. (Photo: Fred Chartrand/CP)
Three of the senators are Conservatives and two are independent Liberals. The panel is to consult Canadians on how to bring in a new law on assisted dying that addresses the constitutional issues raised in a landmark Supreme Court of Canada ruling last year.
The court recognized the right of consenting adults enduring intolerable physical or mental suffering to end their lives with a doctor's help.
Several rookies on committee
It suspended its decision for a year to give Parliament a chance to figure out how to respond to the ruling. The government has asked for a six-month extension on that deadline, which is just over three weeks away.
The panel includes several rookie MPs, a former Conservative cabinet minister and a veteran New Democrat. One of the Conservatives, B.C. MP Mark Warawa, sparked a controversy in the last Parliament when he proposed a motion deploring sex-selective abortions — a move some saw as a veiled effort to re-open the abortion debate. The motion never came to a vote, leaving a bitter Warawa to complain that he was being muzzled by his own party.
A list of the members of the joint parliamentary committee on physician-assisted dying, including 11 MPs named to the committee Tuesday:
Senators

Sen. James Cowan (Liberal)

Sen. Serge Joyal (Liberal)

Sen. Nancy Ruth (Conservative)

Sen. Kelvin Ogilvie (Conservative)

Sen. Judith Seidman (Conservative)

MPs:

John Aldag, (Liberal Cloverdale-Langley City)

Rene Arseneault (Liberal Madawaska-Restigouche)

Steven Blaney (Conservative Bellechasse-Les Etchemins-Levis)

Michael Cooper (Conservative St. Albert-Edmonton)

Julie Dabrusin (Liberal Toronto-Danforth)

Denis Lemieux (Liberal Chicoutimi-Le Fjord)

Robert Oliphant (Liberal Don Valley West)

Murray Rankin (NDP Victoria)

Brigitte Sansoucy (NDP Saint-Hyacinthe-Bagot)

Brenda Shanahan (Liberal Chateauguay-Lacolle)

Mark Warawa (Conservative Langley-Aldergrove)
Also On HuffPost:

Right-To-Die Laws Around The World




Suggest a correction

OTTAWA — The joint parliamentary committee that's examining the divisive issue of doctor-assisted death has scheduled its first meeting for next Monday. A list of 11 MPs who will sit on the panel was released today.