Counterfeiters Perplexed By Canada's Plastic Money
Canada's plastic money is stumping counterfeiters. The RCMP estimate the number of fake bills passed on to retailers in 2015 dropped by 74 per cent compared with the previous year.
That doesn't mean people have given up trying to copy Canada's banknotes — it's just that even their best attempts to make fake cash are falling well short.
Regina Police Const. Scott Wolfe hasn't seen much counterfeit currency since the Bank of Canada introduced polymer money four years ago, but he did have a case last fall.
"When we first touched the bill you could tell it wasn't the polymer feel. It was paper. We could see they had cut out the security window from a real $5 bill and pasted it to a $50 and $100 bill," said Wolfe.
The face in the hologram didn't match the face on the bill and the edges were uneven. Even so, the money was successfully passed on to retailers, perhaps in a dimly lit bar or sandwiched between two authentic notes.
Wolfe said people passing counterfeit bills often pay for an inexpensive item with a high-value bill in order to get lots of change in authentic currency.
Canada's New Plastic Money
Source: Bank Of Canada, Flickr

From Bank Of Canada, Flickr: "Robotics innovation is Canada's ongoing contribution to the international space program and demonstrates our commitment to space exploration. The Canadian-built Mobile Servicing System is the sophisticated robotics suite that helped to assemble the International Space Station in orbit. This system consists of Canadarm2, Dextre and the Mobile Base. On board the space station—a permanent orbiting research laboratory—international partners conduct scientific experiments, many of which result in an enhanced quality of life on earth. Canada's contribution to the space program evokes pride and sparks the imagination and curiosity of our future leaders in science and technology."

Source: Bank Of Canada, Flickr

From Bank Of Canada, Flickr: "The expansion of the railway in the 1880s was hailed as a remarkable feat of engineering for a young country with a varied and often treacherous terrain. At the time, the railway was the longest ever built, and its completion demonstrated Canada's pioneering spirit by linking our eastern and western frontiers, connecting people, and facilitating the exchange of goods. Today, The Canadian train, winding its way through the Rockies showcases Canada's natural beauty and symbolizes what we accomplished as a young nation."

Bank of Canada governor Mark Carney unveils the new polymer $5 and $10 bank notes during a press conference at the Bank of Canada in Ottawa on Tuesday, April 30, 2013.

Finance Minister Jim Flaherty unveils the new polymer $5 and $10 bank notes during a press conference at the Bank of Canada in Ottawa on Tuesday, April 30, 2013.

A new polymer $10 bank note is displayed during a press conference at the Bank of Canada in Ottawa on Tuesday, April 30, 2013.

Astronaut Chris Hadfield poses for a photo with a new polymer $5 bank note on Tuesday, April 30, 2013.

Hand holding up the new polymer Canadian $20.00 bill.

Some new polymer twenty dollar bills, which is the most widely used bank note in the country, are pictured at Montreal on November 19, 2012.

The Bank of Canada introduced the plastic see-through $20 bill on May 2, 2012.

Bank of Canada Governor Mark Carney holds a new $50 bill while standing in front of the Canadian Coast guard ship Amundsen Monday, March 26, 2012 in Quebec City. The Amundsen is displayed on the back of the new bank note made of polymer.

Bank of Canada Mark Carney shows off the bank's new circulating $100 bill, Canada's first polymer bank note, in Toronto on Monday Nov. 14, 2011.

The $100 bill was the first of Canada's paper denominations to go plastic and see-through.

An Australian 100 dollar polymer note is displayed above various international currencies. AFP PHOTO / Torsten BLACKWOOD

AFP PHOTO / Torsten BLACKWOOD

A Mexican pesos note made out of polymer material. Alfredo Estrella/AFP/Getty Images

Mexico City, MEXICO: A sample of the new 50 Mexican pesos' note made out of polymer material to hinder its forgery, 14 November, 2004 in Mexico City. AFP PHOTO/Alfredo ESTRELLA (Photo credit should read ALFREDO ESTRELLA/AFP/Getty Images)

Even that would be better. @InklessPW: Wells designs new bills. What'll we put on the 5? Oscar Peterson. The 10? Peterson. 20? Glenn Gould

Wait so there's no more quote from the Hockey Sweater on the new $5 bills? #manifencours

New bills should be 5 pin bowling for the $5, a Robertson screwdriver for the $10, a Canadian flag, draped over a picnic bench on the backs.

Theory about the new $5 and $10 bills: They're ugly enough that we don't want to keep them in our wallets.

Paul Wells designs the new bills. "What'll we put on the 5?" "Oscar Peterson." "And on the 10?" "Oscar Peterson." "20?" "Glenn Gould."

Was expecting the new $5/$10 bills to literally have pictures of poop on them, based on the outcry. Surprise: they look like money!

Q: You're the federal government, what do you put on the new 5$ and 10$ bills? A: Things you've cut funding to. http://t.co/jqT3BLmENc

Everyone is pretty damn hung up on the AESTHETICS of the new $5 and $10 bills in Canada. Me? I'd like money that WORKS in vending machines

@Cmdr_Hadfield Dude, with all the stuff you've had up there (guitars, Easter eggs, new $5 bills), how BIG was your suitcase?
National Anti-Counterfeiting Bureau
The bills in Wolfe's case, like all bills turned over to police across Canada, eventually end up at the RCMP's National Anti-Counterfeiting Bureau in Ottawa. CBC News was granted exclusive access to the facility that examines counterfeit money, credit cards and official documents such as passports and driver's licences.
"Generally we're seeing a poor to medium-quality counterfeit note," said Robert Moyes, examiner of counterfeit for the RCMP.
About 10 years ago, when counterfeiting was at its height in Canada, Moyes said, his lab would receive up to 45,000 notes every month. In December, Moyes said, the lab received 1,500 bills and many were copies of older-series paper notes, which are easier to fake.
"It's more of a challenge to the counterfeiter to produce these [new banknotes] and the simulation of the security features has been very poor," said Moyes.
Most of the counterfeit polymer bills are printed on paper. Some used paper with a waxy or plastic coating. A few bills look passable from a distance, but up close are too shiny and slippery.
One $50 bill OK at first glance — but the other side is completely blank.
"You only need to pass it once and the cashier is not going to turn [the bill] over," said Moyes.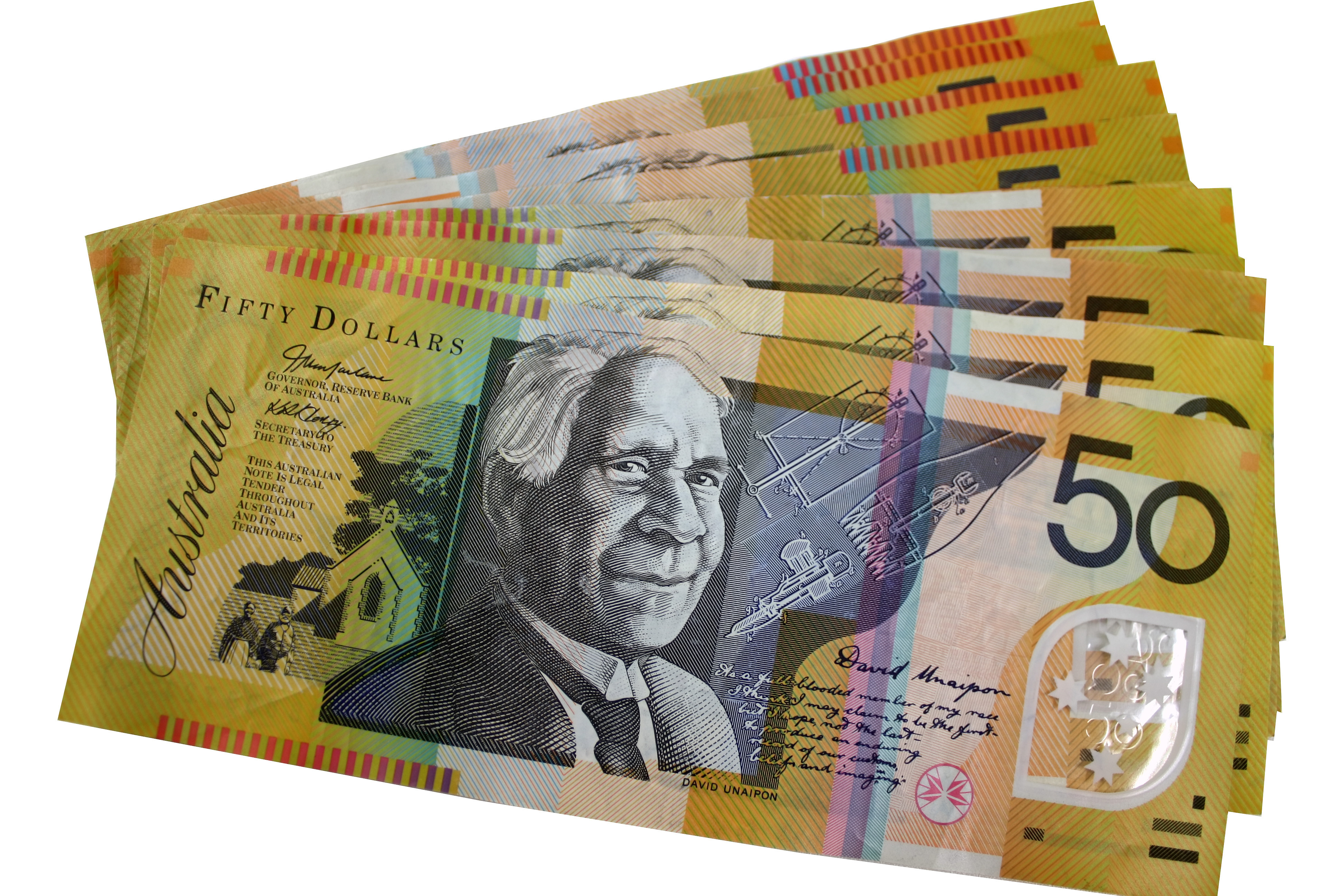 Australian $50 bills. Australia was using plastic money for decades before the practice came to Canada. (Getty Images)
Glittery giftwrap and a roll of tape
Several $5 bills at the bureau feature strips of glittery wrapping paper taped to transparent plastic strips in a crude attempt to simulate security holograms. Moyes said others go a step further by buying holographic sheets from shops in China. Shipments of the holographic sheets have even been seized by the Canada Border Services Agency.
"There's your average counterfeiter, who is short of money and they may produce 10 or 20 notes. We have organized crime, we have the biker gangs. Those tend to be the large contributors to our office."
All of the bills received by the bureau are examined by specialists under microscopes and different sources of light.
When a technician puts a genuine $50 bill under a high-powered microscope, the image of an eyeball comes up on a large computer screen. It's easy to see several security features, including the fine detail of raised red ink from an engraved plate. Even though that feature can only be seen under a microscope, it's something you can feel under your fingertips or by running a fingernail across the bill.
"It's got life to it. There's a tactility," Moyes said, adding that just the "feel" of a bill is one of the best ways a regular person can detect a fake.
When the genuine $50 bill is replaced under the microscope with a fake, it appears muddy on the screen.
"This is the eyeball — you can see the lack of line work, resolution. And in some cases, if it's toner, it flakes right off," Moyes points out.
Other bills are examined under three different sources of light. In the case of one $100 bill, a copy of an older-series paper note, the counterfeiter has done a respectable job adding ultraviolet features. Some retailers use UV boxes to test bills. Moyes said this bill likely would have passed such a test, which is why the RCMP and Bank of Canada recommend looking for more than one of the security features on higher-value bills.
Nothing is counterfeit-proof
Passing paper bills is just going to get harder as they disappear from circulation. The Bank of Canada estimates 80 per cent of notes in circulation are polymer. The disappearance of Canada's paper notes will likely force fakers to try to improve their efforts at counterfeiting polymer.
"They'll always be doing that. Nothing is counterfeit-proof," said Moyes. "Everything can be simulated."
According to Moyes, more sophisticated polymer counterfeits are surfacing in Australia, where polymer bills are produced, and Mexico, where they are processed. That's why the bureau is conducting its own research to keep ahead of trends. In one room, staff experiment with 3D printers to see how criminals could possibly use the machines.
"It takes a while for the counterfeiter to experiment. And we are seeing the experiments. The Bank of Canada is aware of that and the Bank of Canada is currently looking at the next series," he said.