DND Helped Boost Bids For Armoured Vehicle Contracts In Kuwait, UAE: Docs
OTTAWA — The Canadian military has been asked on three occasions since 2012 to provide a light armoured vehicle and crew in order to help the Canadian manufacturer market its wares to two of Saudi Arabia's Persian Gulf neighbours.
The LAV demonstrations in Kuwait and the United Arab Emirates, by General Dynamics Land Systems Canada, were sanctioned at the highest levels of the former Conservative government, part of a determined effort to capitalize on a controversial $14.8-billion arms sale to the oil-rich kingdom.
A series of reports and documents obtained by The Canadian Press under the Access to Information Act show the tests took place in 2012, 2013 and 2014, with the cost to taxpayers repaid by the manufacturer, based in London, Ont.
The depth of co-operation between the company and National Defence worries some human rights groups, who say there should be more transparency in how Canadian arms deals are brokered.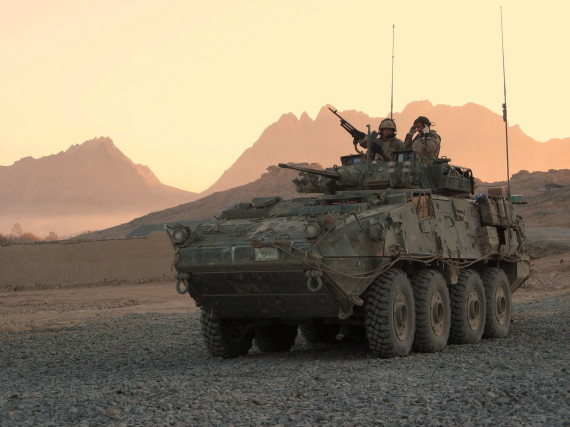 A Canadian LAV (light armoured vehicle) arrives to escort a convoy at a forward operating base near Panjwaii, Afghanistan at sunrise on Nov.26, 2006 (Bill Graveland/CP)
The tests involving Kuwait took place before the company was added to the foreign affairs registry of countries eligible for Canadian arms exports. The UAE has yet to be added to the list, but the idea is being studied by Global Affairs, despite concerns some groups have about alleged human rights violations in the emirates.
The Liberal government has been criticized for allowing the Saudi deal — brokered under the Conservative government — to proceed in light of kingdom's recent execution of 47 people, including a prominent Shiite cleric.
National Defence says its total cost to support all three demonstrations was about $3.39 million.
Asking to rent one of the 26-tonne armoured fighting vehicles is not as unusual as it may sound, said General Dynamics spokesman Doug Wilson-Hodge.
"From time to time, General Dynamics Land Systems Canada seeks the support of the government of Canada through provision of-services agreements, through which the government of Canada fully recovers all its incurred costs from General Dynamics," Wilson-Hodge said.
Neither country has yet said what they intend to do. In the case of the UAE, which had cool relations with the Harper government for a few years, the purchase is meant to build on the acquisition in 2013 of lightly armoured patrol vehicles, a deal worth $816 million US.
The LAV, equipped with a 25-mm chain gun, was the Canadian Army's principal fighting vehicle in Afghanistan.
"Due to competitive sensitivities General Dynamics Land Systems Canada's policy is not to provide comment or status on our business pursuits,'' said Wilson-Hodges.
"It adds a different dimension involving the military. I'm not really surprised, but I'm not saying it's ideal."
Cesar Jaramillo, the executive director of Project Ploughshares, said in light of the former Conservative government's mantra of economic diplomacy, he's not surprised the army was repeatedly asked to act as a facilitator.
"It adds a different dimension involving the military," he said. "I'm not really surprised, but I'm not saying it's ideal."
Jaramillo's group, along with Amnesty International, have demanded the Liberal government revisit the deal with Saudis, insisting it can be done within the existing framework of regulatory tools available to cabinet.
That agreement — along with potential deals with Kuwait and the UAE — was brokered by Canadian Commercial Corp., an agency set up after the Second World War to help funnel Canadian business interests towards the rebuilding of Europe.
The U.S. used to be the biggest market for Canadian-made weapons, but budget cuts at the Pentagon have forced the corporation to look elsewhere and it has been pushing hard for market access in the Middle East.
Jaramillo said the Liberal government is committed to transparency and the corporation's activities when it comes to arms sales would be a good place to start.
A possible deal with the UAE makes some observers, including Human Rights Watch, nervous. The group noted the Emirates "often uses its affluence to mask the government's serious human rights problems."
"The government arbitrarily detains individuals it perceives as posing a threat, and a new counter terrorism law poses a further threat to dissidents and rights activists," said Human Rights Watch's 2015 assessment.
"Both free speech and political dissent are stifled in Kuwait."
"Security forces have been implicated in torturing detainees in pretrial detention, authorities have invoked repressive laws to prosecute critics of the government."
Although there's criticism about political expression in Kuwait, the country's human rights record has not faced the same kind of scrutiny as its larger neighbour.
"Both free speech and political dissent are stifled in Kuwait," the group said.
"Authorities have stripped Kuwaitis of their nationality, some of whom appear to be targeted because they represented opposition voices. Kuwait has prosecuted people for criticizing the government on social media sites like Facebook and Twitter."