Kevin O'Leary, Canada's 'Trump,' Mulling Run For Conservative Leadership
Move over, Donald Trump? Another rich, abrasive businessman who moonlights as a reality TV star and evidently believes money is the best way to influence power is mulling a jump into politics.
Canadian business mogul Kevin O'Leary, perhaps best known as a former panelist on CBC's "Dragons' Den" and the American version, "Shark Tank" on ABC, told CBC News he's thinking about running for federal Conservative leader.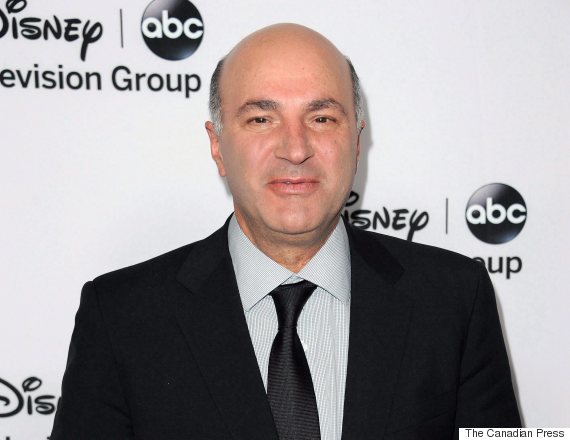 Kevin O'Leary attends the Disney ABC Winter TCA Tour in Pasadena, Calif. (Photo: CP)
O'Leary made waves this week by offering to invest $1 million in Canadian energy companies if Alberta NDP Premier Rachel Notley steps down. Notley responded by reminding the chairman of O'Leary Funds that she doesn't take marching orders from "wealthy businessmen."
He shot back in television and radio interviews by saying Notley wasn't "qualified to manage Canada's number one resource" and was full of "bankrupt ideas."
'Donald Trump of Canada'
O'Leary's stunt reminded many of when Trump offered to donate $5 million to charity in 2012 if U.S. President Barack Obama publicly shared his college transcripts and passport records.
Trump is now offending his way through Republican presidential primaries — and just might win the nomination. On Thursday, "Dragons' Den" investor Arlene Dickinson told CBC Calgary that O'Leary's "disrespectful" offer to Notley made him the "Donald Trump of Canada."
O'Leary told CBC's Susan Lunn he figured people may be wondering why he isn't running for office if he can "be such a critic."
The businessman said he's thinking about it, adding his top focus would be on the economy.
"Every word that comes out of a politician's mouth, including mine, should I elect to go for this, is how does it create the next incremental job," O'Leary said. "That's what I care about."
'I am not Donald Trump'
In a later interview with The Canadian Press, O'Leary said that while he recognizes how Trump works the media — "and you can certainly claim I am trying to do the same" — he is not like the brash Republican.
"I am not Donald Trump," he said. "I'm a Lebanese-Irish, I don't build walls (and) I am very proud of the society we're building in Canada — I think it is the envy of the planet."
""I am looking at this saying, like everybody else, 'This is interesting, 18 months from now the country is going to have make a decision about who should be the opposition, I think I could be very effective there.'"
He suggested he was interested in running, in part, because of the amount of Canadian graduate students who say they need to head south of the border to make their money.
The Tory leadership race is still at least 18 months away, which he called an "eternity" in politics.
"I am looking at this saying, like everybody else, 'This is interesting, 18 months from now the country is going to have make a decision about who should be the opposition, I think I could be very effective there,'" he said.
It's official: @kevinolearytv is Canada's Donald Trump.

— Amanda Lang (@AmandaLang) January 14, 2016
Former Harper ministers consider runs
Former Conservative cabinet ministers Tony Clement and Kellie Leitch are both reportedly putting together campaign teams. Ex-cabinet minister Peter Mackay, as well as current Tory MPs Lisa Raitt and Jason Kenney, are also rumoured to be interested.
Quebec Tory Maxime Bernier told The Huffington Post Canada in December he's "testing the waters" and will run if he thinks there's a path to victory.
Other top tier contenders — Saskatchewan Premier Brad Wall, former Quebec premier Jean Charest, ex-cabinet minister James Moore — have publicly said they aren't interested.
O'Leary, 61, wouldn't be the first political neophyte to run for Tory leader if he enters the race.
Former Magna International executive Belinda Stronach ran for the Tory leadership in 2004, finishing second to Stephen Harper.
With no prior elected political experience, Brian Mulroney leaned on a record of success in business when he was selected leader of the Progressive Conservatives in 1983. He went on to win two majority governments.
Controversial comments
But for O'Leary, entering the race will undoubtedly force him to defend past controversial comments.
While discussing a global poverty report on "The Lang and O'Leary Exchange" in 2014, the businessman said it was "fantastic news" the combined wealth of the world's 3.5 billion poorest people was equal to the wealth of the richest 85 people.
A YouTube clip of the moment has been viewed more than 1.6 million times.

With files from The Canadian Press
ALSO ON HUFFPOST:
Conservative Leadership Race: Who May Run?
Stephen Harper is the only leader the Conservative Party of Canada has ever known. But after losing government to Justin Trudeau's Liberals, Conservatives will now need to find a successor. Will it be a former Reformer like Harper? A Red Tory? A party stalwart or someone younger? Here are some names being tossed out as potential contenders...

Who's in?

First elected in 2006, Bernier served as minister of industry and minister of foreign affairs — a position he resigned in 2008 after leaving government documents at the home of an ex-girlfriend with ties to the Hells Angels. A high-profile MP from Quebec, he was reappointed to cabinet in 2011 in the junior role of minister of state for small business and tourism. He's already announced that he's going for it.

Dr. Kellie Leitch, a pediatric surgeon, outgoing minister of labour and minister for the status of women, reportedly has a team in place to mount a campaign. First elected in 2011, Leitch was easily re-elected in the Ontario riding of Simcoe-Grey. Though also considered a Red Tory, Leitch raised eyebrows during the campaign by declaring herself "pro-life" and announcing government plans to introduce a tip line for so-called "barbaric cultural practices."

Chong, who quit the Harper cabinet in 2006 on a matter of principle, is also running. The longtime Ontario MP has earned a reputation as a bit of a "rebel," thanks to his Reform Act and calls for conservatives to do more to fight climate change.

Deepak Obhrai, a former Reform MP from Alberta who was first elected in 1997, is the dean of the Conservative Party caucus. He formally jumped into the race in July 2016.

Andrew Scheer, a Saskatchewan MP who served as Speaker of the House of Commons from 2011 to 2015, joined the race in Sept. 2016. Scheer gave up his Opposition House leader role earlier that month to continue exploring a bid.

The social conservative from Saskatchewan jumped into the race in August 2016. Trost, first elected in 2004, is anti-abortion, anti-same-sex marriage, but is also very fiscally conservative.

Who's almost in?

The Ontario MP and former veterans affairs minister is mulling a bid and, reportedly, winning over party members. A former air force captain first elected in 2012, O'Toole has connections in Atlantic Canada and the GTA, and is seen as more of a fresh face.

First elected in 2008, Lisa Raitt was perhaps the most high-profile woman in Harper's inner circle. Her name was also floated as a possible contender for the Ontario Progressive Conservative leadership. Raitt served as minister of natural resources, minister of labour, and most recently as minister of transport. While several other Ontario cabinet ministers went down in defeat to Liberals, she was re-elected in the riding of Milton by more than 2,400 votes. Another Red Tory, she has not yet made her intentions known but has been vocal about the Conservatives' struggle to appeal to women voters.

The Quebec MP and former public safety minister stepped down from his critic role in Sept. 2016 to consider making a run.

The former immigration minister and Ontario MP confirmed to HuffPost in Sept. 2016 that he is preparing to make a bid. First elected in 2011, Alexander was defeated four years later. He faced questions over his handling of Canada's response to the Syrian refugee crisis. He also joined Leitch in that ill-fated campaign announcement of a tip line for "barbaric cultural practices."

The Toronto-based communications consultant announced in August 2016 that she was going to make a bid. Snow worked for policy think-tanks but is touting her experience outside the political bubble.

Who's thinking about it?

The business mogul and reality TV star told CBC News he's considering launching a bid. Though he's never held elected office, O'Leary said his focus would be on the economy. "Every word that comes out of a politician's mouth, including mine, should I elect to go for this, is how does it create the next incremental job," O'Leary said. "That's what I care about."

Doug Ford, a controversial former Toronto city councillor, is considering a run, according to his brother. Rob Ford, the scandal-plagued ex-mayor of Toronto who died in March 2016, told Bloomberg last summer that his older bro might launch a bid if Harper stepped down. Doug Ford, who appeared with Harper at a rally in the waning days of the campaign, told Bloomberg at the time that "I never say never in politics."

UP NEXT: Canadian Political Lookalikes

NEXT: U.S. Politicians and their lookalikes

From dentuso

From dentuso

From dentuso

From Lauster123

From dentuso

yosoyeldecider: Who could forget this classic separated-at-birth pair?

emerson7: Jon Stewart's observation