Cute Valentines's Day Ideas And Gifts That Will Make Her Swoon
Valentine's Day is fast approaching, and if you want to get your online orders in for gifts, now is the time to start looking.
Of course, after the rush of Christmas, it can be tough to get back in the gift-giving mindset, so we thought we'd help out with some ideas that are romantic, sweet and will actually be things she'll use in her everyday life.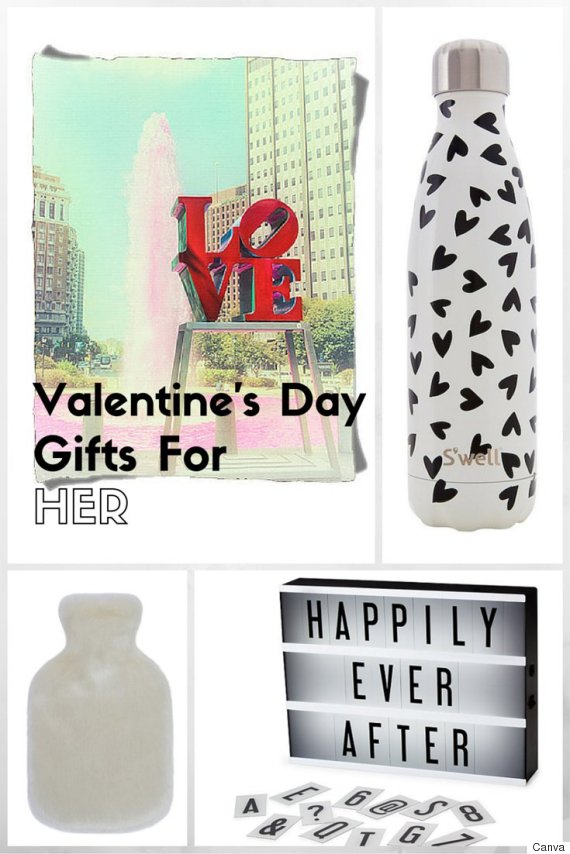 Whether she's a homebody, jetsetter or music lover (or all three, really), there's something here for her. Take a look!
Cute Valentine's Day Gifts For Her
Hydration and hearts? What more could a healthy gal want? $45, Indigo.

Celebrate Bowie and your awesome gal all at the same time. $20.88. Etsy.

She's a horoscope reader from way back — and loves being reminded of it. $66.87, Uncommon Goods.

If she's more sweet than sexy, she'll love this early morning/late night option. $157, Amara.com.

Make every rainy day one filled with love. $38, Uncommon Goods.

She loves celebrating every day — so give her a place to do it! $91.19, Uncommon Goods.

Those quickie notes have never been so adorable. $8.95, Room2046.com.

Remind her exactly what you think of her whenever she makes a cup of coffee. $12 US, available at Easy Tiger.

Perfect for journal keepers! $28, Room2046.com.

Cozy up under love. Awwwwww. $67.10, Etsy.

It's a work of art that's also a delicious smelling candle. Win win. $241, Amara.com.

Transform her bedroom into a star-filled dream .. especially if you live in a city. $49.16, Etsy.

Make searching for her makeup in her bag a pretty experience every time. $30, Indigo.

Start every morning with a compliment — why not, really? $40.22, Etsy.

Luxuriate in the joys of hot water (and softness), without the bath. $100, Amara.com.

She's a ponytail devotee, so don't make her flatten her hair for something silly like winter. $36.95 US, Peekaboos Hats.

You're both guilty of never printing out photos, so go one step further and get her something she can't help but want to hang up. $101.40, Etsy.

She loves natural textures and coffee — this combines two passions in one. Via The Portland Press, $129 US, Ebay.

A pretty way to bring in some greenery in February. $72, Room2046.com.

She's a pro at hopping on and off planes, but make sure she's getting the rest she needs with this pretty kit. $49, Indigo.

She has incredible ideas with a blender, so give her the tools to really up her cocktail game. $32, Amara.com.

Camping out — in the backyard or wherever — will be completely transformed. $30, Amazon.ca.

She'll always know where her phone — and headphones — are with this handy stand. $40 US, via Fancy.com.

It has a unisex scent that will be appealing to anyone — and a style perfect for displaying in powder rooms. $11.18 for six, Etsy.

You love watching everything on the iPad together ... so make it easier with a comfy pillow. $54.45, Amazon.ca.