Glenn Frey, Eagles Guitarist, Dead At 67
NEW YORK — Glenn Frey, a rock 'n' roll rebel from Detroit who journeyed West, co-founded the Eagles and with Don Henley became one of history's most successful songwriting teams with such hits as "Hotel California" and "Life in the Fast Lane," has died.
Frey, 67, died of complications from rheumatoid arthritis, acute ulcerative colitis and pneumonia, the band said on its website. He died Monday in New York. He had fought the ailments for the past several weeks, the band said.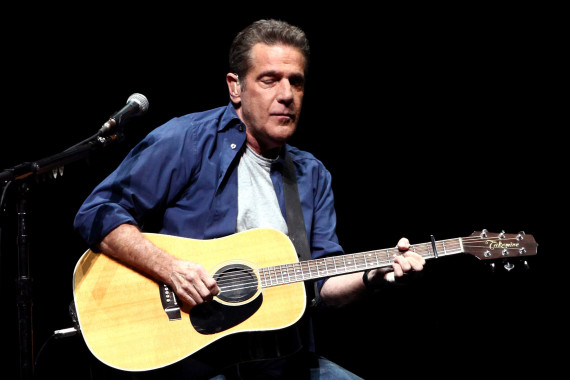 Glenn Frey of The Eagles performs on January 15, 2014 in Inglewood, California. ( Tommaso Boddi/WireImage)
"The Frey family would like to thank everyone who joined Glenn to fight this fight and hoped and prayed for his recovery," a statement on the band's website said. "Words can neither describe our sorrow, nor our love and respect for all that he has given to us, his family, the music community & millions of fans worldwide."
Frey's health problems, including diverticulitis, dated to the 1980s. He would blame in part his years of "burgers and beer and blow and broads'' and later became a fitness advocate.
Guitarist Frey and drummer Henley formed the Eagles in Los Angeles in the early 1970s, along with guitarist Bernie Leadon and bassist Randy Meisner. Their popularity grew steadily, and they embodied for many listeners the melodic Los Angeles sound despite having no native Californians in the group. Critics often dismissed them as slick and unadventurous, but their blend of mellow ballads and macho rockers, and of pop and folk and country, gave them unusually broad appeal.
An Eagles greatest-hits collection and "Hotel California," both released in the 1970s, have sold more than 20 million copies each and are among the bestselling albums of modern times. The band's total album sales top 100 million copies.
The Eagles' many hit singles include "The Best of My Love," "Desperado", "One of These Nights" and "The Long Run. "The impulsive Frey and the more cerebral Henley shared songwriting and singing duties, with Frey's drawling tenor featured on ''Heartache Tonight," "Already Gone" and the group's breakthrough hit, ''Take it Easy."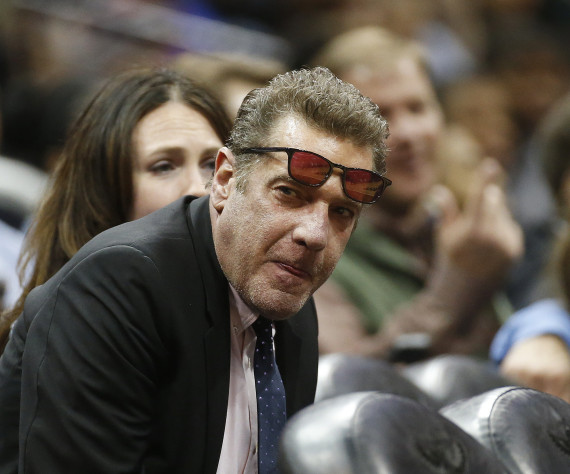 Musician Glenn Frey of the rock band "The Eagles" watches in the first half of an NBA basketball game between Atlanta Hawks and Chicago Bulls Feb. 25, 2014. (AP Photo/John Bazemore)
Henley said crossing paths with Frey in 1970 "changed my life forever, and it eventually had an impact on the lives of millions of other people all over the planet.''
Their popularity well outlasted their breakup in 1980 and the 14-year hiatus that followed. Their records remained consistent sellers, and they were a top touring act over the last 20 years even though Frey and Henley were the only remaining original members. They were joined on stage by guitarist Joe Walsh, who replaced Leadon in the mid-1970s, and bassist Timothy B. Schmit, who stepped in after Meisner quit in 1977. Guitarist Don Felder was added in 1974 but was fired in 2001 amid disputes over money.
The band was inducted into the Rock & Roll Hall of Fame in 1998 and was supposed to have been honoured at the Kennedy Center last month, but the appearance was postponed because of Frey's health. Its six Grammys include Record of the Year for "Hotel California'' and best country performance by a vocal duo or group for "How Long,'' from the 2007 album "Long Road Out of Eden,'' another No. 1 seller.
Frey had occasional success as a solo artist, with songs including "The One You Love'' and "You Belong to the City," and careers in movies and television. He appeared on episodes of "Miami Vice'' and "Nash Bridges,'' both featuring his friend Don Johnson, and appeared in the film "Jerry McGuire,'' directed by Cameron Crowe, who had befriended him after he interviewed the Eagles for Rolling Stone magazine in the 1970s. Frey's "The Heat Is On'' was a hit from the "Beverly Hills Cop'' soundtrack, and his "Smuggler's Blues'' inspired a "Miami Vice'' episode of the same name.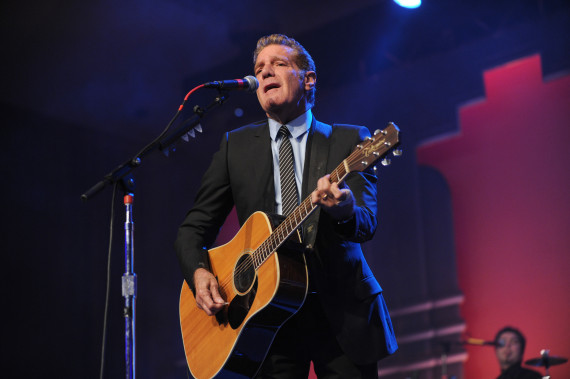 Glenn Frey, founding member of the Eagles, performs on August 4, 2012 in St. Paul, Minnesota. (Diane Bondareff/Invision for Starkey Hearing Foundation)
A Showtime documentary, "The History of the Eagles," aired in 2013. Last summer, the group completed a two-year "History of the Eagles'' tour.
Frey, known for his oversized jaw, big grin and wavy dark hair, loved music, girls and the rock 'n' roll life. He was playing in bands as a teenager, with fellow Detroit musician Bob Seger among his early friends, and would meet up with Henley, Meisner and Leadon while all were trying to catch on in the Los Angeles music scene. For a time the four backed Linda Ronstadt, and other musicians they came to know were Jackson Browne, who wrote most of "Take it Easy," and J.D. Souther, who collaborated on "New Kid in Town" and other songs.
Anyone around them at the time knew they were determined to make it and make it big. The Eagles' personnel, sound and overall direction would change often in the '70s as they adapted to the changes of the decade itself. "Take it Easy," released in 1972, defined their early image as mellow, country-influenced musicians, but they soon desired a harder, more straightforward rock sound. They added Felder, whose work was featured on "Already Gone'' and other uptempo songs. When a frustrated Leadon, a bluegrass picker, quit in 1975, they brought in Walsh, one of music's wildest and loudest performers.
"Hotel California'' was their creative peak, the title song a long and intricate rocker that captured the decadence of mid-'70s Los Angeles as unforgettably as "Take it Easy'' stood for a more laid-back time. It was the ultimate collaboration between Henley and Frey, with Henley singing lead and sketching the story of the hotel where "you can check out anytime, but you can never leave" and Frey filling such conversational touches as "livin' it up at the Hotel California.'' Frey sang lead on "New Kid in Town'' and picked up on an expression, uttered by his drug dealer, that became an Eagles song and popular catchphrase, "Life in the Fast Lane.''
"He was funny, bullheaded, mercurial, generous, deeply talented and driven."
The bandmates harmonized memorably on stage and on record but fought often otherwise. Felder would remember first playing with them and wondering even then if they would break up. Leadon and Meisner departed after run-ins with Frey. The band's initial breakup in 1980 happened after Felder and Frey nearly came to blows after a concert in Long Beach, California. They would ruefully call the show "Long Night at Wrong Beach."
Frey and Henley also became estranged for years, their breach a key reason the band stayed apart in the 1980s. Henley had vowed the Eagles would reunite only when "hell freezes over," which became the name of the 1994 album they had never imagined making.
"The bond we forged 45 years ago was never broken, even during the 14 years that the Eagles were dissolved," Henley said Monday. "Glenn was the one who started it all. He was the spark plug, the man with the plan. He had an encyclopedic knowledge of popular music and a work ethic that wouldn't quit. He was funny, bullheaded, mercurial, generous, deeply talented and driven."
Also on HuffPost:
Musicians' Unexpected New Careers
After drumming in R.E.M from 1980 to 1997, Bill Berry decided to leave the world of rock and roll to become a farmer. Berry has opted to live a low profile life working on a hay farm in Farmington, Georgia with his family.

Who would have thought a punk rock icon could go on to take a nerdy, high-end corporate job? James Williamson's career trajectory should surprise you. After playing guitar in 60s punk pioneer band The Stooges with Iggy Pop, James Williamson ended up going back to college when the group broke up. He then got a job designing microchips, and eventually worked his way up the corporate ladder to become vice president of technology standards at Sony. Now in his 60s, Williamson has retired from Sony and plays occasional gigs with Iggy and the Stooges, including an epic NXNE show a few years back.

Ronnie Devoe was a member of New Edition as well as one third of R&B trio Bell Biv DeVoe. After kicking out New Jack classics like "Poison," DeVoe decided he wanted a change of pace and got into real estate. He is now the co-owner of DeVoe Broker Associates in Atlanta. However, he still performs with New Edition and Bell Biv DeVoe from time to time.

If you had the opportunity to be the drummer in the Clash, could you imagine bailing to become a chiropractor? You'd have to really love cracking backs a lot. That's what Terry Chimes did. Chimes was the original drummer for the band, but left after recording their debut album. He returned for some touring a few years later, but left again in the early '80s. After playing with a few other bands, Chimes became a practicing chiropractor in 1994. He still practices in Essex and also conducts seminars.

Vanilla Ice 
"Ice Ice Baby" was a huge song back in 1990, but a successful music career beyond that track was never something that Vanilla Ice attained. Despite the song landing him movie roles and making him a household name, the Ice Man switched professions after several failed attempts at rejuvenating his music career, including a stint as a Juggalo. Ice has found the most success in his current job as being house flipper. Ice buys rundown real estate, renovates it with his team and sells it for a massive profit. He's written a book about it and even has a show about his new gig called "The Vanilla Ice Project."

Canadian music fans should remember him as the glammed out frontman for Robin Black and the Intergalactic Rock Stars. Black decided to leave the music world in the late 2008 to get into mixed martial arts. That's not a typo. Black actually became an MMA fighter! He has since gone one to be a Canadian MMA reporter and color-commentator on The Score and the Fight Network.


Jeff Timmons was one of the non-Nick Lachey members of the pop group 98 Degrees. Following the break-up of the group in the early 2000s and a failed solo career, Timmons took up a residency as a Chippendales male stripper at RIO Las Vegas. He still sometimes performs with a reunited 98 Degrees.

Some say Joey Fatone was extremely lucky to be a part of one of the biggest boy bands of all time, 'Nsync. Up until the band broke up t make way for Justin Timberlake's solo career, Fatone made millions. He has since switched to a very unexpected career as the announcer on "Family Feud" and host of the Food Network show "Rewrapped."

In the early '90s, the rapper then known as Marky Mark had a couple hits with his group Funky Bunch, most notably "Good Vibrations." But he decided to leave music to become an actor and, of course, went on to become a huge name in Hollywood as both an actor and producer.


In the early 2000s, when Brit rockers Jesus Jones became just a casual touring band, lead singer Mike Edwards decided to find a new career path. He always liked staying fit to help his vocals over the years, so he decided to become a personal trainer. That would be a pretty cool work out session if you were a BritPop fan.


Remember Dean Ween, the guitarist from alt-rock cult band Ween? When the band randomly announced that they broke up on Facebook in 2012, Dean reverted to his real name Mickey Melchiondo and went all Forrest Gump by becoming a professional fishing boat captain.


Reoccurring Anthrax shredder Dan Spitz decided in the mid-90s that rocking out in a headbanging band just wasn't his thing anymore. So he decided to give away all of his guitars to the Hard Rock Café and become a watch maker. He even attended the WOSTEP School of Watchmaking in Neuchatel, Switzerland. Spitz has since dabbled in music with old band mate Dave Mustaine once again, but still takes pride in his top of the line wrist clocks.


Remember Terminator X? He was the former DJ in Public Enemy who laid down the music behind the Chuck D's politically charged rhymes. X, real name Norman Rogers, got into a motorcycle accident back in the mid-90s that made him decide to leave the music biz. Since 1999, Terminator X has actually been an ostrich farmer in North Carolina. He breeds African ostriches on a 15-acre farm. Seriously.

Sadly, Coolio became better known for his ridiculous hair cut than for his music, despite a couple of catchy '90s tunes like "Gangsta's Paradise" and "Fantastic Voyage." Coolio has since given up on his rapping career to become a chef. He even decided to auction off his publishing rights to his entire back catalogue of songs to fund his "Cooking with Coolio" web series and cookbook line.

We all know Clay Aiken most famously for being the runner-up on the second season of "American" Idol in 2003. With the help of his Idol fame, Aiken has released several albums, toured the world, performed on Broadway and has even written a New York Times best-selling book. But Aiken has now decided to leave the world of music for politics, and it looks like he's well on his way. Last year Aiken decided to run for Congress in North Carolina's 2nd congressional district and though he won the Democratic primary, he lost the general election last November.


Rod Stewart has had one heck of a career. In addition to being famous as the singer for Faces, he has sold over 100 million albums as a solo artist. But before he was singing about being sexy and dazzling the ladies, Stewart had to get by financially by spending his days in a cemetery. He was actually once a gravedigger at Highgate Cemetery in North London.


With his career in Black Sabbath as well solo, it's pretty fitting that before he was a rock star, the dark and supposedly satanic Ozzy Osbourne earned money by killing cows in a slaughter house. But it's also more ironic since the rock and roll legend is now a vegetarian.

It's pretty hilarious to think that uptight hip-hop fashionista Kanye West once worked as a sales assistant at The Gap. Long before his days of wearing leather shorts and fur jackets, Kanye helped shoppers pick out khakis and button downs. He even rapped about the experience in his song "Spaceship."


Keith Richards has lived through it all. Sex, drugs and rock and roll is the lifestyle the Rolling Stones guitarist set his watch to. But before the drugs and the groupies, Richards worked as a ball boy at a tennis club in England.

Before he was hip hop's big bawse man and head of Maybach Music, Rick Ross worked as a corrections officer at the South Florida Reception Center. Although he hid that fact early in his career, he finally admitted it after 50 Cent was relentlessly calling him Officer Ricky in an ongoing feud and old photos and documents of the experience surfaced.

Before finding incredible success with her countless hit singles and sold-out tours, Pink was just like a million other teenagers who had the gruelling experience of working for the golden arches. Yep, before her big music payday, Pink had the pleasure of cleaning toilets and mopping floors at McDonalds.

Millions upon millions of albums sold, radio smashed and world tours, whether you like it or not, Bon Jovi are one of the biggest bands in the world. But before his fame as the main man in Bon Jovi, Jon actually worked as a janitor at his cousin's recording studio. In fact, JBJ ended up recording his first song there.


Before Mick Jagger became one of the biggest rock and roll icons of all time as the frontman of The Rolling Stones, he was actually a porter at a mental hospital in England. Jagger worked at the Bexley Mental Hospital in London and rumour has it that he lost his virginity to a nurse in a storage closet there.


Before becoming a rock star with her band No Doubt and becoming a pop star on her own, Gwen Stefani worked behind the counter at a Dairy Queen in California. No Doubt actually began as a band comprised of Stefani's brother and Dairy Queen workers from the very same store.

"American Idol" winner turned mega pop star Kelly Clarkson once had to earn money as a performer at a Six Flags Amusement Park in Texas. Kelly would sing and perform for park patrons.

Before Snoop Dogg was sippin' on gin and juice and droppin' it like it was hot, he was a bag boy at a grocery store in Long Beach California. Plastic or paper was the case that they gave him.


It's hard to picture Kurt Cobain ever being the type of guy to clean anything. But believe it or not, before Nirvana took off, Cobain was a janitor in Aberdeen Washington. Cobain used the money he earned cleaning and mopping to fund Nirvana's first demo. Thank God for that.


Growing up as a kid in Las Vegas, it doesn't seem like much of a stretch to believe that The Killers frontman Brandon Flowers had to work in a casino to make a living before his band became an international success. Flowers wasn't a black jack dealer however. He was a bellhop lugging bags for people at the Gold Coast Hotel and Casino.


Korn was a band that made a career out of their dark and damaged imagery. It seems way too fitting that before he was the angsty, tortured soul singer of the band, Jonathon Davis worked as an embalmer for dead people in California. In fact, he actually studied mortuary science in school.


Cyndi Lauper was one of the biggest pop stars of the '80s and cemented her name as a pop icon in that decade. But before her music career launched, Lauper worked cleaning dog up poop and cages at a kennel. No wonder she just wanted to have fun.

By observing Jack White over the years, he really doesn't appear to be a gentleman who would shy away from a hard days work to make a living. Before becoming a rock star with the White Stripes and on his own, the Detroit native worked as a couch upholsterer. He even started his own upholstery business called "Third Man Upholstery." Come to think of it, putting new material over an old frame is pretty much what he still does now.


Before selling as much music as possible to TV, films and commercials and making a fortune, Moby once had a job lugging around golf bags and clubs as a caddy. The first thing he said he bought with his paycheck was a David Bowie record.

Before the rise of alt-rock put Soundgarden on the map as one of the biggest bands of the '90s, Chris Cornell once dealt with a lot of raw fish. Cornell was a fish handler for a Seattle seafood wholesaler. It's hard to picture Cornell touching fish guts, but we guess he fell on black days. #GrungeJokes


Before becoming a rock star, music legend Elvis Costello had to deal with the monotony of punching numbers and figures into a computer all day long. Costello was actually a data entry clerk at women's cosmetic company Elizabeth Arden.

Canadian hard rocker Danko Jones has admitted that before he and his band made a splash in the world of music, he used to work at a porn shop. At first he thought it would be an incredible job, but then said that it was only dirt bags that would come into the store. He has since repressed many of his memories of his pre-successful music career.

Before the late Elvis Presley became the King and a heartthrob to many ladies around the world, he was no stranger to hard work. Presley was once a truck driver for the Crown Electric Company in Memphis, Tennessee and had dreams of one day becoming an electrician. Those plans changed drastically.


Although there is really nothing Courtney Love can say that will be shocking anymore, it is surprising to know that before finding success with her band Hole and becoming Kurt Cobain's wife, Love was once a stripper. But that stint at Mary's Club in Portland helped fund her music career.

Madonna will go down as the most iconic female pop star of all time. She has been a trendsetter, a fashion icon and a sex symbol. But before she became a legend in music, she expressed herself behind the counter at Dunkin' Donuts.


Before becoming the biggest name in hip-hop, a young Jay Z had to support himself in one of the most unsavory professions around -- a crack dealer. However, Hova says that his time as a drug dealer did teach him a lot about business.

For a while, B.O.B. was one of the biggest names in hip-pop. But before his songs like "Airplanes" and "Magic" made a splash on the radio, B.o.B. was prepping sandwiches for hungry customers at Subway.


One of the most surprising actors turned wannabe singers, David Hasselhoff, is also one of the most made fun of for his musical attempts. Believe it or not, the Hoff has actually managed to release 18 studio albums! That's pretty insane. Despite his music not really being popular anywhere else, the Hoff is huge in Germany.

The "Sopranos" star Jamie-Lynn Sigler was a commercial failure as an attempted pop star back in 2001. During her rise to fame as Meadow Soprano, Sigler released a pop album in the vein of Britney Spears called "Here to Heaven" that she thought was going to make her a mega-star. Nobody bought it despite a lot of promotion, and Sigler stated in later years that it was a rushed effort and that she is now embarrassed by it.

Much like Shaq, when Kobe Bryant started making money as an NBA superstar, he figured he would also be a big rapper. He was very wrong. During the off-season in 1998, Bryant worked on an album in New Jersey. He released one single atrociously called "K.O.B.E." that no one bought, and his album was pulled due to his horrendous musical inabilities. Side note: Tyra Banks was featured on "K.O.B.E."


Appearing in a handful of music videos and dating U2 bassist Adam Clayton for a period of time must have inspired British model Naomi Campbell to believe she could be a singer. Boy was she wrong and music critics turned into jackals when her album "Babywoman" was released back in 1994. To say the album wasn't great would be a massive understatement (although it did get some positive attention in Japan.) Suffice to say, Campbell didn't end up releasing another.

Do you remember a time in the mid-2000's when Lindsay Lohan was one of the biggest teen stars in the world? She had success as a young actress, graced magazine covers and even had a signing career. Believe it or not, Lohan released an album called "Speak" in 2004 and even had a couple popular pop singles with "Rumours" and "Over." Her music career was put to a halt when her personal life famously unraveled like a ball of yarn from the dollar store.

In the '80s, Eddie Murphy found great success as a comedian as well as an actor. So he probably thought, "why not become a singer too?" Bad call. Despite his infamous single "Party All The Time" hitting #2 on Billboard, Murphy released a couple of albums that never charted. "Party All The Time," as well as his corny duet "Whatzupwithyou" with Michael Jackson have both gone on to be mocked by music fans. Side note: Murphy is now trying his hand at reggae and it's not too bad.


It's still hard to believe people allowed this to happen. If someone proposed a Paris Hilton pop album to you, is there any way in your right mind that you would possibly think it could be good? The socialite and sex tape star released one album in 2006, creatively dubbed "Paris." Her first single "Stars Are Blind" got a little attention, but everything else from it faded in obscurity. Side note: Hilton is now an offensively successful DJ.


Alyssa Milano was the dream girl of many young boys growing up in the '80s and '90s thanks to her role as Sam on "Who's The Boss?" With her success as a teen actress, she decided to try her hand at an electro-pop career to mirror artists like Kylie Minogue. She released four albums that went painfully unnoticed in the US. Somehow, they were a massive hit in Japan where Milano became a multi-platinum selling artist.

"Whoa" indeed, Joey. After becoming a teen heartthrob for young girls during his stint on "Blossom" in the early '90s, Joey Lawrence took his shirt off, donned some fingerless gloves a decided to sing. And boy was it terrible. Lawrence released an album in 1993 called "Stay Forever." It had one semi-successful song called "Nothing My Love Can't Fix" but Joey's music career never went anywhere further. Side note: Joey's love can't fix how painfully '80s his music video looks now.

Tyra Banks is a beautiful lady. She has found success as a model, hosting America's Next Top Model (which she also sang the theme for) and for having her own talk show. But it doesn't mean she's a pop star. In the mid-2000's, Banks decided to test the pop music market by releasing a single called "Shake Ya Body." The generic song and Banks' average vocals paired with her bad acting and terrible dancing in the video added up to one big stinker that nobody bought.

You're probably thinking "no way," but it's true. Joe Peci dabbled in singing. In fact before he became in actor, Peci was actually a lounge singer. He released a covers album in 1968 under the name "Joe Ritchie" and after his retirement from acting in 1999, Peci released an album called "Vincent LaGuardia Gambini Sings Just For You," inspired by his character in "My Cousin Vinny." The strange album contains both serious and funny songs, and features Peci rapping. No joke.

Yes, for some reason Spock sang. Leonard Nemoy, most famous for his role as Spock in "Star Trek," actually released five albums between the late '60s and early '70s. On Leonard Nimoy Presents Mr. Spock's Music From Outer Space he actually performed as his famous character. On other albums he performed cover songs and as well as originals. Very bizarre.

If you thought that Steven Segal's acting was bad, you should hear his music. The man famous for action flicks in the '80s and early '90s also took a turn at music. Not only has he featured his music in some of his films like "Fire Down Below" and "Ticker," he also has released two albums called "Songs From The Crystal Cave" and "Mojo Priest." He even toured with his band called Thunderbox.


You might remember Deion Sanders as a professional football or baseball player. You might remember him as a host on Entertainment Tonight but you probably won't remember Sanders when he had his ego slightly humbled when an attempt at a rap career failed back in 1995. Sanders released a hip hop album called "Prime Time" which crashed on the runway before its take off. Sanders released a music video for a song called "Must Be The Money" which is one of the most embarrassingly vain and cheesy videos you will ever see.

If you didn't know that Jennifer Love Hewitt was still an actress, it will probably surprise you to know that she is also an attempted singer who has released four albums between 1992 and 2002. Although she never had any success as a musician in North America, like many bad singing celebs, she for some reason found a following in Japan. Side note: Her most notable album that barely charted in North America was called "BareNaked."

In this case, we really shouldn't be surprised that Kim Kardashian thought she could be a singer. This is a young lady who became famous strictly for having a sex tape. If fame came that easy for her, why would she assume being a pop star would be hard? In 2011 she released a test single called "Jam (Turn It Up)" that she paid the Dream to produce and it was awful. The vocals were brutal and the video was slightly less dirty than her sex tape. Naturally, nobody cared about her as a singer. Also, if it didn't work for Paris Hilton, shouldn't she have known better?


There's a good chance that if you criticize Russell Crowe, he will throw a phone at you. So you have to tread lightly. Despite being a successful actor over the years, Crowe also likes to think he is a rock star, despite having no real success at it. Back in the '80s Crowe went by the name of "Russ le Roq" and released a song called "I Want To Be Like Marlon Brando." Over the years he has been in a few different bands like 30 Odd Foot of Grunts and The Ordinary Fear of God. Crowe also collaborates with Canadian musician Alan Doyle from Great Big Sea. Maybe it's because he's afraid to say no to Crowe. 


Not only did well-known model and actress Milla Jovovich once try to be a singer, she actually released a bizarre concept album. When she was 19, Jovovich, then called Milla, released an album called "The Divine Comedy" that featured Jovovich's rough vocals over top of mandolins, dulcimers and flutes. Let's just say the album wasn't what got her famous.

The year was 1993. Shaquille O'Neal was riding a wave of praise from his successful first year in the NBA with the Orlando Magic. People expected him to go places. Few places expected him to start a rap career. Still, despite criticism at the get-go, Shaq released five studio albums and one compilation album. Hey, at least his music career lasted longer than his one as an actor.

As hard as it is to believe, Mr. Die Hard himself, Bruce Willis actually attempted to be a singer in the '80s and an R&B singer at that. Willis released a couple of albums in the late 80's, the first being called "The Return of Bruno" in 1987. Willis' only single that ever received any real airplay was a Staples Singers cover song called "Respect Yourself." The music video itself is enough to make you realize why Willis should stick to action flicks.

Heavy-set singer Cass Elliot, better known by her stage name Mama Cass of the Mama and the Papas, was said to have died from choking on a ham sandwich in her room and that part of the sandwich was actually found next to her. That's just mean! Cass actually died of a heart attack in her sleep. A ham sandwich could have been in the room but it had nothing to do with her demise.

One of the greatest rock and roll myths of all time was that the Rolling Stones guitarist Keith Richards abused drugs and alcohol so badly in his younger years that he paid to have a massive blood transfusion in Switzerland done in 1973 to swap out his dirty blood with a fresh new batch. Later in life Richards admitted that he made up the story and was bored of answering questions about it.

When Depeche Mode hit their mainstream high point back in 1993, they were embarked on their notoriously gluttonous and debauched Devotional Tour. The band was in shambles, with each member having their own very serious problems with drugs, alcohol and psychological distress. Many myths arose about the band during this time period, including one story that singer Dave Gahan did so many drugs and believed in the band's dark image so deeply that he thought he was a vampire and slept in a coffin. This actually was true! In 2001, Gahan admitted that at one point his bed in his Los Angeles home was a coffin. Ridiculous!

Back in 1982, a Christian activist and broadcaster named Paul Crouch told the world that if you play the iconic Led Zeppelin track "Stairway to Heaven" backwards, it's full a Satanic messages. Messages like "here's to my sweet Satan" and "he will give those with him 666." This, of course, isn't true. If you listen to the playback, the audio is jumbled and sounds like many different words. Crouch was paranoid and Zeppelin weren't devil worshipers…just a badass rock 'n' roll band.

Remember that ridiculous myth that began running rampant when Marilyn Manson began spooking people and making a name for himself in the late '90s? Word was getting around that Manson had surgery to remove his two bottom ribs so that he could perform oral sex on himself. People actually believed that! Guess what? It wasn't true. Manson has often performed shirtless over the years and you can see all of his ribs are intact. He has also spoken out about it saying that he has no idea how such a silly rumour got started.

While we're on the topic of Marilyn Manson, another rumour that was going around in the '90s was that Manson was actually the actor who played Paul on "The Wonder Years." This is totally false. Manson was born Brian Warner in 1969. "Paul" was born Josh Saviano in 1976. 


It's been said that Axl Rose brought a young lady into the record studio at night when Guns 'N Roses were recording "Appetite For Destruction" and recorded them having sex, then put the woman's moaning into the band's song "Rocket Queen." This one is actually very true! The porno sounds on the song are the outcome of Rose having sex with Adriana Smith, former GNR drummer Steven Adler's girlfriend. Classy.

A few years ago, rumours were swirling that Lady Gaga was a hermaphrodite. The myth was that Gaga had both male and female genitalia. The reason for the rumour was that Gaga had performed at a music festival and video footage was recorded of her getting off a prop motorcycle and a penis was visible underneath her skirt. The truth is, there really was something there…a prosthetic penis. Like everything else she does, Gaga did it purposely to try to score some cheap heat from the press.

One of the biggest myths from the early 2000s was that Jack White and Meg White were brother and sister. In all fairness, Jack and Meg started the rumour and people seemed to spread it. The truth is that the White Stripes duo was once married before the band launched into stardom, and Jack actually took Meg's last name.

Kiss demon Gene Simmons' trademark moneymaker has always been his giant tongue. In every show the band has played, Simmons sticks that thing out like a mad man to the joy of the Kiss army. A myth has always circulated that Simmons had a cow tongue surgically added to his own to make it longer. Not only is this completely false, it's also absolutely stupid. Do an image search for a cow tongue and that should debunk this one for you once and for all


Back in 1975, a myth was started that the scream heard at the beginning of the Ohio Players hit song "Love Rollercoaster" was the sound of a girl being murdered in the studio next to where they were recording the song. The myth says that the scream just happened to be captured in the process. It's not true. The scream was actually made by keyboard player Billy Beck, but the band kept quiet about it because it was good for press.

One of the music industry's most legendary stories was that Ozzy Osbourne once bit the head off a live bat at a Black Sabbath concert. The truth is…yeah, he did! At a show in 1982, Ozzy really did bite the head off a small bat, although it was a complete accident. A fan threw the bat on stage, Osbourne thought it was rubber and took a bite. The rock legend had to be treated with a rabies shot following the show. Smart idea.


A horribly racist myth was started in the mid-90s that former Fugees singer Lauryn Hill didn't want white people to listen to her music. Rumour had it that Hill told MTV that she'd rather let her own children starve than have white people buy her albums. "The Howard Stern Show" helped spread it. Both Hill and MTV denied that it ever happened, and Hill called the Stern show to clarify that it was false.

In Fleetwood Mac's heyday, Stevie Nicks snorted a lot of cocaine. She loved cocaine so much that during the height of her drug addiction in 1986, Nicks burned a hole in her nose so big that doctors told her she had to stop. According to the myth, Nicks needed her drug fix so badly that she paid someone to blow cocaine up her butt with a straw! Nicks denied the story as a stupid rumour and said she continued snorting coke up her nose despite doctors' recommendations until she finally got sober.

The late original drummer of "The Who" Keith Moon was a wild boy. So many rock and roll myths have surrounded Moon and his antics, like the famous story of him driving his Rolls Royce into a pool at the Holiday Inn in Flint Michigan at his 21st birthday party. It never happened. He did, however, accidentally reverse his car into a garden pond one morning and needed a tow truck to help get it out.


Alt rock band 311 are not members of the KKK. But a myth began swirling around years ago that because K is the 11th letter of the alphabet, the band's name derived from their membership to the KKK…you know 3-11? It turns out the band name is actually a reference to the police code for indecent exposure in Omaha, Nebraska which they learned after their original guitarist was arrested for streaking there.

John Lennon once told a story that the Beatles smoked a joint in the bathroom at Buckingham Palace before they were presented with their Member of the British Empire award. That doesn't sound too far-fetched does it? Sadly it's not true. Paul McCartney later stated that the story was just a joke and Lennon was messing around. Maybe Sir McCartney was just trying to come off a little classier in his older years. We want to believe.


It's not a surprise that Keith Richards is one of music's biggest myth making sources. The guy had done everything under the sun. One thing he didn't do was snort his father's cremated ashes as he had once alluded to in 2007. He later denied it but said that when he was scattering his dad's ashes around an oak tree that he planted, some ashes blew out on his table. He didn't want to brush his dad off, so he ran his finger over the residue and snorted it. So technically he didn't snort ALL of the ashes.

The debunking of this music myth is a hard one for stoners to swallow. "The Dark Side of Oz" isn't real. Pink Floyd's "The Dark Side of the Moon" and "The Wizard of Oz" do not line up and any such overlap is strictly coincidental. For one thing, there are always varying suggestions for when you are supposed to start the album to sync it to the film. The band has also flat-out denied it, which should speak for itself.


A myth that has circulated about late psychedelic rocker Jimi Hendrix was that he used to put acid on his signature headbands, cut his forehead and let the drug absorb into his bloodstream while he played. Hendrix's family has said that the myth was absolutely not true and denied that it ever happened.

Rod Stewart explained the myth's origins in his 2012 autobiography, which was excerpted in The Daily Beast, claiming it was the result of firing his publicist Tony Toon. "Toon's revenge was absolutely inspired. He fed the press a story in which, as a consequence of an evening spent orally servicing a gang of sailors in a gay bar in San Diego, I had been required to check into a hospital emergency room to have my stomach pumped ... I have never orally pleasured even a solitary sailor, let alone a ship's worth in one evening. And I have never had my stomach pumped, either of naval-issue semen or of any other kind of semen. With minor variations ... this story has stayed with me ever since. Say what you like about Tony Toon — and God rest his soul — but he was good at his job."

The supposed backstory of "In The Air Tonight" is so entrenched that Eminem even rapped about it, but it turns out that Phil Collins did not actually see a man refuse to help a drowning victim, write a song about it and then invite said man to his concert after which the guy committed suicide. Collins has said that song is about the break-up of his first marriage.

This is actually true, though rumours that they trashed a venue when this demand was not met isn't. Also, the no brown M&Ms demand in the tour rider was just a clever way to make sure the promoters had actually read the whole contract to ensure everything else in their production was set-up safely.

We all know that Beyonce seems like a pretty cool lady. She's done a lot of cool things during her live shows, but perhaps the coolest was during her show in Perth, Australia last year where she spotted a sweet 13-year old legally blind audience member and had her sing "Irreplaceable" with her. The joy that the little girl looked to have experience was amazing.


To this day, one of the coolest concert moments to stand the test of time is Queen's performance at Live Aid in 1985. Queen stood apart from all the over bands and owned the ocean of 75,000 people at Wembley Stadium who clapped along in complete unison to songs like "Radio Gaga." It is one of the coolest and most impressive stage moments you could ever watch.


At a Radiohead show back in 2003, the band was performing on stage when all of a sudden singer Thom Yorke noticed a man passed out in the crowd (forward to 27:50 in the video). He immediately stopped the band, and asked security to come help the victim and get him an ambulance. Once the victim was assisted, the band kicked back into the song from the same point like nothing happened.

The Police broke up in 1986 and for years people were begging for a reunion tour. When it finally happened in 2007, the band called for a press conference at "Whisky A Go Go," a tiny dingy rock club in LA. The audience at the show, which was made up of media, lucky fans and other bands, got to see the Police rehearse in a small club together for the first time in almost 20 years. How cool is that?


One of the coolest frontman moments happened at the iTunes Festival in 2011 during the Foo Fighters' set. A fan was trying to fight other audience members in the crowd and from the stage Dave Grohl noticed it. He immediately stopped the band from playing the song, and epically tossed the hooligan out of the show. The crowd cheered, Dave said he didn't want applause for it and they continued playing once the jerk left.

At this point, if you know anything about the Flaming Lips, you should know that at live shows, singer Wayne Coyne often goes out into the crowd in his inflatable space bubble. It's still an incredible part of their show, but can you imagine how cool it would be to see him do it for the first time at Coachella in 2004? Up until that point, only beach balls and crowd surfers were being passed around above the crowd. He fused the two.


Since their breakup in 1980, fans have been begging for a proper Led Zeppelin tour with full concerts. And it happened once in December 2007 at the O2 Arena in London. The performance was epic and was later released as a DVD called Celebration Day in 2012. Imagine how cool it would have been to witness that live?

Madonna's kiss with Britney Spears and Christina Aguilera during their performance at the 2003 MTV VMAs was cool for a variety of reasons for different people. Young, hormone raging boys loved it for the obvious. But the moment itself was just a really cool, unexpected example of bad-assery by the ladies that will go down as one of the most notorious moments in MTV history.


Who would have ever thought a super group merging Nine Inch Nails, Queens of the Stone Age, The Foo Fighters and Fleetwood Mac would ever exist, even for a night? Well it happened at the 2014 Grammy Awards for the fans in attendance. Trent Reznor, Josh Homme, Dave Grohl and Lindsay Buckingham joined forces to close the show. Sadly for everyone watching at home, the Grammys cut the performance only a couple minutes in since the show was running late. No wonder Trent Reznor was fuming.

Coachella seems to provide at least one really cool and memorable concert moment every year. Last year during Phoenix's headlining set, the French indie rockers brought a pretty unlikely artist to come out and collaborate on a live mash-up with them. R. Kelly hit the stage to sing his hit "Ignition" over top of Phoenix's smash "1901." It sounded pretty amazing.

During their epic Watch The Throne tour in 2011 and 2012, Jay Z and Kanye became notorious for playing their fan-favourite song "…In Paris" multiple times. Fans in Paris got the special privilege of seeing the modern hip hop gods play the track 12 times in a row! Pretty crazy.


The prospect of having the singer from one legendary band front another legendary band is pretty incredible and it is exactly what happened when Paul McCartney fronted Nirvana with surviving members Dave Grohl and Krist Novoselic in 2012. The iconic groups merged together to perform at the 12.12.12 Hurricane Relief concert. Not only was it cool to see them perform together, it was also for a great cause.


Is there anything cooler than an artist who is so determined to give his fans a good show that nothing can get in the way…even the urge to use the bathroom? That was the case recently with rapper Action Bronson. During his set at the Ottawa Blues Fest the other week, Bronson had to pee mid show. Instead of taking a break, the singer took his wireless mic, walked through the crowd and used a port-a-potty, all while continuing to rap.

James Murphy and his band LCD Soundsystem had a massive cult following before he decided to stop making music back in 2011. For one last show, Murphy decided to have his band play an epic concert at Madison Square Garden attended by his friends and thousands of hardcore fans. In an incredibly cool moment, Murphy's friends the Arcade Fire who were in attendance to watch the show joined LCD on stage to play a pretty sweet impromptu performance to the joy of everyone in attendance.

The debate over whether or not late hip hop legend Tupac is dead or alive on a secret island somewhere still exists with some fans. But during Dr. Dre and Snoop Dogg's headlining set at Coachella 2012, he was very much alive…in hologram from. In a never before seen moment, fans got to witness some pretty incredible technology first hand as the very life like hologram of Tupac performed with his living friends one more time.

The Sasquatch Music Festival happens at The Gorge in Washington State every Memorial Day, and in 2009, it was home to one of the coolest music festival moments ever witnessed. During Santigold's set, a fan on a hill got up and started dancing all by himself in a truly abstract way. Slowly, other fans started funnelling in to join him in his silly dancing bliss until it snowballed into an incredible massive, joyous dance party. It's really cool to watch.


One of the coolest moments at a rock concert was actually one of the most recent to occur, as well as the inspiration for this piece. At a recent Weezer show in Florida, the band was performing their hit "Beverly Hills" when a member of the audience threw a frisbee on stage directly at the band. Without missing a beat of the song, drummer Patrick Wilson caught the frisbee and kept playing. It was a pretty incredible feat to watch.

Over the years, the Super Bowl Halftime Show seems to have been a notorious setting for some of music's most embarrassing stage moments. One of those moments happened back in 2012 when Madonna was the featured artist. During her performance, the pop icon was the victim of a choreography misstep and took a tumble backwards down some stairs. It could have been much worse, but at the most-watched televised event of the year, it was still pretty damn embarrassing.

A good lesson to be learned here is that not all audiences want to be part of a stage dive. Years ago at a Wu Tang Clan show in the UK, Method Man tried to jump off a speaker into the crowd to surf on the hands of his fans. Unfortunately for the rapper, after he took the big jump, everyone in the crowd moved out of the way and he had a close encounter with the concrete.

2007 wasn't a great year for Britney Spears. Following her well-publicized head-shaving meltdown, Spears tried to mount a comeback for her music career at the MTV VMAs. With a heck of a lot of people watching live in the audience and at home, Spears took to the stage looking confused, unrehearsed, and disheveled. Everything from the choreography to the lip-syncing to the fashion was completely off, and it will go down as one of the most embarrassing moments of Britney's career.

A few years back at a show in New Jersey, Drake was performing on stage with his label boss Lil Wayne. Drizzy got a little too into the music by jumping around wildly, and his previously torn ACL came back to haunt him. After reinjuring his leg through said aggressive jumping, the rapper immediately hit the ground and needed to be carried off stage. Talk about an embarrassing night for the Degrassi star formerly known as Wheelchair Jimmy.

Remember that moment back in 2009 when Jay Z and Alicia Keys were performing their massive hit "Empire State of Mind" at the MTV VMAs? At the end of the performance when Jay and Alicia were winding down the song, rapper Lil Mama jumped up on stage to crash the moment. Neither Jay nor Alicia acknowledged Mama and her cheap attempt at some publicity resulted in embarrassment at best.

Many people have dubbed Janet Jackson's embarrassing 2004 Super Bowl Halftime Show performance as "Nipplegate." Over a decade has passed since Jackson performed at the show with Justin Timberlake and while we still use the term "wardrobe malfunction" we don't even remember who was playing, much less who won.

Remember that time Celine Dion dressed up like Michael Jackson to perform "Bad?" We wish we didn't either. The footage from the tribute performance is pretty strange and shocking. This has to be a leading candidate for Dion's most embarrassing career moment.

During a Lady Gaga concert in Barcelona a couple years back, Mother Monster was performing her song "Edge of Glory" when her dinner decided to return for an encore…a triple encore to be exact. Gaga threw up three times in the middle of her performance, but somehow kept the groove going. It was embarrassing, but also impressive.

While touring behind their last album Come Around Sundown, Kings of Leon were performing an outdoor show in St. Louis when a flock of pigeons got the better of them. The Nashville rockers had to cancel the show mid-set after a slew of pigeons kept crapping on them on stage. The most embarrassing moment came when bass player Jared Followill got pigeon crap in his mouth!

Yes, another embarrassing tale of a musician throwing up on stage in front of their fans. Last year on the Arizona stop of his Believe Tour, some quick moving choreography and dinner got the better of Justin Bieber during his performance of "Out of Town Girl." During the song, the Biebs turned around and yacked twice on stage in front of the audience. Gross. He later apologized to all of the little kids in attendance.

Back in 2008 when Katy Perry was singing about kissing girls and liking it, she performed at the MTV Latin America Awards. At the end of her performance she jumped on a giant birthday cake, and when she got up, she slipped and fell on her face due to the slickness of the icing on the stage. After the embarrassing slip, Perry couldn't stand up after multiple attempts and had to be carried off. She was still a good sport about it.

We all remember Ashlee Simpson's painfully embarrassing SNL lip-sync debacle, but sadly that wasn't where her career embarrassment ended. Simpson was given the opportunity to perform at the Orange Bowl Halftime Show back in 2005 and the good news was that she actually sang. The bad news is that her vocals were so embarrassingly terrible that a stadium full of football fans booed her off stage.

When Etta James passed away, Christina Aguilera performed at her funeral. She sounded incredible, but the performance was embarrassing nonetheless. Mid-song, an unknown reddish liquid began dripping down Aguilera's leg from her skirt. You can even see Xtina try to rub it off with her other leg at the 3:50 mark of the video. Her people later said that it was an excess of her spray tan liquid, but no one knows for sure. It qualifies as both gross and embarrassing.

When Nirvana was playing at the 1992 MTV VMAs, bassist Krist Novoselic was having amp problems. Instead of just standing around like a useless bum not playing, he decided to attempt one of his tried and true stage gimmicks, which was throwing his bass high into the air and catching it. On this particular embarrassing occasion (thanks to beer and bad luck) the bass came crashing down and hit Novoselic on the head, knocking him down and leaving a massive gash on his face.

Back in 2007 at one of her shows in Orlando, Beyonce got caught up in some heavy choreography. As she attempted to run down the stairs of her stage set-up, Bey took a spill down the steps and did a major face-plant. Being the pro she is, Beyonce immediately got back up and started performing as if nothing happened.

Pink has become known for her impressive acrobatics and Cirque de Soleil type acts at her live shows. She's usually an incredible performer, but on one embarrassing night a few years back in Germany, Pink attempted to fly into the crowd on her wire contraption, but it didn't work and she was dropped like a sack of potatoes in front of the stage. Of course it was captured on a fan's iPhone who was sitting front row.

Of course the most embarrassing stage moment of all time for any musician was when Fergie accidentally peed herself in front of a live crowd at a Black Eyed Peas concert in 2005. She was apparently running late for the show and didn't have time to use the bathroom. The end result was her peeing her pants on stage for the crowd to see and snap photos of.