Branksome Hall Celebrates Transgender Alumni In Magazine Cover
One Toronto all-girls school is hoping to educate the community on what gender transition entails.
Branksome Hall, a private school for girls near the city's downtown core, released their annual winter alumni magazine The Read featuring two transgender men on the cover, former students Andy Sprung and Reed Wanless. Inside, they detail their unique gender transition stories.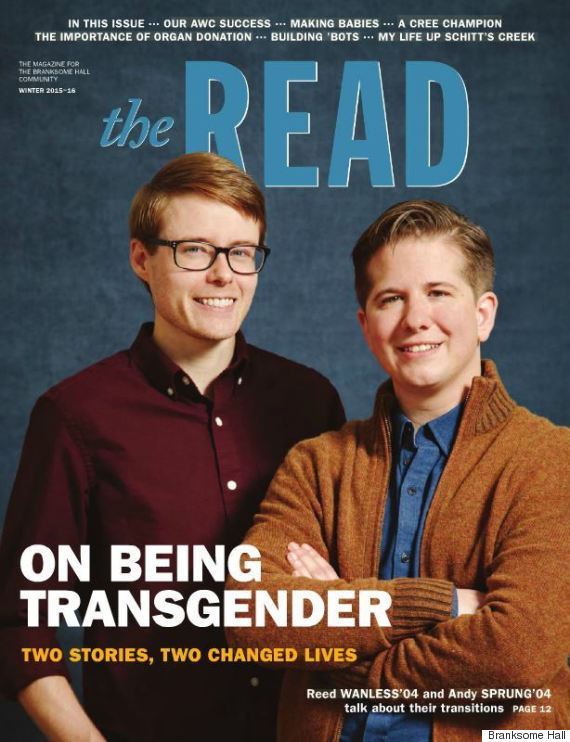 Tanya Pimenoff, editor of the magazine, says working on this issue has educated her about the transgender community in general.
"At our reunion in May 2014, one of our senior students met Reed Wanless, who attended the dinner," Pimenoff tells The Huffington Post Canada. "This chance meeting inspired the girls who were part of Branksome's student-run Gay-Straight Alliance (GSA) to invite Reed to attend one of their meetings.

"We soon learned of Andy Sprung's gender transition as well — two stories of two changed lives. Reed and Andy both had very positive experiences during their years at Branksome."
In September 2015, the school established a Transgender Working Group (TWG), a team dedicated to creating guidelines to educate the community about the needs of transgender students. The TWG also reviews research and human rights policy to draft additional policies for the school.
"What we set out to do, through the cover stories of this issue of The Read and the newly established TWG, was to educate our community on the topic of 'being transgender' — a topic that is important and necessary in today's changing times," Pimenoff says.
The school will also be hosting a conversation about transgender issues specifically geared toward parents in February, co-hosted by Wanless.
In 2015, Ontario released a new sex ed curriculum (the first update in 17 years), and as part of the teaching curriculum in group settings, the document encouraged instructors to be aware of the needs of students who did not identify as male or female, who were transgender, or were gender-non-conforming.
In Branksome's magazine, Sprung, an associate at Findlay Law Offices in Hamilton, opens up about once being interviewed by an employer and being asked about his educational background. When he brought up going to Branksome, it was followed by an awkward pause.
It's stories like this people in the community can relate to, Wanless notes, who wrote his own piece about teaching and some of the challenges he dealt with post-transition.
Check out the full winter issue here.

ALSO ON HUFFPOST:
Iconic Transgender Moments
On June 1, 2015, Caitlyn Jenner (formerly known as Bruce Jenner) made her debut on the cover of Vanity Fair magazine. The issue followed her public interview with Diane Sawyer, in which she spoke openly about her transition and journey.

2013 was an incredible year for transgender actress and activist Laverne Cox. Not only did her groundbreaking "Orange Is The New Black" role launch her to superstardom, but Cox continued to be a a voice for the voiceless when it comes to transgender issues, particularly those pertaining to women of color. Among a landslide of other honors throughout the course of the year, the transgender pioneer received the "Reader's Choice Award" at this year's OUT 100.

Following her trial for leaking classified government documents, Chelsea Manning sent shockwaves through the nation when she announced her transgender identity and asked for the public's support. "As I transition into this next phase of my life, I want everyone to know the real me," Manning said in a statement. "I am Chelsea Manning. I am a female. Given the way that I feel, and have felt since childhood, I want to begin hormone therapy as soon as possible."

Cassidy Lynn Cambell, 16, made history in September when her peers voted the teen homecoming queen at her California high school. Immediately following her win, Campbell became the victim of online bullying and harassment for her win, inspiring her to pose for the "NOH8 Campaign." Her win became one of the first in an incredible year of victories for transgender and gender non-conforming students at their respective homecoming events across the country.

"RuPaul's Drag Race" season three contestant and transgender model Carmen Carrera unexpectedly became the subject of a viral Internet petition in early November. The petition called for Victoria's Secret to hire the showgirl as the company's first transgender model in its annual fashion show. Though Victoria's Secret did not respond to the Carrera petition, the model has claimed that she will campaign to be included in next year's show.

In light of recent controversy surrounding McDonald's treatment of the company's employees, one Washington franchise of the fast food chain impressively allowed transgender individuals to use the bathroom that corresponds with their gender identity. The letter read, We respect the rights of all customers and employees. We believe all people must have access to safe and dignified bathroom facilities regardless of their gender identity or expression. Therefore, the following policy has been adopted for this restaurant at 1530 3rd Avenue ... Employees and customers may use any restroom that corresponds with and is based upon the gender identity they publicly and exclusively assert or express.

Historically anti-gay pundit and conservative talk show host Pat Roberston made jaws drop collectively across the nation when he claimed that he didn't "think there's any sin associated with" transgender people having gender confirmation surgery. However, just a few weeks later he went on to counteract the minimal amount of progressive hope in his views by comparing transgender people to his castrated horse. Looks like some things never change.

DC Comic fans were introduced to Alysia in "Batgirl" #19 in early April, who went on to reveal that she is transgender during a conversation with Barbara Gordon (Batgirl). The move made Alysia not only the first DC Comics transgender character but the first transgender character in mainstream comics.

Jennifer Natalya Pritzker, decorated colonel and one of the richest people in the world, announced her transgender identity in an uncharacteristically public appearance in late August. Following her announcement, Pritzker awarded a $1.35 million grant to the Palm Center, the UCLA-based think tank, that will fund a multi-year research initiative about service by transgender people in the military. The ban on openly transgender military service remains in effect.

In another challenge to the U.S. ban on transgender service members, Kristin Beck, who served 20 years as a Navy SEAL and was once a member of the elite SEAL Team 6, came out as transgender in her memoir Warrior Princess: A U.S. Navy SEAL's Journey to Coming out Transgender. "[P]erhaps this memoir, which documents the secret torment of one of the U.S. military's most effective and loyal agents, will lay the groundwork for even greater inclusion in the armed forces," The Atlantic Wire's J.K. Trotter wrote.

Arin Andrews and Katie Hill warmed hearts around the world last summer with their unique and touching love story. The pair met at a trans support group, after each had begun the transitioning process, and fell in love.

When Ari South first appeared on "Project Runway" season eight, the designer embodied a different name and different identity. When she returned to "Project Runway All Stars" in October, she was living as her authentic self and blazing through uncharted territory for transgender people both within -- and outside -- the fashion world.

In wake of the pervasive climate of fear and violence plaguing LGBT Russians, top Russian lawyer Masha Best came out as both transgender and bisexual in protest of the country's institutionalized homophobia. Best later went on to announce her campaign for the Russian presidency in 2018. Here, Best poses nude in honor of the 2013 Transgender Day of Remembrance.

For the first time in history, legislators in multiple states weighed the benefits of providing access to gendered spaces and organizations for public school students that identify as transgender, such as using the bathroom or playing on the sports team that corresponds with their gender identities. California passed such legislation in early July, inspiring this iconic freakout by "Fox and Friends" and Michelle Malkin.

Other states also met these bills with resistance, with one Arizona lawmaker, John Kavanagh, attempting to push through legislation that would prosecute transgender people for using a public restroom if their appearance didn't match the listed gender on their identification. One local new station dubbed this the "Show Me Your Papers Before You Go Potty" bill. The backlash convinced the lawmaker to tone down the language of his bill, and put it on hold until next year.

In January 2012, Argentina passed a Gender Identity Law that enables citizens to change their names and government-sanctioned sex on official documents without approval from a judge or doctor. In late September, 6-year-old Lulu became the first minor to legally change their sex on a government document since officials initially passed the legislation.

Prior to California passing legislation that extended rights in public schools to transgender minors, Ashton Lee, a transgender teenager, petitioned California Governor Jerry Brown to sign the legislation. Not only did Lee deliver a petition to Brown that contained over 5,700 signatures, but the teen also testified in front of the California Senate Education Committee about the bill's necessity to protect and value transgender individuals within the public school system.

Domaine Javier, a nursing student at California Baptist University, revealed to the world that she was transgender in an MTV episode of "True Life." The university's response? Accusations of fraud followed by expulsion because Javier had given her gender as female on her admissions application. She went on to sue the institution.

During a historic year for LGBT athletes, Mixed Martial Arts (MMA) fighter Fallon Fox came out as transgender in an early March interview with Outsports. "I'm technically, legally, physically and mentally female. Everything about me is female," she stated. "I happen to fall into the transgender category, but I rather describe myself as a woman first, transsexual woman second."