Kathryn Smith, Hired By Buffalo Bills, Becomes NFL's First Full-Time Female Coach
BUFFALO, N.Y. — The Buffalo Bills have hired Kathryn Smith to be their special teams quality control coach, making her the first full-time female member of an NFL coaching staff.
The team announced the move in a release Wednesday night.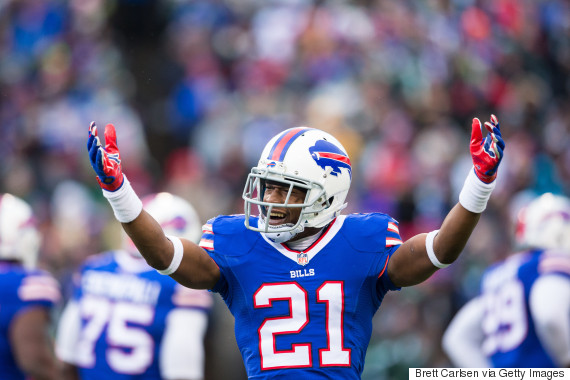 Leodis McKelvin #21 of the Buffalo Bills revs up the crowd during the game against the New York Jets on Jan. 3, 2016. (Photo by Brett Carlsen/Getty Images)
Smith spent last season working as an administrative assistant for Bills assistant coaches on Rex Ryan's staff.
She spent the previous 12 seasons working for the New York Jets in various capacities, including a player personnel assistant from 2007-13. In 2014, Smith served as the Jets assistant to the head coach in Ryan's final season in New York.
In her new role, Smith will assist special teams co-ordinator Danny Crossman and his assistant Eric Smith.
Also on HuffPost:
Sportswomen of the Year 2015
"The best thing about being a woman in sport is being able to use my success to inspire girls everywhere to give sport a go – to see that you can be successful, but more than that to show that being sporty has so many great benefits including being healthy whilst having fun."

"The worst thing is quite hard to answer, as I have had an amazing career in a sport that has equality – but possibly the hardest thing as a girl growing up was accepting body image – being quite muscly was not the norm in my peer group and I agonised over it, but now I am really happy with how I look."

"The best thing about being a women in sport is being able to show girls and women of all ages the confidence and strength that sport can give you. I know that I feel like a better person after I have ridden my bike. "When I don't ride for a while I feel kind of mixed-up inside, and when I do ride, that clears right away. Sport can give that to women; that strong sense of self, that ability their bodies develop, the peace of mind. "To me it's amazing to be able to open that door and maybe inspire someone to give downhill cycling a go. "I also love that I can be a fierce, furious badass racer when I'm on my bike, and off the bike take a complete turn-around and be pretty mellow and chilled out, like Jekyll and Hyde. I think when a woman learns about the different personas inside of her, and how they to make them work for her, then she'll be capable of anything."

"The worst thing? I had to think about this for a really long time. A few years ago I might have said the inequality of press interest… there was a time when my brother Gee and I would win the same titles in our respective categories and he'd get interviewed for half an hour, they might mention me at the end, just might! "That's just not true anymore, there are so many awesome initiatives making sure that women's sport gets just as much exposure, and even if there wasn't, we have social media to tell our own stories. "In an extreme sport that is still dominated by men, I think that some of the younger girls do still feel pressured into photo-shoots that focus on how sexy they look, rather than how strong their training has made them, or how well they can ride – but numbers of women riding and racing are literally exploding so the outlook for the sport is awesome."

"My gender has never held me back in my career in sport and I am lucky in that I know that I am taken as seriously as any male athlete in my sport. "So I don't really think there is a 'best thing about being a woman in sport' - I love being in sport and if I am a role model to other women, particularly anyone interested in winter sport, then that is great."

"What is the worst thing about being a woman in sport? There are still far fewer women in some areas of sport, particularly if you look at coaches and technical experts, therefore it's hard to see where your career could progress after you have finished as there are not many female role models on the management side of sport."

"The best things about being a woman in sport is that I get to make my hobby my career."

"The worst thing is not having as many opportunities to race as my male counterparts."

"The best thing about being a woman in sport is I get to live my dream, by having my sport as my job. It keeps me happy and healthy and to be able to be good in a combat sport as a woman is pretty cool."

"The worst thing about being a woman in sport is that women don't get as much recognition, coverage or sponsorship, as men in sport."

"The best thing is seeing so many strong female athletes at competitions, awards ceremonies and of course big events like the Olympics. "You see where they've come from and what they've achieved and it's so inspiring for me so it must be for the younger generations too. I'm very proud to be a part of it."

"I am in a sport where both men and women compete together, it's very rare to have that but it means that we are equal. But I can see why in other sports men and women aren't purely because of physical strength, and some may think that means men are better, but that's not the case and public perceptions are getting so much better for women in sport these days. "Things like Sportswomen of the Year Awards prove that, just look at all the nominees, they are amazing."