Girl Turns Pink After Misusing LUSH Cosmetics Bath Oil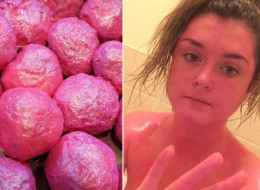 Remember that episode of the "Magic School Bus" when Arnold ate too much Sea Wheedie and turned orange?
Well it looks like Abi Shenton had a similar problem, except it involved misusing a LUSH bath oil, which, in turn, made her skin pink.
Shenton shared an image of her pink-stained skin on Twitter, tweeting at the natural cosmetics brand, "Hi! @lushcosmetics just a quick question, are your products supposed to stain the human skin fluorescent pink?"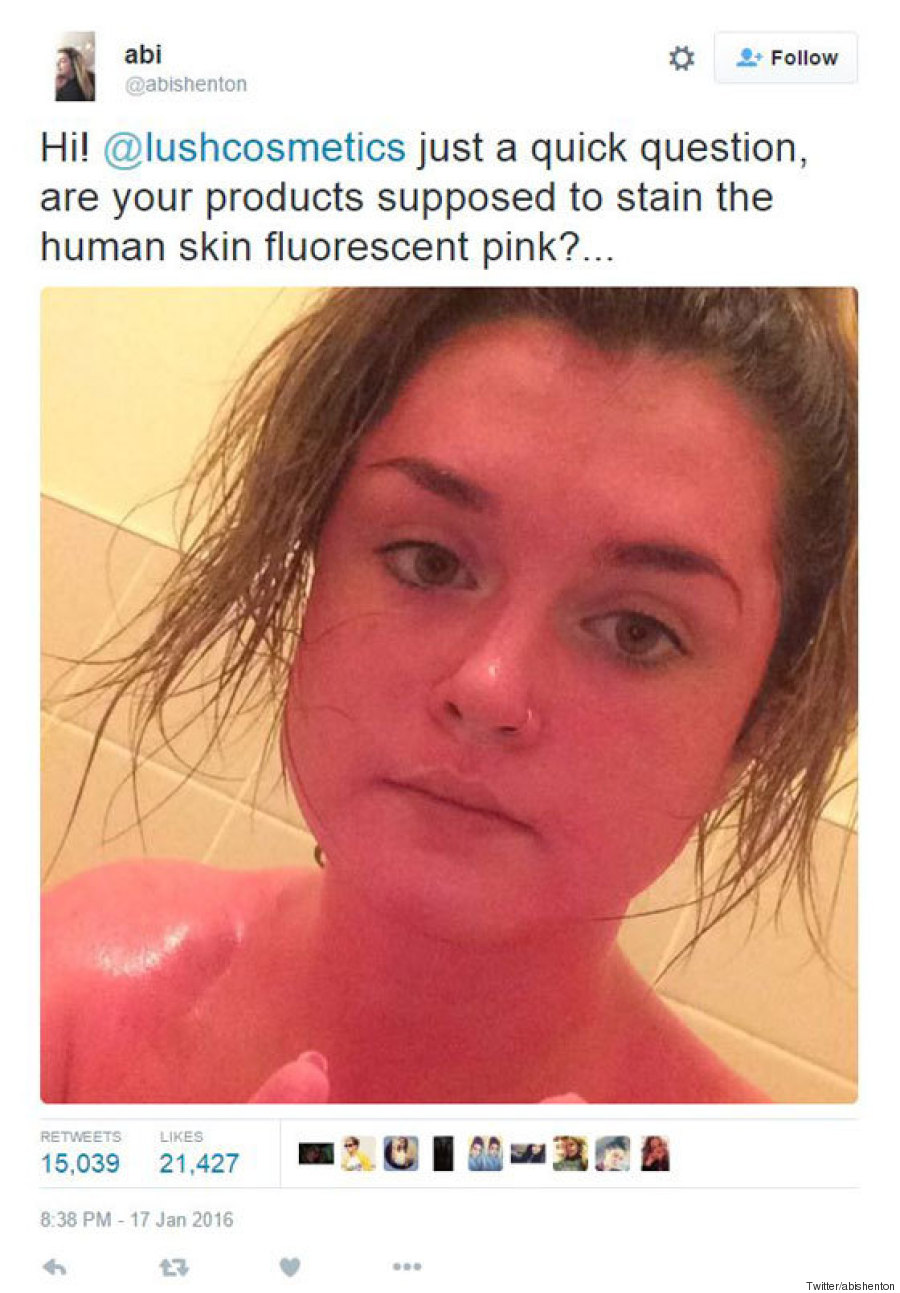 LUSH was quick to respond to her inquiry:
@abishenton Yikes! Please contact our friends in the UK at @LushWeCare so they can help you out with this! ❤

— LUSH Cosmetics (@lushcosmetics) January 17, 2016

Shenton later clarified what happened, telling Pretty52, "The product used was called 'Razzle Dazzle' and it is not a bath bomb! The correct procedure is that you are supposed to dilute it into water but I thought it was a soap and rubbed it all over my body and face (explains why my hair is dry) 3 days + several baths later I am no longer pink!"
She continues, "I misused this product! I love LUSH and will still continue to shop there. It's just a shame that I wasn't told how to correctly use the product when purchasing! A very helpful friend of mine works at Lush and helped me remove all the pink stain with lemon juice, olive oil + a gritty face wash!"
Beautiful Razzle Dazzle bath oils waiting for you #lush #lushswansea #swansea #bathoil #bathart pic.twitter.com/QcyqKCazdf

— Lush Swansea (@lushswansea) November 11, 2015

As for LUSH, they tell HuffPost UK Lifestyle, "We are as red in the face as Abi at the idea that one of our bath melts has been mistaken for a soap."
Hey, at least they weren't the ones stained!
Follow Huffington Post Canada Style on Pinterest, Facebook and Twitter!
ALSO ON HUFFPOST:
Maybelline New York is hopping aboard the liquid matte lipstick train with their new Vivid Matte Liquid by ColorSenational. It comes in 10 shades, ranging from nudes to electric pinks and the perfect dark red, and its lightweight, creamy texture glides on smoothly onto your pout. While it's not as matte as its higher-priced counterparts, it's still worth trying out, especially for the price. $12.99 each. Available at drugstores and mass retail locations nationwide beginning January 2016.

Maybelline's LashSensational mascara was arguably one of the best mascaras of 2015, and we think the "Luscious" version will be just as good (if not better). Said to be the "perfect finishing touch to a smoky gaze," this mascara promises to deliver a set of dense, soft lashes, fanning them to extremity. It also features a conditioning formula of saffron, rose hip and argan oil to care for your lashes. $10.99. Available at drugstores and mass retail locations nationwide beginning January 2016.

Contouring is as easy as one, two, three, thanks to this new palette from Maybelline. Available in two shades, it's the perfect kit to throw into your makeup bag when travelling and is comparable to higher-end versions. $15.99. Available at drugstores and mass retail locations nationwide beginning January 2016.

Garnier's iconic Micellar Water is FINALLY coming to Canada, and we can't wait to get our hands on it. The all-in-one cleansing water is the number one Micellar in six European countries, thanks to its ability to quickly and efficiently remove makeup, dissolving even eye makeup and lipstick. And the best part is it's so gentle, it works even on the most sensitive skin. $9.99. Available in drugstores and mass market retailers across Canada beginning January 2016.

If you're a fan of Charlotte Tilbury's iconic Magic Cream, you'll LOVE her Magic Night Cream. Described by the famed makeup artists as her "'Death Becomes Her' cream", this magical elixr plumps, smooths and tightens your skin, so you'll wake up looking gorgeous and feeling alive. $165. Available at CharlotteTilbury.com, Holt Renfrew and Nordstrom beginning March 2016.

Also launching from Charlotte Tilbury is a magic eye cream that promises to improve skin's texture by 30 per cent in just four weeks. This rich cream has a refreshing and cooling texture, and de-puffs and reduces colouration while tigthtening and firming the delicate skin under your eyes. $65. Available at CharlotteTilbury.com, Holt Renfrew and Nordstrom beginning March 2016.

Excuse our language, but this stuff is the sh*t. Seriously. Charlotte Tilbury's Magic Foundation transforms your skin to perfection, but without all the added weight and cake-iness often found in full coverage foundations. $49. Available at CharlotteTilbury.com, Holt Renfrew and Nordstrom beginning March 2016.

If you're going to invest in one lash product this year, it should be this one. This tinted primer from Benefit is the perfect base to amplify any mascara, but also works well on its own for a feathery, natural look. Since using, we won't go a day without it. $31. Available at Sephora starting January 2016.

Think of this as a healthy glow in a bottle that covers all of your imperfections AND smells great. $65. Available at all Chanel beauty counters starting Jan. 25th.

In 2016, Essie is bringing back six iconic shades from their collections in honour of their 35th birthday. Re-launched shades include Life of the Party, Bikini with a Martini, Sequin Sash, Cabana Boy, Birthday Suit (from the original 12 shades) and the cult fave, Starry Starry Night, which was once listed for $700 on eBay. Available in beauty destinations across Canada starting Jan. 5th.

Everything you need to sculpt perfect brows comes in this handy little kit from Physician's Formula. Simply fill in any gaps with the brow pencil, highlight under the arch for an instant lift, then set and perfect using the tinted gel and built-in brow brush. And not only will your brows look gorgeous, but the tinted gel will also strengthen and condition the hairs for thicker, denser brows. $19.99. Available at fine drug and mass-market stores nationwide starting February 2016.

Used on celebrities such as Taylor Schilling and Chrissy Teigen for their red carpet appearances, Vita Liberata's Body Blur Instant Skin Finish is finally making its way to the market in Canada. This skin perfector gives you a gorgeous, natural tan all while hydrating your skin for up to 72 hours. You'll be left looking photo-ready and flawless for 24 hours, or until you rinse it off. $55. Available at Sephora and Sephora.ca on March 4th.

Another genius self-tanning product from Vita Liberata: an anti-aging serum. This self-tanner can be used with your existing skincare regime to give you a golden glow, while plumping, smoothing and restoring natural radiance to your skin. $55. Available at Sephora and Sephora.ca on March 4th.

Celeb skincare fave GLAMGLOW will be launching its first peel-off treatment mask come January 2016. The formula changes from white to chrome and peels off to leave your skin feeling tighter and more lifted and more defined. $69. Available at Sephora starting January 2016.

If anyone knows brows, it's Anastasia Beverly Hills, so you can bet the brand's latest launch will be flying off store shelves once it lands. It features a wider, angled tip that can be used in two different ways — use the flat size to outline the shape of your brow, then fill in the gaps with the tip. $23. Available at Sephora starting January 2016.

We're already huge fans of DryBar's Detox Dry Shampoo, so we can't wait to try their Dry Conditioner on our locks. Featuring mango butter and argan oil, this formula is said to add shine and hydration to your hair. $23. Available at Sephora starting March 2016.