Canadians Holding Record $75 Billion In Extra Cash: CIBC Study
TORONTO — Canadians are holding a record $75 billion in extra cash and continue to sock away money at a rate not seen in more than four years, according to a new report from CIBC World Markets.
Normally that extra money would be invested in equities, but the study found that nervousness over volatility in the markets has many Canadians reluctant to take the plunge.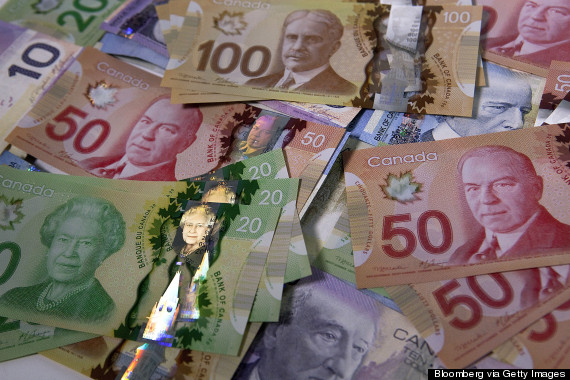 In the past year alone, cash positions are estimated to have risen more than 11 per cent. (Getty Images)
And that, CIBC says, could end up costing them billions in lost investment returns.
According to the study, excess cash reserves held by Canadians have risen notably since the 2008 financial crisis.
In the past year alone, cash positions are estimated to have risen more than 11 per cent — the fastest pace since early 2012 — reaching $75 billion as of December 2015.
That figure represented almost 10 per cent of the total value of overall personal liquid assets in Canada.
"We are currently witnessing the creation of personal cash buffers larger than at any other time on record," said Benjamin Tal, deputy chief economist at CIBC World Markets and a co-author of the report.
"From a broader perspective, the Canadian economy is losing out because capital is not being allocated efficiently."
Harsh investing environment
An overly sour view of Canada from foreign investors combined with recent volatility in stock markets around the world has made for a tough investing environment, the report says.
"Consistent with past behaviour, Canadian investors have used current market volatility as an excuse to let cash pile up in their chequing and savings accounts," Tal said.
The report finds that all Canadians, young and old alike, are making cash a bigger part of their portfolios.
"But , strikingly, those under 35 — the farthest away from retirement — are holding twice as much cash as those over the age of 65, about 33 per cent versus 15 per cent," CIBC said in a release.
"While holding cash can guard against short-term spikes in volatility, it's certainly a long-term drag on portfolio returns," Tal said, adding that while the rush into cash during periods of volatility is understandable, Canadians tend to maintained those elevated cash positions for far too long after markets rebound.
Also On HuffPost:
Consumer Debt Per Person (2014)
Source: Equifax

Source: Equifax

Source: Equifax

Source: Equifax

Source: Equifax

Source: Equifax

Source: Equifax

Source: Equifax

Source: Equifax

Source: Equifax

Source: Equifax

How Canada's Debt Burden Compares

Canada hit a record high in the first quarter of 2011, reaching $1.5 trillion in household debt. If spread evenly across Canada, that means every family with two children has $176,461 in debt. In the U.S., household debt hit $11.5 trillion by the end of March this year. The average household debt in the U.S. for a family of four is $148,000.

Loans owed to Canada Student Loans amount to nearly $14 billion and rising. In the U.S., where tuitions are considerable higher, loans owed exceed $932 billion, including federal and private loans.

With their debt ceiling raised again, the U.S. has more than $14 trillion in government debt in the first quarter of 2011. Canada has more than $563 billion. That figure works out to 84 per cent of Canada's GDP, compared to 58.9 per cent for the U.S.

In the first quarter of 2011, the average Canadian had more than $3,500 in credit card debt, according to TransUnion Canada. In the U.S., the average American consumer owes more than $4,200 in credit card debt.

As of June 2011, the median cost of a home in Canada was $372,000. Vancouver, Victoria and Toronto are some of the most expensive places in the country to buy a house. Prices in the U.S. vary more than they do in Canada. As of June, the median price of a home in the Northeast was $261,000, while the median price in the Midwest was $147,000. The median in the South was $159,100 and in the West, it was $240,400. The average price of a home in the UK is £232,628 as reported by their first quarter in 2011, which converts to around CAD $371,000.

In 2010, there were more than 1.5 million non-business bankruptcy filings in the U.S. In the same year, there were only 92,694 personal bankruptcies in Canada. That means there were 48 bankruptcies per 10,000 people in the U.S., and 28 bankruptcies per 10,000 in Canada.