The Best Destination Wedding Locations To Choose For 2016
Destination weddings are an increasingly popular option for Canadian couples, and it's hard to blame them. Who wouldn't be excited to combine a winter getaway with their wedding?
But some of the wedding and honeymoon destinations most popular with Canadians are not a great value right now due to the low dollar, and things aren't looking like they'll improve much over 2016.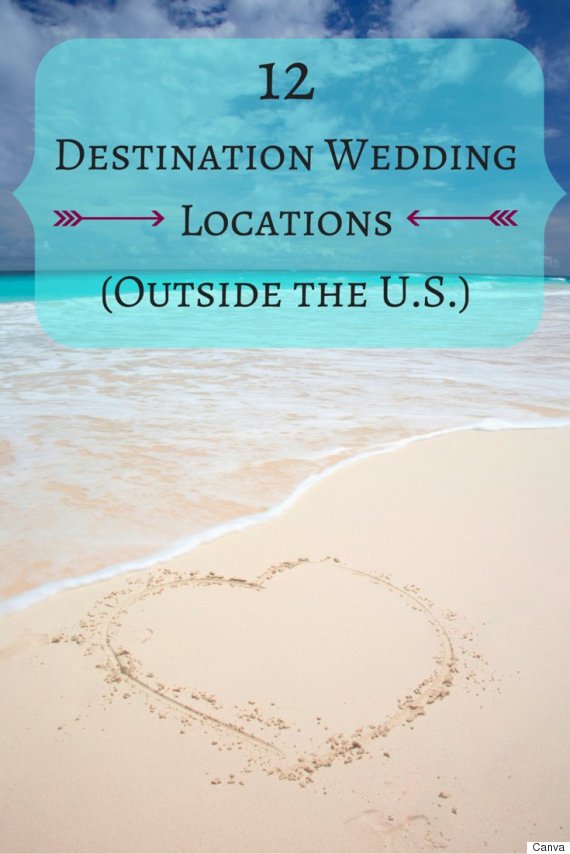 That doesn't mean you have to write off your dream of a destination wedding or elopement, though. Destinations like Cuba are still a good value — both overall and for Canadians in particular. And many all-inclusive deals can still be found, because tour operators often sign deals months in advance and therefore haven't yet built the weaker Canadian dollar into prices.
And in general, there are ways to make any destination more budget friendly. Travel in the off-season, for example — Travelzoo says 73 per cent of Canadians are using this strategy to cut costs.
One note of caution: the Zika virus is causing serious caution in many southern parts of the hemisphere, including Brazil, Mexico, and Puerto Rico, because of mounting evidence tying the virus to a rise in cases of microencephaly in infants in affected countries.
The Canadian government has advised women who are pregnant or planning a pregnancy to consider postponing trips to affected countries. If you're pregnant, hoping to become pregnant, or planning a honeymoon conception, you may want to take this into account.
With that in mind, here are 12 spots where Canadians can still find good deals for destination weddings or elopements of all different kinds.
Destination Weddings 2016
Travelzoo lists Iceland as one of its best-value destinations for Canadians in 2016, and the country makes a great starting point if you'd like to follow your destination wedding with a European honeymoon. WOW Air is launching inexpensive flights to Iceland this spring, making this fascinating destination more accessible to Canadians than ever. And Icelandair already operates direct flights between this European country and several Canadian cities — and also offers package deals that can help you plan the perfect visit for your wedding. Reykjavik isn't the cheapest city in the world (it's expensive to get stuff to remote islands) but the country's krona is near par with the loonie.

Our weak loonie isn't as much of a disadvantage if you're changing it into pesos instead of U.S. dollars. And Riviera Maya, in southern Mexico, offers vacation options for every type of traveller. You can book a wedding in Cancun, where your guests can enjoy the city life, or Tulum, where they can visit ruins and relax on beautiful beaches. Or you can head to the island of Cozumel, which has great snorkelling just off shore and is just a short ferry ride to the popular tourist town Playa del Carmen.

Dollar's keeping you from Florida? Then shift gears and plan a destination wedding in Canada instead. Alberta has a wealth of beautiful options near the Banff and Jasper national parks, and you'll be surrounded by landscapes that will make for truly impressive wedding photos. Companies like Sweet Occasions cover everything from elopements to luxury wedding packages.

The South African rand is also suffering right now, meaning that Canadians can still get great deals there. And considering the culture and nature found in the country, it's the perfect place for an extended post-wedding honeymoon. Resorts like Bushmans Kloof and The Twelve Apostles offer packages for both weddings and elopements.

It's not news to Canadians that Cuba is a popular vacation spot, and a beautiful place to get married. "While it's true that the Canadian dollar is at a ten-year low in terms of exchange rate against the Cuban peso, it's still an inexpensive and easy getaway for most Canadians," BootsnAll says, "especially those living on the east coast, where flights are relatively short and cheaper than from the west coast."

Can't afford a destination wedding to Europe? Hit Quebec's capital instead and enjoy the European atmosphere without dealing with an unfavourable exchange rate. If you go in the winter, you can even get hitched in a chapel made of ice.

If you want to get married on a tropical beach or surrounded by rainforest but are worried about dealing with language barriers, Belize is a great option — the official language is English. And if you'd love to celebrate at an eco-friendly resort, this country is one to hit: you could even spend your honeymoon night in a luxury treehouse. Belize is also known for its great snorkelling and scuba diving, for adventurous couples and their guests.

This is an easy-to-reach destination for those on the east coast of the country, and you won't be dealing with major jet lag while finishing up those wedding details. You can go for the beautiful beaches of Punta Cana, explore the rainforest near Samana, stay in the city in Puerto Plata, or enjoy the great resorts in La Romana. Compared to similar packages in 2015, package prices for the Dominican are down by almost 40 per cent from Toronto and 55 per cent from Winnipeg, Travelzoo says.

If you can't swing Iceland, you can still get hitched on a remote North Atlantic island. One Ontario couple made the national news when they eloped to St. John's and took wedding photos at Cape Spear, the most eastern point in North America. If that doesn't convince you that Canada's newest province is full of beautiful landscapes for your wedding photos, then the work of local photographer Sandra-Lee Elford might do it. If you want to get really remote, head to Fogo Island and get hitched at its world-class inn (we included it in our list of the most beautiful places to get married in the country). You'll swear you were in Ireland.

Brazil might not be the first place that comes to mind for a destination wedding, but it's got all the key ingredients: sun, sand, culture. Many of the country's resorts offer wedding services. "The Canadian dollar is continuing to do well against the Brazilian real. That means that South America is one of the places that Canadians can still go to find a bargain," recommends the BootsnAll travel guide. Air Canada is running more flights to and from Rio de Janeiro, and you might be able to find great deals on hotels just after the Olympic period ends. Bonus: with the Olympics coming up in Rio this summer, Brazil has waived visa requirements for visitors from June 1 to September 18.

This isn't what you could call a budget destination, though you'll definitely get luxury for your spending. But there's another reason to consider Aruba: its weather. If you're planning your tropical wedding for a time of year when destinations like Mexico and the Dominican are at higher risk for hurricanes, you might want to consider Aruba, as it's outside the hurricane belt, has a dry climate, and steady, predictable weather.

If you've got your heart set on visiting a particular destination that's out of your budget for a full trip, a cruise might be the way to go. They can be a great value, and are a way to hit a few different spots and catch the highlights. Major cruise lines like Princess, Royal Caribbean, and Carnival all offer options for weddings on board or on shore.