Clay Used By B.C. First Nations Is Killing 'Untreatable' Bacteria: UBC Research
Clay that's long been used by B.C. First Nations for healing purposes is killing bacteria that other drugs can't beat, according to researchers from the University of British Columbia.
The mud, found in Kisameet Bay about 400 kilometres north of Vancouver, has been used by the Heiltsuk First Nation to treat conditions including arthritis, colitis, skin irritations and burns for centuries.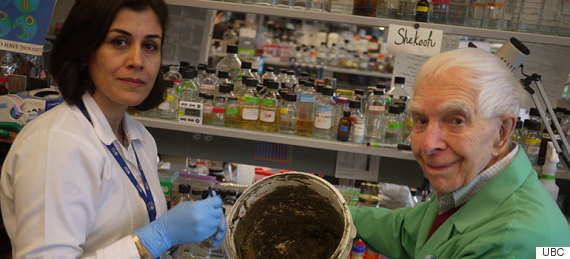 UBC researchers Julian Davies and Shekooh Behroozian pose with a bucket of clay from Kisameet Bay, B.C. (Photo: UBC)
UBC researchers Julian Davies and Shekooh Behroozian teamed up to test the clay against strains of ESKAPE bacteria — potentially deadly pathogens that are responsible for the majority of hospital infections in the U.S.
The bacteria are also "essentially untreatable" with antibiotics, said Davies in a media release. But 16 strains from Vancouver hospital samples were successfully "killed" with the Kisameet clay in recent lab tests.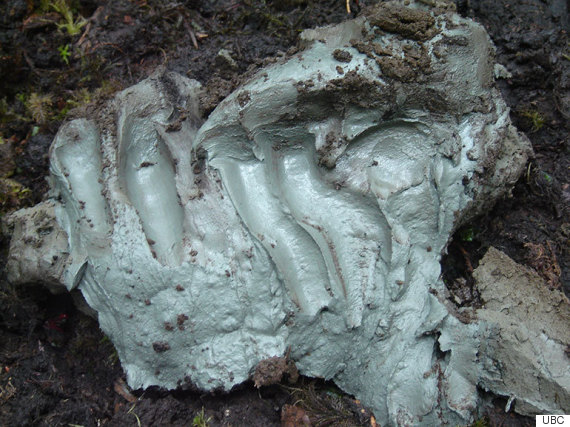 Clay from Kisameet Bay, B.C. is showing promise against a strain of bacteria that doesn't respond to traditional antibiotics. (Photo: UBC)
A business called Kisameet Glacial Clay partnered with UBC on the research program. The firm markets cosmetic and medicinal products made from the clay.
President Lawrence Lund said he hopes a safe antimicrobial can be developed to fight against the ESKAPE pathogens and other infections.
The university said no side effects have been reported by humans using the clay, and the next clinical step is toxicity testing.
Like Us On Facebook

Follow Us On Twitter

Follow Us On Instagram
Also On HuffPost:
Healing Hotels of the World
The Al Maha Desert Resort and Spa in Dubai specializes in seclusion, tranquility and ultra-luxurious relaxation.

Resort and Spa Lago di Garda in Gargnano, Italy, connects personal wellness and environmental wellness for an experience that will leave you feeling invigorated and in touch with nature.

Sha Wellness Spa Clinic in Spain is the perfect retreat for those who want to improve their health in a luxurious and naturally beautiful setting.

An award-winning spa and resort in Tucson, Arizona, Miraval is a destination that has something for everyone. From fitness and nutrition to yoga and golf, rejuvenation is a guarantee for all.

Post Ranch Inn in Big Sur, California sits atop a cliff overlooking the Pacific Ocean. The inn is as romantic and luxurious as it is tranquil and down-to-earth.

Germany's Breidenbacher Hof a Capella Hotel falls into the "urban hotels" category of Healing Hotels of the World. The hotel offers two health clinics, holistic medical services, luxury suites, a "beauty lounge," plus all that Düsseldorf has to offer.

Another urban option, the Park Hyatt in Dubai is the perfect waterfront escape in a bustling city that knows luxury well. The extensive Amara spa is a sanctuary guests can retreat to after touring the city or hitting a round of golf at the Dubai Creek Golf and Yacht Club.