Uber Will Soon Be Officially Legal In Edmonton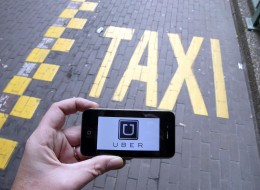 Edmonton's city council voted Wednesday to pass its vehicle-for-hire bylaw, becoming the first city in Canada to legalize Uber.
The ride-sharing app will officially be legal in Edmonton as of March 1, provided the company can provide all drivers with insurance.
The decision came at the end of a heated debate that saw the city's council chambers closed to the public Tuesday, after over 100 taxi drivers caused such a ruckus that police had to step in to restore order.
On the city council's video feed, viewers could hear cabbies chanting "Shame! Shame!" through the walls as politicians attempted to proceed with the discussion.
The public was allowed to attend Wednesday's session, but Mayor Don Iveson made it clear that no disturbances would be tolerated. Most of the taxi drivers left before council voted on the bylaw.
Cab drivers rallying at #yeg city hall. Not allowed into council chambers #uber pic.twitter.com/xMLrOZBuQd

— Elizabeth Hames (@ElizabethHames) January 26, 2016
It wasn't the first time Edmonton's city council saw heated protests against Uber. In September, taxi drivers swarmed city hall — removing their shirts, yelling, banging on walls and demanding pizza — all because council had suggested expanding the number of available taxi licence plates.
The drivers fear that Uber will drive them out of business, and are furious that Edmonton even considered allowing the company to operate (albeit, with some added regulations such as adding a minimum price to make competition more fair.)
Taxi drivers release black balloons outside city hall. "It's a black day for democracy." #yegcc pic.twitter.com/av0s4nYwa0

— Laura Osman (@LauraOsmanCBC) January 26, 2016
"The taxi industry, the regulated industry can not compete with Uber," driver Manjinder Punia told Metro News. "Within six months to a year the industry will be done."
Punia might not be wrong. Edmonton's taxi industry has good reason to be afraid now that Uber will be regulated, and it might be their own fault.
Complaints have piled up
In 2014, Edmonton received 135 complaints against taxi drivers. That's on top of 336 enforcement tickets handed out to taxi drivers the same year.
Those statistics are a perfect example of the growing frustration against what Edmonton Journal columnist David Staples referred to as the "broken, non-competitive business model that has resulted in poor service" in an editorial Wednesday.
Taxi drivers' behaviour at council is one reason for support for Uber is growing in the city — 90,000 riders have signed up for the app in Edmonton. It's also a sign that cabbies are terrified of losing their monopoly on the market.
It's official! #YEG is the first Canadian city to regulate ridesharing! Thank you to all our supporters! pic.twitter.com/6VmGNcQCn7

— Uber Edmonton (@Uber_Edmonton) January 27, 2016
Up until this point, Uber had operated in a legal grey area in the city. Now, once drivers are provided commercial insurance, the company will be allowed to legally enter Edmonton's vehicle-for-hire market. Two insurance companies are already working on drafting policies for Uber drivers, CBC News reported.
The bylaw also opens the door to other ride-sharing services like Lyft and SideCar, meaning Edmonton's taxi industry will need to adapt to keep up with the changing market.
"I think that the taxi industry has been complacent," said Edmonton Coun. Michael Oshry. "They have to provide a better service than in the past."
Like Us On Facebook

Follow Us On Twitter

Also on HuffPost:
Wouldn't it be nice to push a button on your smartphone and have a Mercedes S-Class show up? That's exactly what the founders of the service thought before launching it in San Francisco in 2010.

The service is cashless. A fare is automatically charged to the credit card on file and a receipt is e-mailed.

Sharing the ride with friends? Uber will split the bill and charge separate credit cards. "No more pay-me-backs or IOUs," says the website.

Uber lets customers pick a ride that matches their "style and budget." Options range from a low-cost service called uberX to a luxury service called UberLux. Options vary between cities.

Riders can rate their experience after a trip and leave additional feedback about the driver.

Investors on the company include Goldman Sachs, Google Ventures and First Round Capital.