North American Foreign Ministers To Meet Amid Tension Over 'Unacceptable' U.S. TPP Side Deal
OTTAWA — North America's three foreign ministers will be all smiles when they meet Friday to discuss the upcoming Canadian-hosted leaders' summit, but Canada and Mexico may bring some lingering resentment towards their American amigo on trade.
Mexico's former ambassador to Canada said the United States jeopardized relations with its two continental neighbours when it struck a side deal with Japan on trade in automobiles last summer during the ongoing Trans-Pacific Partnership negotiations.
A landmark 12-country Pacific Rim trade deal, which covers 40 per cent of the world economy, was eventually struck in October. Canada plans to sign the deal next month before consulting with Parliament on future ratification.
But the U.S.-Japan side deal on autos dashed hopes of an earlier agreement on the TPP when the countries met in August in Hawaii.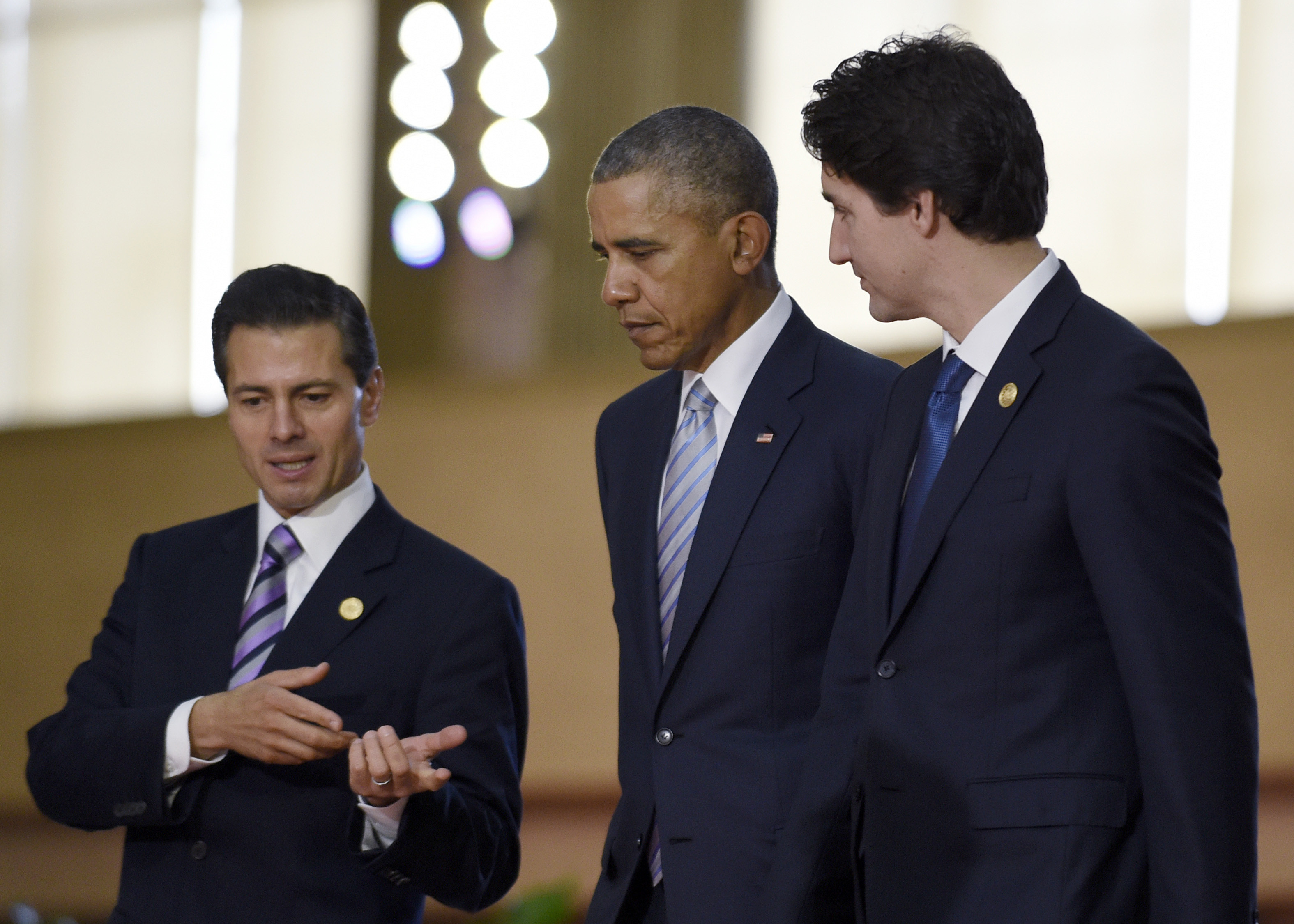 (Left to right): Mexican President Enrique Pena Nieto, U.S. President Barack Obama and Canadian Prime Minister Justin Trudeau at the Asia-Pacific Economic Cooperation summit in Manila, Philippines, Thursday, Nov. 19, 2015. (AP Photo/Susan Walsh)
Former Mexican ambassador Francisco Suarez told The Canadian Press that the Japan-U.S. deal placed the entire TPP in jeopardy and caught Canada and Mexico off guard.
"The side agreement between Japan and the United States was unacceptable," Suarez said in a recent interview. His successor took over in Canada this week.
"Canada and Mexico said in Hawaii: no go with that."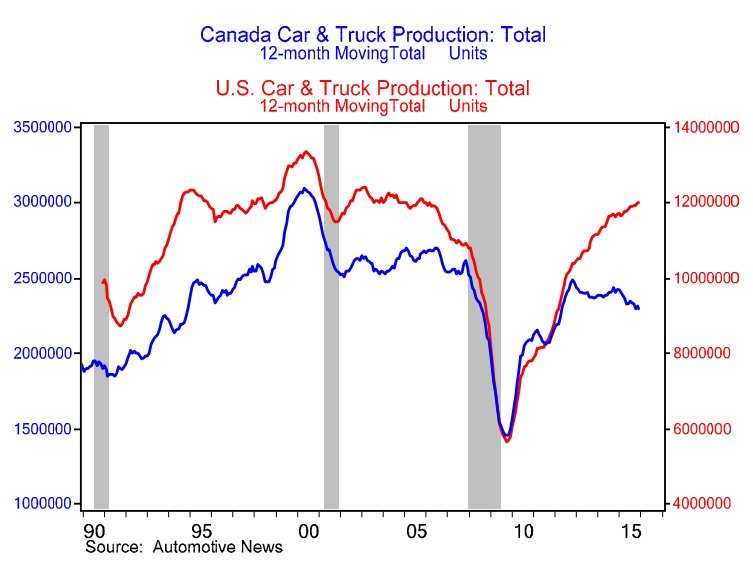 This chart from the Bank of Montreal shows auto production in the U.S. has recovered from the Great Recession, but in Canada it hasn't. (Chart: BMO)
The American deal would have raised the percentage of Japanese parts in cars in North America's highly integrated auto sector. A compromise was eventually reached, but Suarez said it could have turned out a whole lot worse for the fate of the TPP. 
"It put the agreement in jeopardy with the possibility of two countries not joining it."
Foreign Affairs Minister Stephane Dion said Thursday he was looking forward to hosting Friday's meeting in Quebec City with U.S. Secretary of State John Kerry and Mexican Foreign Minister Claudia Ruiz Massieu.
Dion's office said they would hold a day of talks on the environment and clean energy co-operation, as well as security issues. The meeting will set the stage for the full-fledged Three Amigos leaders' summit, featuring Prime Minister Justin Trudeau, U.S. President Barack Obama and Mexican President Enrique Pena Nieto, somewhere in Canada later this spring.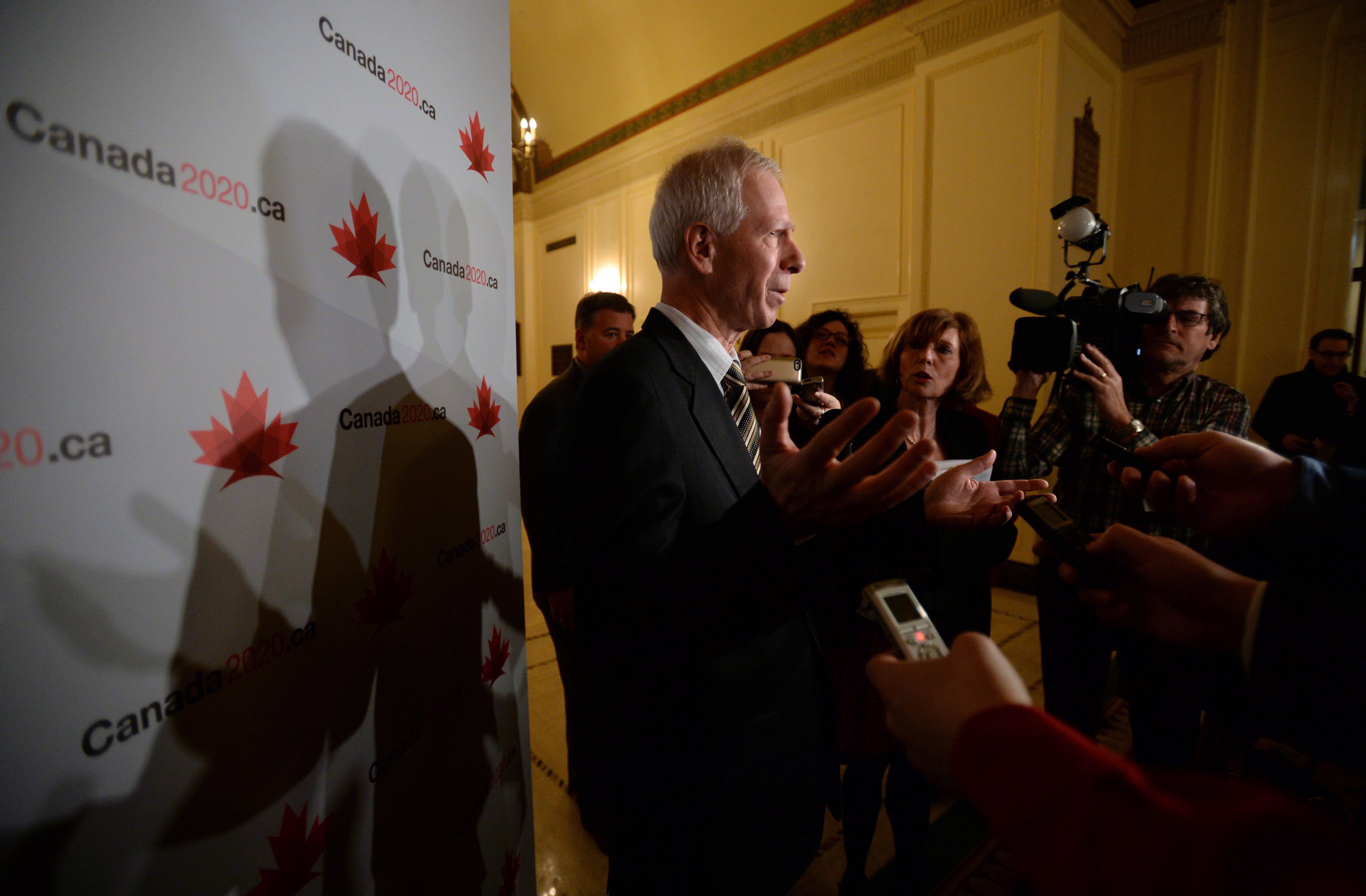 Minister of Foreign Affairs Stephane Dion briefly speaks to reporters after delivering a speech at a conference on foreign affairs in Ottawa on Thursday, Jan. 28, 2016.
A report by the Centre for International Governance Innovation released Thursday called for greater bilateral co-operation between Mexico and Canada as the key towards building greater prosperity across the North America.
"A good example of that are the recent TPP negotiations on autos, where Canada and Mexico co-operation was important in getting modifications to that accord, as well as the co-operation in the WTO on U.S. country-of-origin labelling," Fen Hampson, the report's author, said in a speech to the Canada2020 think tank in Ottawa.
He was referring to Canada's and Mexico's joint pursuit of the United States at the World Trade Organization, which eventually led to Washington ending the discredited practice of labelling its meat products with a U.S. stamp. 
Both countries won the right at the WTO to impose more than $1 billion in punitive tariffs before the U.S. Congress finally relented and repealed the law last month.
Dion said Thursday one of the purposes of the meeting would be to play "catch up in our relationship with the United States and Mexico."
The Three Amigos were supposed to meet in Canada last year, but former prime minister Stephen Harper cancelled the summit, said Dion, "because we had difficulties with the United States on the pipeline, mainly, and with Mexico about the visa."
The Obama administration rejected the Keystone XL pipeline last fall, something Harper had pushed hard for. Meanwhile, the visa that the previous Conservative government imposed on Mexican travellers — a major irritant in the relationship — remains unresolved.
Trudeau has said he wants to see the visa lifted, but sources say there will be no major announcement on that at Friday's foreign ministers' meeting.