Teens Drifting On Ice Floe Are Totally Ungrateful During Rescue In Peterborough
As Ontario firefighters rushed to rescue them from an ice floe, two teens yelled obscenities and mocked bystanders who were trying to get them help.
The pair was spotted drifting away on Otonabee River in Peterborough, Ont. by a passerby who called 911, according to The Peterborough Examiner.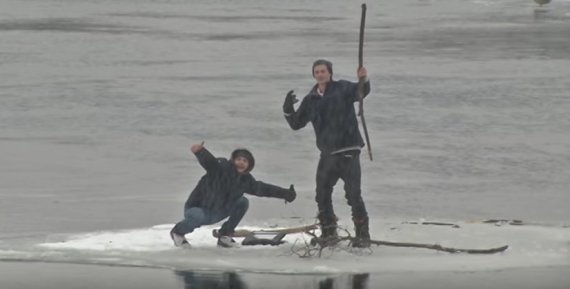 Two teens pose for pictures as they drift away on Otonabee River in Peterborough, Ont. (Image from YouTube/Chex Newswatch)
The young men, holding a laptop and using wooden sticks to steer themselves, were unknowingly heading towards a hydro dam and rapid currents, reported ChexTv.
When they noticed a crowd gathering, the two began posing for pictures and told one person to "f--k off" when they were informed help was on the way.
At least seven firefighters were part of the rescue, as well as police and ambulance who arrived at the scene.
Crews used an inflatable raft to reach the teens, who are not from Peterborough, reported the My Kawartha website.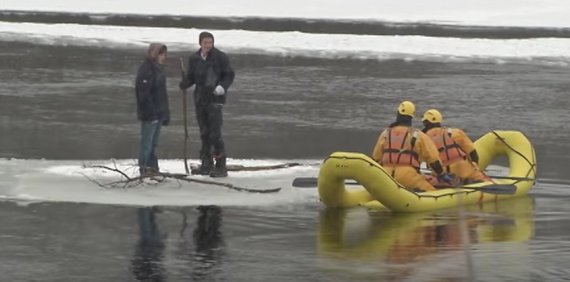 At least seven firefighters were involved in the rescue. (Photo: YouTube/Chex Newswatch)
A video of the event was posted on YouTube Thursday by Chex Newswatch.
Police later confirmed that the incident was "intentional," but the teens were not charged and let go with a stern warning.
"Stay safe, stay off the ice, stay away from moving water," said Peterborough Fire Services Platoon Chief Rolf Erdmann.