Morneau Says Hard-Hit Alberta May Get Federal Relief
OTTAWA — The Liberal government has confirmed that Alberta may qualify for a financial boost under a little-known federal program to help ease the province's economic pain from falling commodity prices.
As The Canadian Press reported Thursday, the province could be eligible for payments under the fiscal stabilization program, Finance Minister Bill Morneau acknowledged during question period.
Provinces can make claims under the program when their revenues tumble by more than five per cent from one year to the next.
The Alberta government has projected a double-digit decline in revenues in 2015-16 due to the steep slide in resource prices.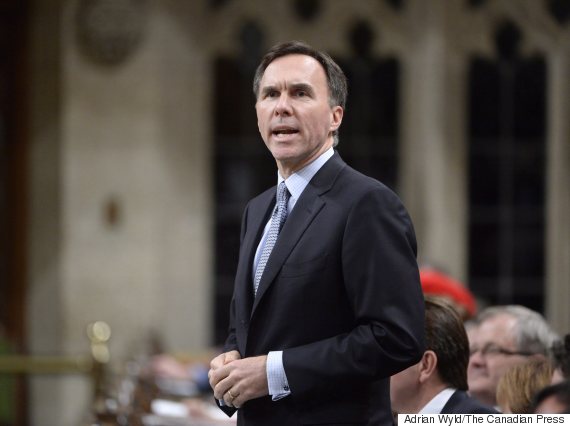 Federal Finance Minister Bill Morneau confirmed Friday Alberta may qualify for a federal program to ease the province's economic pain. (CP)
"I spoke yesterday with the Alberta minister of finance to see how we could work together and I'm pleased to say that he understands that there's a stabilization fund that Alberta can apply for,'' Morneau said Friday.
"The potential is up to $250 million. Should they apply, we would work expeditiously to move forward on that request.''
Payments from the program were capped in the late 1980s at $60 per provincial resident. Alberta's population is about 4.1 million.
Alberta Finance Minister Joe Ceci told CP earlier this week that he was looking forward to a discussion with Morneau about possible federal help for the province's finances.
He didn't get into the details, but when asked whether he might ask the federal government for a loan, he replied: "Yeah, potentially.''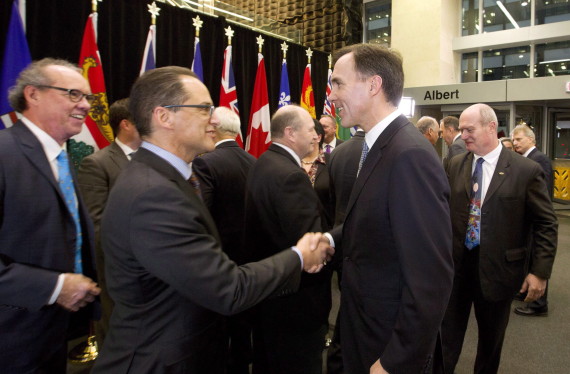 Federal Finance Minister Bill Morneau right shakes hands with Alberta Finance Minister Joe Ceci as Manitoba Finance Minister Greg Dewar looks on at the conclusion of a federal provincial and territorial finance meeting in Ottawa on Dec. 21, 2015. (CP)
Ceci said he would also like to see Ottawa speed up promised infrastructure investments and provide more support for getting pipeline access to tidewater.
Last fall, the Alberta government projected its revenues would sink 11.5 per cent from 2014-15 to 2015-16. Experts say it could end up worse than that because oil prices have continued to drop.
"Albertans are hurting,'' Ceci said.
A senior federal government source, speaking on condition of anonymity, said a fiscal-stabilization payment was just one of several possibilities Ottawa is exploring as it scrambles to find ways to help the hard-hit province.
In preparation for the spring budget, the federal government has also instructed bureaucrats across many departments to generate "innovative ideas'' that could help provide specific relief for the Alberta economy, said the source, who wasn't authorized to disclose details publicly.
Alberta's woes are "dragging down the entire Canadian economy,'' the source warned.
Potential solutions being bounced around include fast-tracking infrastructure spending and tweaking the usual, per-capita infrastructure funding disbursement formula to reflect economic need, the source noted. Another idea being examined is a boost to direct transfers to individuals, perhaps through modifications to the employment insurance program.
Alberta's woes are "dragging down the entire Canadian economy.''
The Liberal government pledged to enhance EI during last fall's election campaign and Prime Minister Justin Trudeau has vowed to inject an additional $60 billion over 10 years into infrastructure projects. Only $17.4 billion of it, however, was earmarked to flow during the Liberals' first mandate.
Trudeau is scheduled to visit Alberta next week. The Liberals made an electoral breakthrough in October by capturing four ridings in the province. Before that, the party had been shut out there since 2004.
The federal budget is expected to be released in March.
Follow @AndyBlatchford on Twitter
Also on HuffPost:
Timeline: Oilpatch Layoffs Of 2015
Here's a look at some of the major energy industry layoffs that have affected Alberta in 2015:

Company: Royal Dutch Shell Layoffs: Hundreds of layoffs at its massive Albian Sands project. The company announced it is laying off less than 10 per cent of its 3,000 workers.

Company: Suncor Energy Layoffs: The company announced it will layoff about 1,000 people from its workforce of 14,000. It also cut $1 billion from its capital budget

Company: Schlumberger Layoffs:Schlumberger announced they would cut 9,000 jobs in January, and another 11,000 in April, but did not report on how may of those jobs would affect Alberta employees.

Company: Newalta Layoffs: The company announced it would cut 180 people from its workforce to reduce costs and improve margins. The cuts amounted to 15 per cent of its staff.

Company: Weatherford International Layoffs: The oilfield services company said it will lay off 8,000 workers worldwide, or about 15 per cent of its workforce. According to Global News, about 1,000 of those positions affected Albertans.

Company: Cenovus Energy Layoffs: Cenovus Energy Inc. said it will cut its staff by about 15 per cent, the bulk of layoffs coming from its contract workforce. The company also suspended employee salary increases for this year.

Company: Precision Drilling Layoffs: Precision announced a net loss of $114 million, and was forced to adjust to a "swift and severe" decline in crude prices, said CEO Kevin Neveu. At the time, Neveu said about 50 fewer Precision rigs, and 1,000 fewer people, were running than at the same time a year ago.

Company: Finning International Layoffs: Finning International said it will cut 500 employees, or about 9 per cent of its Canadian workforce. Some of these cuts came to people working the Alberta oilsands or based in Edmonton.

Company: Husky Energy Inc. Layoffs: Husky Energy Inc. unexpectedly laid off 1,100 workers at its Sunrise oilsands project.

Company: Nexen Energy Layoffs: Nexen said they would slash 400 jobs "in response to the recent industry downturn." The majority of Nexen's cuts affected employees at its Calgary office.

Company: Talisman Energy Layoffs: Talisman Canada said it would reduce its workforce by 10 to 15 per cent as it grapples with low crude prices. Spokesman Brent Anderson says up to 200 employee and contractor jobs would be cut, mostly at the company's head office in Calgary.

Company: ConocoPhillips Layoffs: ConocoPhillips announced that they will cut seven per cent of their Canadian staff — or about 200 people in total. Spokeswoman Kristin Ashcroft said that some Calgary-based staff and workers in the oil field would be let go.

Company: Trican Well Services Layoffs: Trican Well Service Ltd. cut 2,000 employees from its North American workforce, including about 800 in Canada, and said it will stop paying dividends to its shareholders, citing the difficult current and future market conditions.

Cenovus Energy Inc. cut between 300 to 400 jobs in the second half of this year, on top of 800 layoffs announced in February.

Penn West announced it is cutting its workforce by 400 full-time employees and contractors — most of them working at company headquarters in Calgary.

ConocoPhillips Canada confirmed to CBC News it will reduce its workforce by about 15 per cent — 400 employees and 100 contractors. The majority of jobs lost will be in the Calgary office.

Cenovus, Suncor, Athabasca Oil and Calfrac all lay off hundreds of workers. "Unfortunately, these are the necessary steps required to weather an extended downturn," company spokesman Matt Taylor tells CBC.

Enmax, Transcanada and Enbridge all announced layoffs, totalling more than 560 employees, CTV reported.

ATCO Group laid off more than 400 people, according to The Calgary Herald, bringing the total group layoffs of the year to over 18,000 workers.