—What's a caucus?
It's a bit complicated. Several states use a more collegial approach to picking a nominee, and Iowa is the first. At 7 p.m., people will file into hundreds of public buildings in different counties; listen to speeches from candidates' supporters; and elect representatives who will later choose how the state's delegates should vote at the summer national conventions, where parties will formally elect their presidential nominees.
—What's at stake in Iowa?
Technically, not much. The state has just 30 delegates on the Republican side, and they'll be split among the leading candidates. It will take 1,237 to win the nomination. Only 44 delegates are up for grabs on the Democratic side — and the successful candidate there will eventually need to win more than 2,000.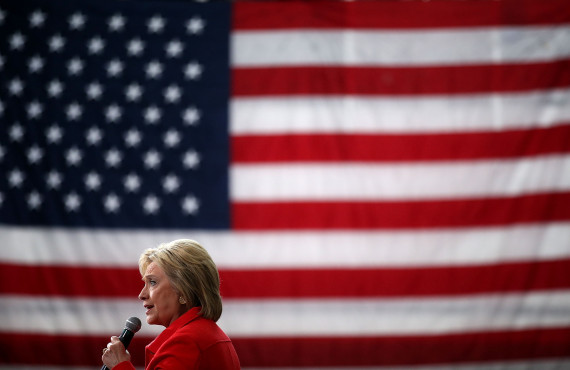 Democratic presidential candidate former Secretary of State Hillary Clinton speaks during a 'get out the caucus' event at Iowa State University on Jan. 30, 2016 in Ames, Iowa. (Getty Images)
—Does the Iowa winner usually become the nominee?
Not on the Republican side, historically. Iowa is a mere two-for-seven in picking the eventual nominee, in years when there's a race. Since George W. Bush achieved the feat in 2000, recent Iowa winners Mike Huckabee and Rick Santorum have later been clobbered nationally. It's provided a more accurate forecast on the Democratic side: among the last seven nominees in a contested year, five began with a win in Iowa.
—So why does Iowa matter?
Momentum. The winner here gathers donations, media attention and organizational muscle, while weaker rivals drop out. The winner becomes an instant contender. It's usually necessary to win one of the first two states; every major party presidential nominee since 1976 has won either Iowa or New Hampshire, with one exception (1992's so-called "Comeback Kid," Bill Clinton). Win here, and a candidate can survive a loss in New Hampshire a few days later. A classic example: Barack Obama in 2008. He won Iowa, then lost New Hampshire, but his new national profile helped him carry a small majority of states a month later, on Super Tuesday.
—Who's winning this time?
According to an average of polls, Donald Trump has a small lead over Sen. Ted Cruz on the Republican side. Among Democrats, Hillary Clinton and Sen. Bernie Sanders are neck-and-neck.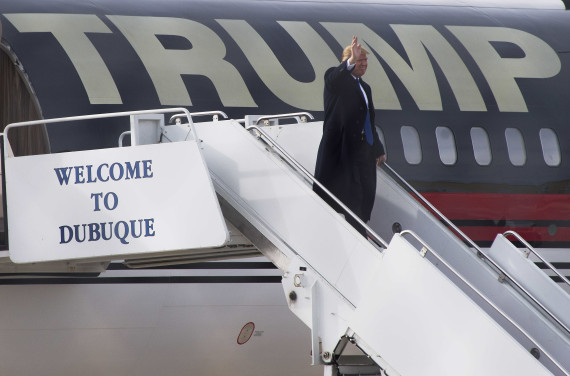 Republican Presidential Candidate Donald Trump arrives at Dubuque Regional Airport in Dubuque, Iowa, for a campaign event Jan. 30, 2016, ahead of the Iowa Caucus. (Jim Watson/AFP/Getty Images)

—Do polls guarantee success?

No. The Republican winner last time had been polling in third place. But Rick Santorum had another asset: evangelical Christians. And they showed up to vote. Almost 60 per cent of Republican caucus-goers were evangelical. The overall statewide turnout was less than 20 per cent. On the Democratic side, the highest turnout ever was 39 per cent — in 2008, spurred by young liberals enthusiastic about Obama. A good, organized get-out-the-vote effort can make all the difference here.

—So who has the organizational edge this time?

Cruz leads Trump by a whopping 12 percentage points among evangelicals, according to a Quinnipiac poll last week. News reports have also suggested he has an organizational edge, with one New York Times story describing the Trump team as amateurish. But Trump led the overall poll — 31 per cent to Cruz's 29. Trump's lead was built on huge support from people who've never voted before in a caucus.  Trump's mission: Get these new voters to show up on Monday night.

Also on HuffPost

2016 Presidential Candidates Tindering With America

Suggest a correction

WASHINGTON — The process of picking a U.S. president begins Monday night in Iowa — where, for the 11th time since 1976, both major national parties will hold their first nomination contest. What are the Iowa caucuses, how are they different from a standard primary, who's winning this time, and how much do they matter? Here are a few answers to those questions: