Energy East Pipeline Application Too Hard To Understand, NEB Says
CALGARY — The National Energy Board is directing TransCanada to rework its application for the contentious Energy East pipeline because the document is too hard to understand — even for experts.
The federal energy watchdog, in a letter to the Calgary-based pipeline builder (TSX:TRP) on Wednesday, said it's not requesting a whole new application.
Rather, it wants the reams of information already filed to be repackaged in a way that is easier to navigate.
The company first submitted its application to build the 4,600-kilometre pipeline in October 2014.
The document was 30,000 pages at the time — filling 68 binders in 11 boxes — and the NEB says it has since become even more unwieldy.
Energy East Pipeline Explained
Calgary-based TransCanada Corp., the company behind Keystone, plans to build a pipeline that would ship mostly light oil, but also heavy crude, from oil rich Western provinces across the country the East Coast. The Energy East Pipeline could have the capacity to transport as many as 850,000 barrels of crude oil per day beginning in 2017. The plan is to convert about 3,000 kilometres of an existing natural gas pipeline and add an additional 1,400 kilometres of new pipeline.

Oil from Western Canada is essentially landlocked, making it difficult to move to international markets, which drives down its price by as much as $40 a barrel compared to the world standard. It is also difficult to ship Western crude across the country to Atlantic Canada, which instead relies on foreign sources of oil, a situation that is less than ideal in a country that has so much of its own oil waiting to be sold. TransCanada says the pipeline could reduce the need to import foreign oil to process at refineries in Eastern Canada, while Natural Resources Minister Joe Oliver argues that the Energy East Pipeline could deliver Canadian oil to large energy consumers in Asia, in addition to making the country less dependent on foreign oil. In addition, a lack of pipelines to export oil has left a glut of oilsands crude sitting in a bottleneck in the U.S. Midwest, which has depressed Canadian oil prices compared to the U.S. benchmark, West Texas Intermediate, which in turn trades at a discount to the cost of Brent crude. Those low prices have cost the Canadian and Alberta governments millions in lost royalties.

(Pictured: Russ Girling, president and CEO of TransCanada Corp.)

In October, 2014, TransCanada formally applied to the National Energy Board to make the Energy East pipeline a reality. The NEB has 15 months to review the project and make a recommendation to Prime Minister Stephen Harper.

The exact route will be determined after a public and regulatory review, but the starting point would be a new tank terminal in Hardisty, Alta. Three other terminals would be built along the line: one in Saskatchewan, another in the Quebec City area and a third near Saint John., N.B. The line would be about 4,400 kilometres long, including the segment already built for TransCanada's natural gas line. New sections will need to be built in Alberta, Saskatchewan, Eastern Ontario, Quebec and New Brunswick.

Crude from the pipeline would be shipped to energy-hungry markets in Asia and elsewhere, as well as to refineries and eventually consumers in the Atlantic provinces. The proposed terminals in Quebec City and Saint John would include facilities for marine tanker loading for export. The project would also include delivery to existing Quebec refineries in the Montreal and Quebec City areas, as well as a large Irving Oil refinery in Saint John.

Environmentalists argue the pipeline could put waterways and communities along its route at risk as well as add the potential of a major oil spill on the east coast from export tankers waiting to take the crude abroad. Because oilsands product emits an estimated five to 15 per cent more carbon than conventional oil, refining more of it in Canada would likely increase the country's total carbon emissions. However, the U.S Defence department recently determined that emissions from transporting and using fuel from oil sands was not significantly different from those made with conventional oil.

Technical issues include relatively small refineries on Canada's east coast that have only limited capacity to refine tarry bitumen and a short-term potential overcapacity if all three proposed pipelines are completed on schedule between 2015 and 2018. But the more immediate obstacle is from environmentalists who warn, among other potential risks, that the plans to convert a gas pipeline to oil could pollute Canadian sources of waters. Vocal criticism from environmentalists and First Nations groups have held up the approval process for both Northern Gateway and Keystone. The project will be subject to public and regulatory reviews.

Politicians appear to be lining up behind the idea of a west to east pipeline. Potentially because 3,000 kilometres of the project is already in the ground, the proposal suggests refining at least some of the oil at home, which could reduce high gas prices in Atlantic Canada. The project has the support of the federal government as well as the provinces of Alberta and New Brunswick and support in principle from Quebec. Federal Liberals have also expressed support, and even NDP Leader Thomas Mulcair, who is staunchly opposed to Northern Gateway, has voiced support.

According to the industry, all three lines are necessary if Canada wants to meet its export potential in the coming decades. The west-east pipeline would complement, rather than replace, the other two pipelines and build capacity to ship oil west east and south, the industry argues.

Drivers in Atlantic Canada currently pay as much as 20 per cent more to fill up than those in the Western provinces. Among other factors driving prices higher, they are paying a premium to import foreign oil, while Canadian oil sits ready for use. Proponents say the pipeline will create a new domestic market for Western Canadian oil, as well as potentially open a new door for international export. In addition, the project could contribute to job creation and economic growth, with some estimates saying it has the potential to create thousands of jobs during construction and a few hundred permanent positions.
One of the more noteworthy changes was a decision to scrap a planned export terminal in Cacouna, Que., due to concerns over the impact on the beluga whale habitat. The project now includes only one marine export terminal in Saint John, N.B.
Its price tag has also risen from $12 billion to $15.7 billion.
"When considering the numerous supplemental reports, project updates, errata and amendments coupled with the sheer volume of information presented in the application, the board is of the view that the application, in its present form, is difficult even for experts to navigate," the board told TransCanada.
"The board is concerned that it will be even more difficult for the general public to comprehend and navigate. The board is also concerned about the impact of this on the fairness and efficiency of the hearing process and the potential burdens on all parties."
TransCanada (TSX:TRP) has until Feb. 17 to provide a proposed table of contents for the revised version and let the board know when it plans to file the complete document. The English and French versions must mirror each other.
Adam Scott, with Environmental Defence, said groups wanting to participate in the review have had a tough time making sense of the application.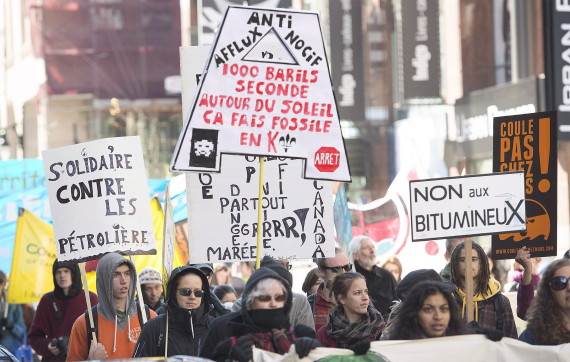 Protestors demonstrate against the Energy East and Line 9B Pipelines during a rally in Montreal, on Oct. 10, 2015. (Graham Hughes/CP)
"From the perspective of anybody trying to learn about it, for over a year now it's been nearly impossible to get all of the right information," he said.
Scott said an easier-to-follow application is welcome, but he's skeptical all the information gaps can be filled this way — especially given the sheer scale of the project.
"I don't think it's going to resolve the issue," said Scott.
"(But) they can certainly make a more readable, cleaned-up version."
The pipeline would ship a million barrels of western crude a day as far east as Saint John, N.B. The goal is to connect Canadian crude to domestic refineries as well as international customers.
TransCanada spokesman Mark Cooper said despite the additional work, the company is focused on a 2020 startup date for Energy East.
"This is an opportunity for us to restate our desire to have informed conversations with Canadians about Energy East," he said.
"Energy East is supportive of taking constructive steps to make the review process as accessible as possible. Therefore, we will take the NEB's direction and work to prepare consolidated applications in both English and French, to assist all Canadians in better understanding this important infrastructure project."