Super Bowl Halftime Show Moments We Can't Forget
The Super Bowl halftime show provides viewers with something to look forward to when they don't care as much about the big game.
This year's show will see Coldplay hit the stage alongside Beyonce, in a performance that is sure to bring the house down — just like Queen Bey did all on her own in 2013.
But none of that will make us forget some incredible moments from halftime shows past — from the controversial (Janet Jackson and Justin Timberlake) to the spectacular (Michael Jackson).
Here are 12 moments from the Super Bowl Halftime Show that we can't forget:
The Peanuts gang dances to the sounds of New Orleans
The Super Bowl halftime show isn't what it used to be — and that's a good thing. The 1990 show was a tribute to the city of New Orleans and the 40th anniversary of the "Peanuts" comic strip that had Charlie Brown, Snoopy and more dancing to the city's unique jazz sounds.
Michael Jackson redefines the halftime show
The Super Bowl halftime show changed completely with Michael Jackson's performance in 1993. The King of Pop reasserted his right to the throne with a dazzling show that included hits such as "Billie Jean" and "Black or White."
Diana Ross' exit
A legend like Diana Ross deserves only a legend's exit. Ross left the 1996 Super Bowl halftime show in a helicopter after a rollicking-good performance that included a Supremes medley.
Aerosmith, Britney Spears and everyone else
The 2001 Super Bowl halftime show played host to just about every major artist of the time. N'Sync was first, performing their hit "Bye Bye Bye." Then Aerosmith showed up, and the performance soon evolved into a multi-genre take on the band's "Walk This Way" that featured Britney Spears, Mary J. Blige and Nelly.
It was tacky, but it worked.
Janet Jackson's "wardrobe malfunction"
Janet Jackson and Justin Timberlake's performance at the 2004 Super Bowl remains the most controversial moment in halftime show history. As the pair performed "Rock Your Body," Timberlake walked over to Jackson and tore part of her shirt off, exposing her to over 140 million people. The moment, which was explained as a "wardrobe malfunction," led to drastic changes in how the NFL managed halftime performances.
Timberlake offered a semi-apology at that year's Grammy Awards.
Prince. Just Prince.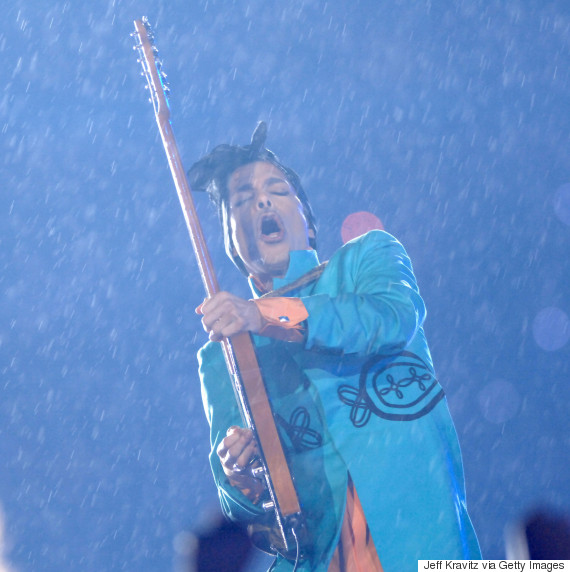 A storm in Miami couldn't keep Prince from rocking the house at the 2007 Super Bowl. He turned out a masterful performance, playing Queen's "We Will Rock You," a cover of the Foo Fighters, and then hitting the guitar for his own "Purple Rain."
Fergie and Slash duet on "Sweet Child o' Mine"
The 2011 Super Bowl halftime show was memorable for all the wrong reasons. The Black Eyed Peas' outfits were campy, but it took a painful turn when Guns 'n' Roses guitarist Slash showed up on stage for a duet of "Sweet Child o' Mine" with Fergie. Watching the performance now will make you count the days for the Guns 'n' Roses reunion this summer.
M.I.A. flips America the bird
Janet Jackson's "wardrobe malfunction" may be the Super Bowl's most controversial moment, but M.I.A. still managed to stand out in 2012. The rapper flashed her middle finger at a television camera as she performed alongside Madonna and Nicki Minaj. M.I.A. said she flashed it as a spiritual devotion to a Hindu goddess (though she may have been joking.)
Madonna wasn't impressed by the gesture, calling it a "teenager ... irrelevant thing to do." The NFL later sued M.I.A. for US$16.6 million, but the matter was settled.
Beyonce's Destiny
Beyonce owned the stage from the moment it was announced she'd be performing at the 2013 Super Bowl, but she stepped it up a notch when she brought her fellow Destiny's Child members to sing with her for a heartstopping reunion. Queen Bey was so good that the NFL brought her back to play in 2016.
Bruno Mars' epic drum solo
Bruno Mars put his doubters to shame the moment the lights shone down on him at the halftime show in 2014. He electrified the crowd with a drum solo before seguing into a medley of hits — and that was only a warm up for the Red Hot Chili Peppers.
Left shark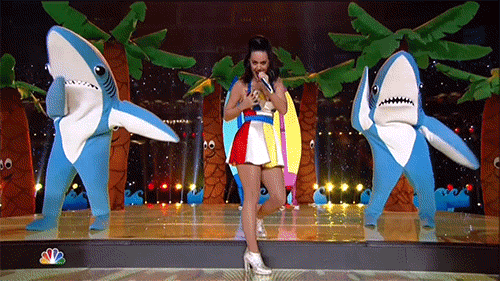 Right shark cared to learn the moves for Katy Perry's performance at the 2015 Super Bowl. Left shark didn't give two f***s, but it made for one amazing meme.
Missy Elliott steals the show from Katy Perry
Katy Perry rode into the Super Bowl on the back of a giant mechanical feline, and then she had her limelight stolen by an uncoordinated shark. What could possibly happen next?
Well, Missy Elliott made her grand return to the spotlight, owning the crowd with performances of "Get Ur Freak On," "Work It" and "Lose Control."
Like Us On Facebook

Follow Us On Twitter

Also on HuffPost:
Most Random Super Bowl Halftime Shows Ever
The award-winning star of stage and screen Carol Channing is a genuine American icon, and was at the height of her 'Hello, Dolly!' heyday after starring as a matchmaker in the Broadway-based romcom set in New York. None of which exactly screams "Are you ready for some football?" but making it even worse is that Channing was leading a Mardi Gras tribute despite not having any connection to New Orlean's jazz much less its annual bacchanal.

If you had to invent the least hippie musical group in existence, you'd have a hard time beating this cult-like motivational singing troupe-slash-critical punchline. And despite starring 400 young people from 24 countries, this terminally cheerful halftime show is possibly the whitest performance you will ever see. It's like watching Detroit burn down and anti-war protestors get beaten all over again. Oh, and they played the halftime show four times between 1976 and 1986.

Coinciding with Ronald Regan's inauguration day, it was perhaps inevitable that the NFL would play the patriotism card -- you can only imagine how frustrated Republicans were when San Francisco won! -- for the halftime show. Even so, hiring the Air Force's "expeditionary entertainment unit" Tops in Blue seems a little, well, over the top. But the randomness comes in not from the active duty performers, but their bizarre "world of children's dreams" that includes pirates, a circus and an astronaut flying around the stadium in a jet pack. OK, that last part was awesome.

Oh, where do we begin here. Let's start with the fact that the current 3-D craze had an earlier, lamer wave in the '80s and this was its nadir. Starring the long-forgotten "immortal Elvis Presto," impersonator and illusionist who promised to do the biggest-ever card trick. Bob Costas seethed as he introduced the halftime show, "It's almost too exciting to bear, isn't it?" Also, the 3-D totally sucked.

In 1989, NKOTB were the biggest act on the planet. This was not 1989. Who knows why Disney was put in charge of paying tribute to the big game's first quarter century? Or why they thought it would be a good idea to revisit their same-themed 1977 halftime show? Or why they chose to celebrate the Super Bowl's birthday by pimping their cartoon characters? But the biggest question is why punish a football crowd with music by a faded boy band? Fortunately for the at-home audience, the halftime show aired after the game so ABC News could cover the first President Bush's first invasion of Iraq.

Yes, America had the Winter Olympics that year and yes, the Olympics are a sport and so is football. But we'd argue hardcore gridiron fans don't have much patience for figure skating. So no wonder they decided to feature Brian Boitano and Dorothy Hamill doing their triple lindys on mini midfield ice rinks to that tough-guy tune 'Dance of the Sugar Plum Fairy.' Upping the random quotient was the musical guest. This year's game was in Minneapolis, but instead of, y'know, Prince they went down to Miami and hired famous cold-weather singer Gloria Estefan.

Nothing says 1995 like Indiana Jones, right? And nothing says Indian Jones like Tony Bennet, Patti Labelle and Miami Sound Machine. And yet here we were, with Disney using the opportunity to promote their upcoming Indiana Jones Adventures attraction at Disneyland. But it wasn't just music, the show also boasted actors playing Indy and his girlfriend Marion ravenwood (who skydived into the stadium!) as they battled tribal bad guys while rescuing the Vince Lombardi Trophy from the Temple of the Forbidden Eye. Then Tony Bennett came out to croon, looking as confused as the audience.

Somebody hired Disney again. Please stop doing that, Super Bowl. Named after an Epcot Center parade, and featuring floats, marching bands, and gigantic puppets, this was their half-hearted attempt to cash-in on the Latin pop craze which Ricky Martin had kicked off the previous year. But instead of having him perform, or even getting Igelsias to sing his hit 'Bailamos,' the setlist was was a bunch of sappy songs topped with noted latino Phil Collins singing a tune from 'Tarzan.'

This halftime show had no theme -- though if it did, it could've been 'The Girlie Show.' Now lots of ladies watch football, and that spikes from 30 percent to about half the audience during the Super Bowl, but even so, this is sold as the most macho sporting event of all time ever. Yet after 30 minutes of tough guys smashing into tough guys, we get Shania singing 'Man! I feel Like a Woman,' Gwen Stefani singing 'Just a Girl' and Sting singing a duet with Gwen of the Police's love song 'Message in a Bottle.' Remember that "Quien es mas macho?" 'Saturday Night Live' sketch? This is the opposite.

Yes, yes, nipplegate. Nobody remembers the rest of this ridiculous mash-up somehow intended to convince the kids to vote in that year's U.S. election by having Puff complain about "Mo Money Mo Problems," Nelly note that it was "Hot in Herre" and Kid Rock boast "I'm a stoned pimp, stoned freak, stoned out of my mind/I once was lost, but now I'm just blind." Janet's 'Rhythm Nation' was actually the only political song on the bill ("join voices in protest/to social injustice") but it was quickly forgotten after her "wardrobe malfunction" became right-wing ammunition.

After years of big-budget classic rock shows, the Super Bowl returned to randomness with this appropriately disappointing advertisement for the disappointing 'TRON' sequel. But rather than bring the film's actual musical composers Daft Punk, they hired the world's most annoying rappers, added Slash to help Fergie drive Axl even crazier with a 'Sweet Child O' Mine' cover and enlisted Usher to do some, well, great dance moves. Oh, and then they end it all with BEP's 'Dirty Dancing'-based 'The Time (Dirty Bit)' to get everyone wishing they'd put the Super Bowl halftime show in a corner.

There's no question Madonna is a superstar, and this is the Super Bowl, but this halftime show made about as much sense as listening to iTunes on random. First there were the roman centurions for "Vogue," then a dude in a toga bouncing on a tightrope, then Madonna getting on one of the LMFAO dude's shoulders for "Party Rock Anthem" then Nicki Minaj and M.I.A. reduced to literal cheerleaders, then a marching band for "Open Your Heart" followed by Cee-Lo in a mumu for "Like A Prayer." Oh, and M.I.A. gave the camera the finger, sparking a Nipplegate-level furor. Oh noes!