High Fiber Foods: 10 Snacks To Help Your Kids Poop On The Regular
So your kid is a little backed up. What to do? Well, food sources with dietary fibre can help a lot with constipation. Think of it as a tag-team solution: soluble and insoluble fibre work together to help get things moving. The soluble kind helps soften stools, and the insoluble kind helps keep your kid regular.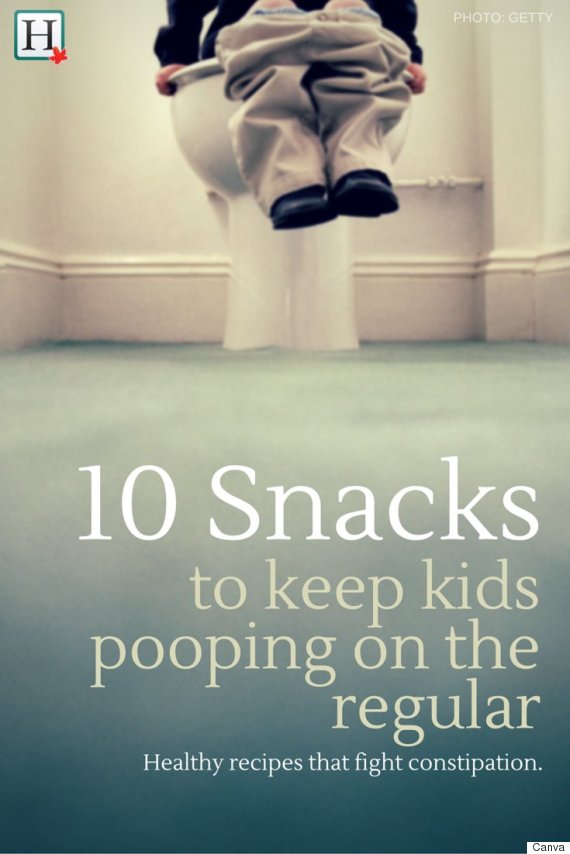 Fruit, vegetables and whole grains are all great sources of both kinds of dietary fibre and they can all be found in the yummy snack recipes below.
10 Snacks To Help Kids Poop On The Regular
A lot of kids love chocolate pudding, so this recipe -- which is made with soluble fibre-packed avocados and dates -- will likely be a hit in your household. Or, you can always make up a batch of guacamole, as avocados have a particularly high source of fibre. Get the recipe: Power Hungry

These tasty little energy balls are filled with fibre-packed dates and blueberries. This means that they'll not only provide your kids with antioxidants, but they will also help keep their systems clear. Get the recipe: Danielle Omar

Cheezy Popcorn Who said fibre-rich foods can't be fun? Host a movie night and make a batch of this treat, which is a fantastic source of dietary fibre. Popcorn is an easy and affordable after-school snack to have on hand. Get the recipe: The Whole Tara

Both the dried plums (which are also known as dates) and the oatmeal in these chewy, satisfying bars are a good source of soluble and insoluble fibre. Get the recipe: According To Elle

This simple snack is ready in ten minutes, which is a great thing, since a cup of soy beans offers eight grams of dietary fibre. It's also fantastic as a side at dinner or in a school lunch. Lots of kids love interactive food, so a bean you have to suck out of its pod could very well be a hit with your crew. Get the recipe: Kevin & Amanda

Beans are well known for keeping things moving, and Dietitians of Canada says a ¾ cup of cooked black beans contains 5.4 grams of soluble fibre. Combine that with the dates and the oatmeal in this recipe to help round out the ingredients, and you've got one powerhouse of a cookie! Don't forget to rinse your canned beans first to reduce the sodium. Get the recipe: Hummusapien

Kids love to dip, so this dish will be an instant favourite. This recipe is packed with fibre thanks to the white beans and artichokes, which are one of the vegetables known to have the highest fibre content. Get the recipe: Spinach For Breakfast

Pears do double duty in that the fruit contains soluble fibre and the skin has insoluble fibre. For this recipe, make sure the yogurt you choose has active bacterial cultures, which will help support gut health. The skin and fruit of blueberries is a good source of fibre, too (as are these parts of all berries). Get the recipe: Natasha's Kitchen

Vegetables like broccoli and spinach are a great source of dietary fibre, but the dark leafy green can be a tough sell for some kids. The fat from the cheeses in this recipe will help make the spinach a little less bitter, so it will hopefully get some tiny naysayers to give it a go. Use whole-grain bread to add even more fibre to these little bites. Get the recipe: Mama Cook

Tempt your kids into getting enough fibre with these cookies made with oats and ground flaxseed. You can also add ground flaxseed to lots of baking recipes, so boost your favourites with a couple tablespoons the next time you make a batch. Another ingredient that can be used in baking to increase the fibre is psyllium husk, which can be used as an egg replacer when combined with water. Get the recipe: Love To Be In The Kitchen
Just remember to make sure your little one increases her fluid intake at the same time as her fibre intake to prevent gas, bloating and diarrhea.