Twin Baby Shower: 21 Ideas To Plan A Party For Two
Planning a baby shower for twins might seem like a lot of work, but it doesn't have to be. There are tons of cute and easy ideas out there that you can do yourself.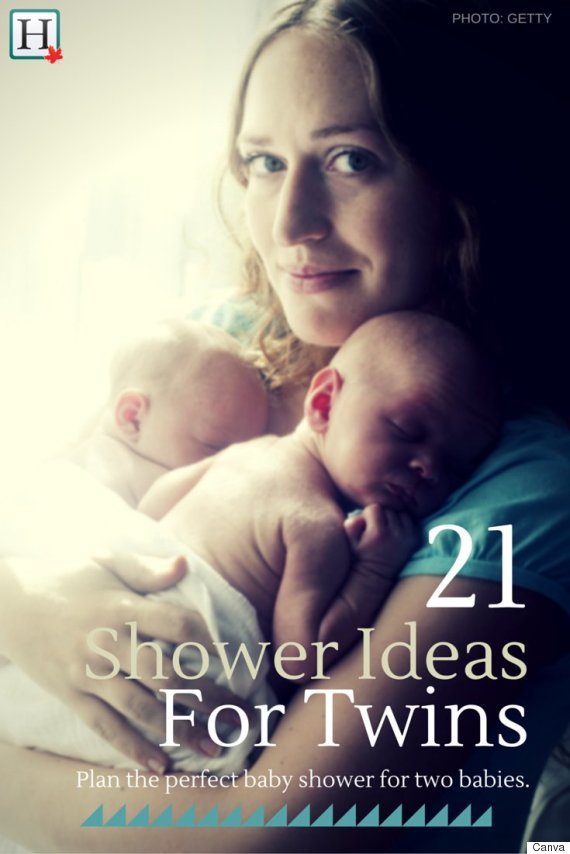 That's why we've rounded up the best twin baby shower ideas to make your life easier. From themes to games to party favours, the slideshow below covers everything you'll need.
Best Twin Baby Shower Ideas
Here's the perfect invitation to set the tone for a cutesy baby shower. Get them here: Etsy

These accurate invitations will give you and your guests a good chuckle. Get them here: Etsy

Try using this invitation for a more sophisticated feel. Get them here: Etsy

We don't have to tell you why "two peas in a pod" would be the perfect theme for your twins' baby shower. Not only is it adorable, but it's also gender neutral. Source: Kara's Party Ideas

This Dr. Seuss-themed party featuring Thing 1 and Thing 2 is another cute idea. Source: Etsy

We love this storybook baby shower theme. It's sure to make all your guests nostalgic. Source: Eat. Drink. Love.

As a new parent of twins, you're going to need A LOT of diapers. That's why making "late night diapers" is a very practical thing to do at your baby shower. Just grab a box of diapers and have your guests write fun messages on them. This will make changing dirty nappies much more enjoyable. Source: Driven By DĂ©cor

Have guests sign a onesie for each of your babies so that the twins can wear them when they're born. Once they grow out of them, you can then frame the onesies and keep them as mementos. Source: B Lovely

Instead of having a guest book at your baby shower, use a children's book you love and want to pass down to your kids. Guests can write their well wishes and you and your kids can cherish the book forever. Source: Cutest Baby Showers

Making baby predictions is so much fun, especially when you're having twins. Besides guessing their date of birth and physical characteristics, guests can wager which twin will arrive first. Source: Etsy

Invite your guests to decorate alphabet blocks for your little ones. This is a fun way to bring out your guests' creative side. Plus, by the end of the party, you'll have a personalized set of blocks for your twins. Source: We Heart Parties

Twin trivia is a fun way to help your guests learn more about multiples. Source: Darling Darlene

Instead of making an entire cake, try making these adorable cupcakes instead. Less experienced bakers will find this much easier, plus you can personalize them any way you like. Get the recipe: Grandmother's Kitchen

These adorable cake pop rattles are sure to be a hit at your baby shower. You can easily make these in blue too by using food colouring. Get the recipe: The Cake Blog

We couldn't resist throwing in some twin onesies here. After all, they make great baby shower gifts (hint, hint!). Source: Etsy

Source: Etsy

You don't have to be a "How I Met Your Mother" fan to appreciate the hilariousness of these onesies. Buy them here: Etsy

Source: Etsy

Everyone loves popcorn, so why not send your guests home with a bag of the delicious salty snack? Source: Etsy

This is a cute and inexpensive party favour you can give out to your guests. The message reads, "Double the pleasure, double the fun, double the miracles instead of one!" Source: Mama Cheaps

These are adorable and so easy to make! All you need is some ribbon, glitter and of course, Hershey's chocolate. Source: Crafty Morning