14 Fun Ways To Spend Valentine's Day With Friends
When it comes to Valentine's Day, things can get awkward if you aren't already coupled up. Should you stay in or go out? If you stay in, there's the danger of feeling sorry for yourself (even if you shouldn't! at all!), but if you go out are people might automatically assume you're on the prowl. It seems near impossible to pass the day without leaving some sort of impression.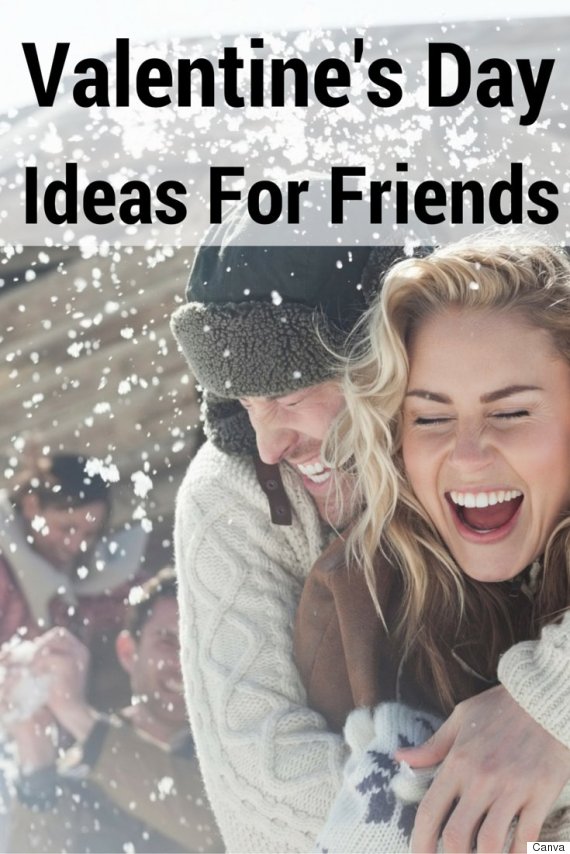 But there is a solution. You could take the day for what it really is and just celebrate love, with your loved ones, be it family, friends or even pets.
In the slideshow below, we've rounded up 14 Valentine's Day ideas that are perfect for groups. From watching sports to singing to spending the day at the spa, these ideas are perfect for both singles and couples looking to celebrate with a crowd.
Valentine's Day Ideas For Friends
Basketball fans know this weekend is all about the NBA All-Star. Whether you're enjoying the games live or watching from home, sporting events and friends go hand-in-hand.

Sure, skating outdoors is often viewed as a romantic activity, but getting your friends out on the ice is a lot more fun .. especially if they don't know how to skate!

Food and friends is the best combination, so invite a few pals over to make personal pizzas or to bake up some goodies you can indulge in later in the night.

If you've been covertly pinning a bunch of Valentine's crafts, it's time to stop keeping it a secret and make them with pals. Chances are, they have a few bookmarked too.

Before couples got a hold of it, Netflix and Chill literally meant watch Netflix and be lazy. So yeah, invite the crew over, turn on Netflix and just chill.

Forget serenading a sweetheart. Hit up a karaoke bar and belt out your favourite songs with your besties.

Just because you're single doesn't mean you have to stay in. Hit up the nearest bar, club or lounge and dance the night away with your BFFs. You know you'll have plenty of great company.

Not only does Valentine's Day fall on a weekend this year, it just so happens to fall on a long weekend for most of the country, making it a great time to hit the road with a few close friends.

Spoil yourselves and book a day at the spa. You don't have to get massages together, but you can easily spend a few hours all hanging out by the pool.

Valentine's Day doesn't need to be different. If you and your friends like to go bowling every once in a while, hit up an alley on the 14th when most lanes are likely to be clear.

Deadpool might not be able to draw in a lot of couples, but friends will want to watch the action flick on opening night for sure.

Before you dig into that discount chocolate, hit up the gym with a group of friends and you'll leave with a smile on your face.

Know a lot of singles? Play Cupid by hosting a singles party. Even if you aren't looking for love, you'll be surrounded by pals.

Bring out your inner competitor and break out the board games. And if you're really up for an adventure, organize a scavenger hunt for your friends and take it outdoors.