Trudeau Liberals Misfire On Promised Gun-Marking Regulations
OTTAWA — The Liberal government has broken a promise to immediately implement firearm-marking regulations to help police trace guns used in crime.
On the eve of the Trudeau government's Friday milestone of 100 days in office, the pledge had not been fulfilled.
Just before the August federal election call, the Conservative government quietly published a notice deferring the firearm-marking regulations until June 1, 2017 — the seventh time the measures had been delayed.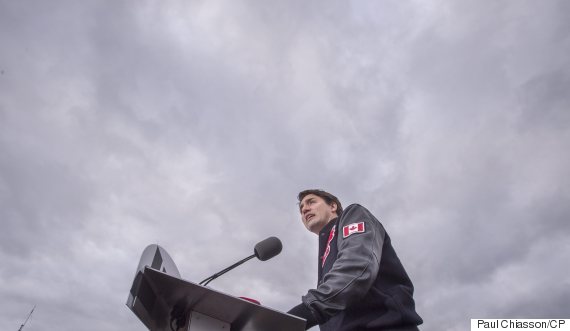 Justin Trudeau addresses supporters at a Thunder Bay campaign rally in October. (Photo: Paul Chiasson/CP)
The regulations would require that specific, identifiable markings be stamped on firearms and had been slated to take effect Dec. 1 of last year.
The July 29 notice from Public Safety Canada said the delay would allow the government to continue consultations, despite six previous delays in enacting the regulations, first drafted in 2004.
In their election platform, the Liberals said they would "immediately" implement gun-marking regulations. The party also promised other, longer-term measures aimed at making it harder for criminals to get and use handguns and assault weapons.
The office of Public Safety Minister Ralph Goodale did not provide a requested update on the marking initiative.
Domestically-manufactured guns would have to carry 'CA' designation
The long-planned regulations would require domestically manufactured firearms to bear the name of the manufacturer, serial number, and "Canada" or "CA." Imported guns would have to carry the "Canada" or "CA" designation along with the last two digits of the year of import.
The measures would help Canada meet the requirements of the United Nations Firearms Protocol and a convention of the Organization of American States.
There is support among police for the marking scheme in order to expedite investigations into gun crimes and detect firearms trafficking, smuggling and stockpiling, the Public Safety notice says. The import markings can also help law enforcement determine whether to focus on a smuggling operation.
"Tracing can offer early investigative leads, contribute to cost efficiencies for police by simplifying efforts, focus investigations given that time is critical to solving crimes, and help to build a strong evidentiary case to obtain a conviction," the notice says.
Some firearms advocates have argued the obligation to mark imported guns would mean acquiring marking technology or making arrangements for another company to apply markings, with an estimated cost of $200 per gun, the notice says.
However, an independent study commissioned by the government said the cost to stamp or engrave markings for Canadian manufacturers and large importers would range from nothing at all to $25 per firearm. It was not possible to gauge the impact on individuals and small importers.
The Coalition for Gun Control argues that marking is an essential tool for enforcement, helping states in their efforts to trace weapon flows and preventing diversion of legal guns to the illicit market.
The National Firearms Association disputes the notion that markings help police solve crime and would like to see the entire plan cancelled. Imposing the marking requirements would put an undue financial strain on businesses, the association says.
ALSO ON HUFFPOST:
Prime Minister Stephen Harper shoots .303 Lee Enfield rifle in Gjoa Haven, Nunavut on Tuesday, August 20, 2013. The prime minister, who was on his annual tour of the North, is no stranger to the rifles. During a previous visit, Harper got down on the ground, sniper-style, and fired off a few shots during target practice with the Rangers.

Former NDP Leader Jack Layton poses on a naval vessel.

FILE - In this Sept. 1, 1994 file photo, George W. Bush looks to the sky during a dove hunt in Hockley, Texas during his first Texas gubernatorial campaign. (AP Photo/File, David J. Phillip, File)

In this photo released by the White House, President Barack Obama shoots clay targets on the range at Camp David, Md., Saturday, Aug. 4, 2012. (AP Photo/The White House, Pete Souza)

Democratic presidential candidate Senator John Kerry (D-MA) checks out a shotgun before trap shooting September 4, 2004 in Edinburg, Ohio. (Photo by Mark Wilson/Getty Images)

Sen. Ted Cruz, R-Texas, walks through tall grass during a pheasant hunt hosted by Rep. Steve King, R-Iowa, on Saturday, Oct. 26, 2013, in Akron, Iowa. (AP Photo/Nati Harnik)

Texas Governor Rick Perry fires a six-shooter revolver in downtown Fort Worth during a promotional event with Texas Motor Speedway on April 15, 2010 in Fort Worth, Texas. (Photo by Tom Pennington/Getty Images)

Sen. Ted Cruz, R-Texas, right, talks with Rep. Steve King, R-Iowa, after a pheasant hunt hosted by King on Saturday, Oct. 26, 2013, in Akron, Iowa. Cruz attended the Iowa GOP's annual fundraising dinner in Des Moines, Iowa, on Friday. (AP Photo/Nati Harnik)

US Senator Tom Coburn (R) holds a gun given to him by US Senate Minority Leader Senator Mitch McConnell during the American Conservative Union Conference on March 6, 2014 in National Harbor, Maryland. (BRENDAN SMIALOWSKI/AFP/Getty Images)

U.S. Senator Dianne Feinstein (D-CA) grabs an AK-47 during a press conference at the Los Angeles Police Department headquarters in downtown Los Angeles 21 August 2003. Senator Feinstein, Governor Gray Davis and Los Angeles law enforcement officials urged the U.S. Congress to extend the ban on assault weapons. (HECTOR MATA/AFP/Getty Images)

Republican presidential candidate, former Pennsylvania Sen. Rick Santorum celebrates after he shot a bird during a hunt at Doc's Hunt Club in Adel, Iowa, Monday, Dec. 26, 2011. (AP Photo/Chris Carlson)

Republican presidential candidate, former House Speaker Newt Gingrich (R) holds a Ruger rifle that he signed as Ruger's Vice President Tom Sullivan (2ndR) looks on during a tour of the Ruger Firearms manufacturing facility January 06, 2012 in Newport, New Hampshire. (Photo by Matthew Cavanaugh/Getty Images)

NEXT: U.S. Chains That Have Banned Guns

Whole Foods has a national policy that bans guns in stores, but not in parking lots, a spokeswoman told The Huffington Post. The policy extends at least as far back as 2001, but may be even older, she said.

Ikea has a no arms policy that's posted in its stores, according to a company spokesperson.

Starbucks' competitor Peet's Coffee doesn't allow guns in stores or in its outside seating areas, a spokesperson told HuffPost.

The movie theater chain bans patrons from bringing guns in theaters, a spokesperson told HuffPost in August.

California Pizza Kitchen prohibits patrons from having guns in restaurants unless they're uniformed officers, a spokesperson told the San Francisco Chronicle earlier this year.

The toy chain prohibits customers from bringing guns to stores, according to CNN.

Buffalo Wild Wings doesn't allow customers to carry guns in its restaurants, a spokesman told HuffPost. They first enacted the policy in 2009.

Weapons of any kind are banned at Disney World and Disney Land, a spokesman confirmed to HuffPost.

NEXT: U.S. Places That Also Sell Guns

Hopefully both are far away from the day school.

We're not sure what's weirder: the fact that there's a drive-thru or that liquor/gun gift baskets exist.

Because nothing says "I love you" more than this.

So THAT'S why RadioShack is still in business.

For all your shotgun wedding needs.

Sadly, the asterisk next to Free Handgun* doesn't lead to a message at the bottom that says, "Just kidding."

A dozen roses can only say so much.

Which of these things is not like the others?

Because nothing goes together like whiffle ball, two-by-fours and guns.

Dont' forget your free tickets to the magic show!

In a rustic barn setting no less.

Sorry, if you need your liquor and guns BEFORE 10:00 a.m., you're out of luck.

If you want a gun with a terrible history, this is your place.

They used to have a lot more guitars, but they had to sell them for more guns.

He was going to go with "Semi-Automatic Supermarket" but it didn't fit on the sign.

Now you can put all your dangerous impulses to good use in one place.

Yeah, but do they have a gun made out of gold though?