Syrian Boy Seeking Refugee Status Ordered Deported To United States
A 16-year-old Syrian boy who arrived at the Canadian border at Fort Erie, Ont., claiming refugee status last month was taken into custody and placed in isolation for three weeks in a Toronto detention centre.
Last week officials with the Canadian Border Services Agency (CBSA) ordered the boy deported. By law, Canada no longer accepts refugees who come through the United States.
But his lawyers say the boy is an unaccompanied minor and should be allowed into Canada to claim refugee status.
"It is a terrifying prospect for him to go to the United States where he doesn't know what will happen to him."
Aviva Basman of the Refugee Law Office in Toronto called it "outrageous" that Mohammed (we are using a pseudonym for safety reasons) was not only denied entry but was detained in isolation for three weeks at an Immigration holding centre in Rexdale.
"Everyone who's involved in Mohammed's case has found the way CBSA treated him quite shocking," she told CBC News. "We're talking about a 16-year-old Syrian boy who's just trying to find protection."
Mohammed has since been released from the centre and is being housed at Romero House, a shelter for refugees.
Family felt Canada a safe place
He met with a CBC reporter and, in broken English, described his time in isolation.
"I don't sleep good, I dream," he said. "Three weeks in detention, I'm feeling sad and I cry all the time. The room, the iron on the windows, I'm afraid."
He said he was allowed outside a half hour each day. The rest of his time he said watched television or tried to sleep.
"I want to stay here. I want to go to school.  I no have anyone in the United States," he said.
"Canada government bring many people from Syria, Jordan and Lebanon, Turkey but I am coming here and they don't accept me."
Hannah Deloughery, an intern at Romero House, has been working with Mohammed since he arrived there.
"He's very scared and confused and doesn't really understand why this happened," said Deloughery. "He's alone in Canada and needs our protection."
Mohammed's family fled Syria for Egypt after the war began. But when Mohammed turned 16, his residency permit in Egypt expired. He faced being sent back to Syria and being conscripted into the military.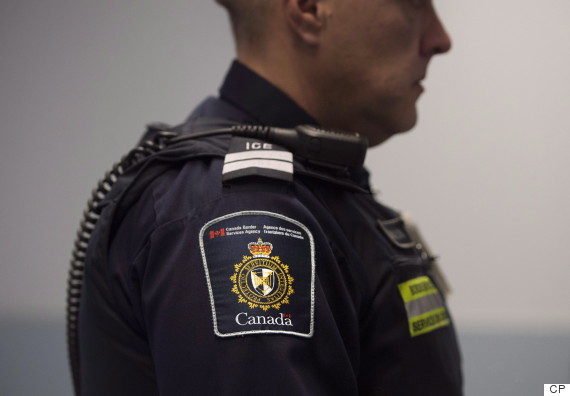 By law, Canada no longer accepts refugees who come through the United States. (The Canadian Press)
Fearing that, his parents flew with him to the United States and then arranged to get him to the Canadian border. They believed Canada's openness to accept Syrian refugees meant he would be safe here, while they flew back to Egypt.
"They had heard the Prime Minister say that Syrians were welcome in Canada and would be safe and protected here and they felt this was the best place for Mohammed to come," Deloughery said, adding that the family has cousins in Mississauga.
Deportation delayed a week
But officials with the Canadian Border Services Agency denied the boy entry. They took him into custody, even though he had arrived on his own and would have been considered an "unaccompanied minor" and therefore, admissible.
Last week he was ordered deported to the U.S.; from there he could be sent back to Syria via Egypt.
"It is a terrifying prospect for him to go to the United States where he doesn't know what will happen to him, he doesn't know if he will be able to stay in the United States of if he will be deported to Egypt and then face deportation to Syria," Basman said. "He doesn't have any family or friends in the U.S. where here he has cousins and family friends and a developing community of support."
"I want to stay here. I want to go to school. I no have anyone in the United States."
Mohammed was scheduled to be deported on Feb. 18. But on Monday, border officials delayed that for a week. His lawyers are now appealing to the Minister of Immigration and Refugees to allow him to stay and have his case heard by a refugee determination board. The minister, John McCallum, has yet to respond.  
"We're asking the Minister to intervene," Basman said. "This boy's been through a lot and we really hope that ultimately, this will resolve well for him and that Canada will do the right thing here."
Meanwhile, Mohammed remains at Romero House.
He's passing his time helping other recently-arrived refugees from Syria settle into Canada. He says he hopes to remain in Canada, finish high school and study to be an engineer.
Also On HuffPost:
Canada's Response To Syria Refugee Crisis Since 2011
In 2011, internal conflict erupted in Syria that would later escalate into a full-blown civil war that rages on to this day, now complicated by the arrival of Islamic militants from neighbouring Iraq. Since the start, the United Nations High Commissioner for Refugees has called on countries to help resettle some of the most vulnerable Syrians who can never return home, a call that grew louder as the crisis has escalated. Here's a look at how Canada responded over time. (Information by The Canadian Press) Syrians hold a large poster depicting Syria's President Bashar Assad during a rally in Damascus, Syria in 2011.

- Canada closes its embassy in Damascus, a move that would come to have major repercussions for refugee resettlement out of the Middle East as that visa post was handling the majority of the files for refugees from other countries who had sought temporary safety in Syria. Those files were then transferred to nearby countries, leaving visa officers scrambling to handle them and the start of a surge in Syrian refugee applications. - By the end of 2012, the UNHCR had registered close to half a million Syrian refugees in neighbouring countries. - Syrian Canadians call on Canada to do more to support the refugees, including speeding up family reunification programs and opening the doors to more refugees, but the government said without an official request from the UN for resettlement, it would not act. Syrian refugee girls wash their clothes at a camp in Idlib, Syria, in October of 2015.

The number of people registered as refugees from Syria or being assisted by the UN hits one million. A Syrian refugee boy at a camp in Turkey in October 2015.

The UN makes its first formal request to member countries to assist in refugee resettlement, asking for 30,000 spaces by the end of 2014. Syrian Kurdish refugees walk in the United Nations Refugee Agency refugee camp in Suruc, Sanliurfa province, in January 2015.

The Harper Conservatives promise to admit 1,300 Syrian refugees by the end of 2014, with the majority sponsored by private groups. The 200 spots available to government-assisted refugees are not new refugee spaces — the Conservatives choose to allocate the 200 they set aside each year for the Syrian program. Stephen Harper speaks in the House of Commons.

Prime Minister Stephen Harper visits a refugee camp in Jordan, one of the main host countries for Syrians. He announces $150 million in humanitarian aid; over the course of the conflict Canada has been one of the lead financial donors for relief efforts in the Middle East and North Africa. By this point, some $630 million has been committed. Stephen Harper and wife Laureen Harper visit Za'atri Refugee Camp in Jordan in January 2014.

The UN High Commissioner makes a new request: an additional 100,000 places for Syrian refugees by 2016. Canada says it is reviewing its options. Antonio Guterres, UN High Commissioner for Refugees, speaks during a press conference in Geneva, Switzerland in October 2015.

Conservative Immigration Minister Chris Alexander admits that fewer than 200 Syrian refugees have arrived in Canada since the July 2013 promise, saying the UNHCR was slow passing on referrals. Chris Alexander speaks in the House of Commons.

By the end of the month, just over 1,000 Syrian refugees have arrived in Canada, meaning the government missed its deadline. A Syrian Kurdish refugee walks in a UNHCR refugee camp in Suruc in January 2015.

The Conservative government commits to allowing 10,000 more Syrian refugees in by 2018, most through the private sponsorship program. The focus is to be on religious minorities. Syrian refugee girls sit at the United Nations Children's Fund (UNICEF) 'Child Friendly Spaces' in the Zaatari refugee camp, near the Jordanian border with Syria in 2014.

The government finally meets its July 2013 promise to resettle 1,300 people, achieving it by increasing the number of government-assisted refugees. Stephen Harper gives the thumbs up during a photo opportunity.

The Conservatives order an audit of the government-assisted refugees coming out of Syria, citing security concerns. The review identifies no problems but delays the processing of those files for several weeks. Chris Alexander speaks at a press conference in Toronto in September, 2015.

The Conservatives pledge that if re-elected, they will allow a further 10,000 Syrians in over the next four years, continuing a focus on those being persecuted because of religion. Stephen Harper takes questions from the media on the campaign trail.

- Three-year-old Alan Kurdi dies during his family's escape from Syria. The photograph of his body on a Turkish beach and word his family had considered Canada as an eventual destination sees Canada's refugee response become a dominant issue in the election campaign. - The Conservatives increase available resources for the processing of refugee applications, promise to speed up resettlement of the 10,000 originally promised places and announce they'll match donations for Syrian relief. - The Liberals say they'll bring over 25,000 government-assisted refugees as soon as possible and encourage the private sector to take in more. They later promise to bring them in by the end of the year. A handout photo courtesy of Tima Kurdi shows a photo of her three-year-old nephew Alan Kurdi.

The Liberals win a majority government and say they remain committed to refugee resettlement. Justin Trudeau waves to the crowd as they arrive to Liberal election headquarters in Montreal.

The Liberal government announces its plan to resettle 25,000 Syrians. Immigration Minister John McCallum holds a news conference with Health Minister Jane Philpott and Defence Minister Harijit Singh Sajjan.