ADHD Symptoms: This Disorder Can Look Very Different In Girls

I met Jennie Rosecan in an online support group for parents of children with Attention Deficit Hyperactivity Disorder (ADHD). We both have daughters with ADHD named Ava and Eva. But that's where their similarities end.
My Eva is loud, disruptive and uncooperative, which is what most people associate with this neurodevelopmental psychiatric disorder. Rosecan's Ava, on the other hand, is emotional, forgetful and unfocused.
Even though both girls displayed symptoms from an early age, my Eva was diagnosed at age five, while Ava wasn't diagnosed until the fifth grade.
"It's a huge problem," says Dr. Doron Almagor, chair of the Canadian ADHD Resource Alliance (CADDRA). "Girls with ADHD are often missed and misdiagnosed right up to adulthood."
According to Canada's Centre for ADHD Awareness (CADDAC), the disorder affects one in 20 children in Canada. But boys are more than twice as likely as girls to be diagnosed.
"What tells us that we're missing diagnoses in many of the girls is by the time you get to adulthood, it's more equal [between men and women]," says Heidi Bernhardt, president of CADDAC. "We know that ADHD doesn't just come about later in life. It's always there."
"Boys are more than twice as likely as girls to be diagnosed."
You can't miss my Eva. She's hyper from the time she wakes up in the morning until the time she goes to sleep. Her symptoms tend to mimic what most people think of as ADHD, what is more typically seen in boys rather than girls. And she was noticed right away.
I started getting notes home from her teacher in junior kindergarten that progressed to phone calls and meetings on how to better manage her defiance and incessant movements. She constantly makes loud noises and disrupts the class.
It took us six months to get an appointment with a specialized pediatrician who finally diagnosed her with severe ADHD just prior to the start of grade one. It's a huge struggle and my husband and I are often stressed and exhausted, but as hard as it is, we're the lucky ones.
"As human beings we pay attention to the squeaky wheel because that's what's annoying," says Bernhardt. "If you've got 30 plus kids in your classroom the ones that draw your attention all the time are the ones that are going to stick out. Often the quiet, day-dreamy girl at the back of the class just gets labelled as not too bright or unmotivated when the absolute opposite could be true."
And that was the case with Rosecan's daughter Ava. She came to the attention of her teachers in the third grade due to poor school performance. Ava was getting Cs and Ds when her teacher knew she could do better.
Following an assessment, she was diagnosed with a learning disability. But despite modifications to her learning plan, she continued to struggle.
It wasn't until Ava's fifth grade teacher cornered Rosecan in the hallway, informing her that Ava was failing that Rosecan took further action and got her re-assessed. She was shocked when the results came back. Ava had been misdiagnosed.
She didn't have a learning disability. Ava had ADHD, the predominantly inattentive sub-type.
"As human beings we pay attention to the squeaky wheel because that's what's annoying."
"I have four friends with kids who have ADHD and they're hyper. They're running in front of school buses, they're not looking when they cross the road, they've been diagnosed since kindergarten," says Rosecan. "That's what I thought ADHD looked like. I didn't know that much about the differences. I've done a lot of reading since her diagnosis and everything fits so perfectly."
Turns out, my Eva is a bit of an anomaly. According to CADDAC, most girls are like Ava and present with inattentive ADHD. The symptoms include:
Daydreaming
Not willing to take risks and easily discouraged
Shyness
Easily overwhelmed
May be under active
Self-blaming
Anxious and depressed
Anxiety around school performance
Even girls with the hyperactive and impulsive types of ADHD tend to present their symptoms differently than boys including:
Over talkative
Fidgety
Bossy
Risk taking
Unable to keep up with workload
ADHD looking different in girls than in boys might have to do with how girls are socialized but it is also tied to the differences in their brains.
Lisa Jacobson is one of the authors of a 2015 study published in the "Journal of the American Academy of Child & Adolescent Psychiatry," which looked at the brains of children with ADHD.
"The white matter underlying the basic primary motor cortex was different in boys with ADHD relative to girls with ADHD. Whereas, among girls, the abnormalities were in the prefrontal regions, an area that supports motivation and emotional regulation."
"Even girls with the hyperactive and impulsive types of ADHD tend to present their symptoms differently than boys."
Research like this is helping create more awareness around what ADHD looks like in girls and has been key to better diagnosis. In a 2015 study published in the "Journal of Clinical Psychiatry," parents reported an increase of 55 per cent of ADHD diagnoses for girls, compared to 40 per cent for boys between 2003 and 2011.
This will definitely benefit girls in the long run. Misdiagnosing or missing girls with ADHD can have drastic consequences.
"They can end up later in life with depression, anxiety and substance abuse because, if they've been undiagnosed, they're going to have a higher rate of school failures, relationship failures and an increase in risk-taking behaviour," says Dr. Doron Almagor of the Canadian ADHD Resource Alliance.
Sarah Fader, the founder of Stigma Fighters, a non-profit organization, knows this all too well.
"From the time I was 12 I started to notice symptoms of ADHD but possibly earlier," says Fader. "I remember having difficulty reading. I remember really struggling in high school in particular. I would have to finish books in a really short amount of time. It was frustrating and I felt a lot of shame. I developed anxiety and depression and wasn't diagnosed with ADHD until college. Having that self-knowledge would have been useful to me earlier on because it would have allowed me to get accommodations that I would have needed."
"ADHD looking different in girls than in boys might have to do with how girls are socialized but it is also tied to the differences in their brain structure."
Bernhardt agrees that early detection is key and that starts at home: "For parents, it's important for them to be aware of the red flags they should be looking for. What they need to be aware of is if their daughter is struggling at school or socially or behaviourally."
For parents wondering if their daughter has ADHD, Ava's mom has this advice: "Realize that there is so much more to ADHD than just the typical presentation of hyperactivity and that it's not a result of bad parenting or poor diet or environment, certainly all those things can help, but ADHD is not caused by that."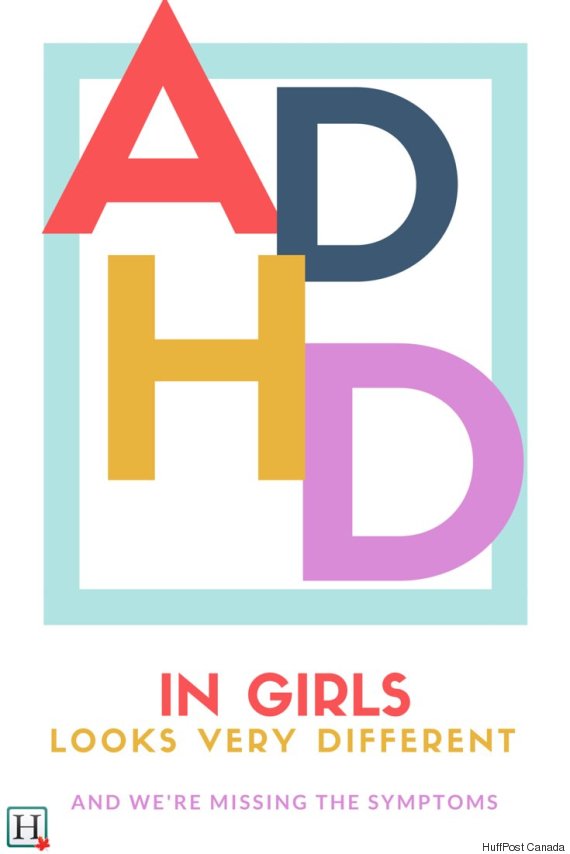 Young Minds Matter is a new series designed to lead the conversation with children about mental and emotional health, so youngsters feel loved, valued and understood. Launched with Her Royal Highness, the Duchess of Cambridge, as guest editor, we will discuss problems, causes and most importantly solutions to the stigma surrounding the mental health crisis among children.
Read More On Young Minds Matter:
ALSO ON HUFFPOST:
Surprising Celebs With ADHD
Canadian heartthrob Ryan Gosling struggles with ADHD daily. However, he has gone on to star in huge films such as "The Notebook," "Crazy, Stupid, Love" and "Gangster Squad."

Beyonce's little sister Solange was diagnosed with ADD twice because she didn't believe the doctor at first. "I didn't believe the first doctor who told me and I had a whole theory that ADD was just something they invented to make you pay for medicine, but then the second doctor told me I had it. I guess I was in denial," the 29-year-old singer said.

The "Magic Mike" star knows first-hand what it's like to face the stigma of ADHD. In an interview with New York Times' style magazine, Tatum revealed that he struggled with ADHD and dyslexia as a child. "You get lumped in classes with kids with autism and Down syndrome, and you look around and say, 'OK, so this is where I'm at,'" he explained. "Or you get put in the typical classes and you say, 'All right, I'm obviously not like these kids either.' So you're kind of nowhere. You're just different."

The man behind the wonderful world of Disney had ADHD, but found incredible success! The entrepreneur co-founded the Walt Disney Company with his brother in 1923 and became a cultural icon.

On her blog Hello Giggles, Zooey Deschanel revealed she has ADHD. She also said that she loves to do easy crafts because they help her "focus [her] unfocused mind on projects that can be completed very quickly."

Howie Mandel is very open about having ADHD and OCD, and even wrote about his conditions in his memoir, "Here's the Deal: Don't Touch Me." In 2008, Mandel spoke about his ADHD diagnosis, saying: "When I was in high school, my impulsivity led me to all kinds of acts and pranks. I had trouble sitting still and could hardly focus or pay attention in class. It wasn't until I was an adult that I was diagnosed with ADHD
 [but] I didn't let ADHD prevent me from achieving my goals and neither should anyone else."

When Liv Tyler was 17, she told Details magazine, "When I was little I hated to read. I was so hyperactive and I had such a bad attention deficit." Then, in 2001, Tyler's mother Bebe Buell wrote about the actress' ADHD diagnosis in her memoir "Rebel Heart: An American Rock 'n Roll Journey."

Will Smith once told Rolling Stone that growing up, he was "the fun one who had trouble paying attention," and that today, he would be diagnosed with ADHD.

Virgin founder Richard Branson is one of the most well-known celebrities with ADHD, yet that hasn't stopped him from accomplishing great things. The business mogul started his own magazine called "Student" when he was just 16 and today he owns a major airline and his own private island.

In an interview with Cosmo, the "Fast & Furious" star revealed she has ADHD and that she sometimes has trouble focusing.

In an interview with Collider.com, the "Suit and Tie" singer revealed he has both ADD and OCD.

During an interview with Larry King in 2007, Paris Hilton revealed she has struggled with ADHD since the age of 12.

Maroon 5 frontman Adam Levine was diagnosed with ADHD as a child and still struggles with it today. "I had trouble sometimes writing songs and recording in the studio. I couldn't always focus and complete everything I had to," he told Attitude Mag. Levine then sought help from a doctor and today is vocal about spreading awareness of the disorder. "ADHD isn't a bad thing, and you shouldn't feel different from those without ADHD," he said. "Remember that you are not alone. There are others going through the same thing."

Unsurprisingly, Jim Carrey was the class clown in school. However, the actor revealed that that was his way of coping with his ADHD. The Canadian comedian once said it's "hard for me to come down from what I do."

Olympic gold medalist Michael Phelps was diagnosed with ADHD at the age of nine. According to his mom Deborah, swimming helped Phelps with his disorder since it helped him develop good time management skills and "even if Michael's mind was all over the place, he could focus on going up and down the pool. Plus, water itself has a calming, soothing effect."

Bill Gates has ADHD but managed to co-found Microsoft and become one the richest men in the world.