CP: How did you end up on a stage at Madison Square Garden, modelling the clothes of Kanye West? MIRA: I've grown up creating my own creations and one of my friends had gone to L.A. and had met up with Kanye and mentioned that I sew my own clothing. So it wasn't even about the modelling to begin with. So he went on my Instagram and saw everything, and his representative sent me a bunch of emails.
CP: What did the emails say? MIRA: It was just, 'Hey, on behalf of Kanye West, we would like to invite you to New York and possibly work with us.' That was last February and they flew me out that week. I got there and did castings and fittings and afterwards we did a photo shoot.
CP: What was it like to meet Kanye West? MIRA: He was very, very friendly. He's a great guy, very inspiring. I respect anyone that works hard and follows their passion. I was quite surprised that he already knew who I was before I had even talked to him.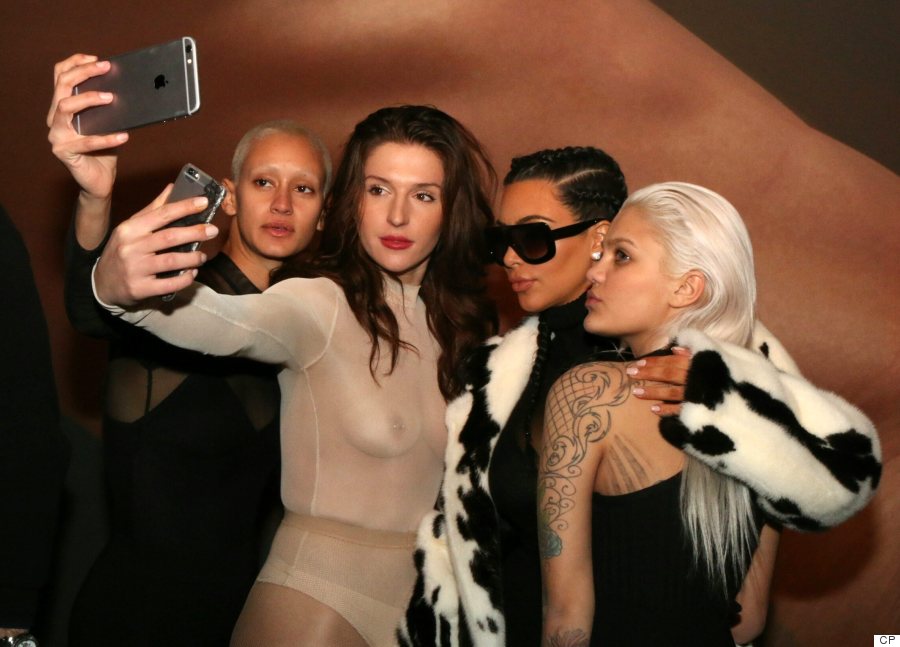 Brianna, Hafiia Mira, Kim Kardashian and Amina Blue out and about in New York, America on Feb. 10, 2016.
CP: So you've worked for him three times and recently attended the launch of a magazine of his clothing in New York? MIRA: I went to the party and I walked in and to my surprise, I learned that I had been chosen to be on the cover of the magazine. It was really cool. They were like huge wall canvasses in this huge warehouse and a bunch of different photographers and artists were there. CP: You must have seen some other high-profile people at these events. MIRA: Yes, I've met all of the Kardashians, Justin Bieber, Kendrick Lamar, Drake, I've met a lot of musicians and the list goes on. They're usually at the afterparties.
CP: What's that world like? MIRA: To be honest, it's so hectic. I never thought I would be on the modelling side of it. I thought I would be the one creating the clothing and that is my ultimate plan. I just got very fortunate, so I've just been going along with everything.   CP: What's it like to step off the plane in Halifax after all of that? MIRA: Halifax is always my peace and my calm. I get to come back and relax and unwind and see my family and friends. Whether I go back home to Europe or to New York, anywhere I go I'm always glad to come back to Halifax. CP: You were very young when you left Kosovo. What are your recollections of living there? MIRA: I can tell you every single day that I lived there. It was extremely hard. My family lost everything. The one thing I wish I could tell people is, I wish they could appreciate everything they have here. They're so fortunate here. CP: Was there fighting taking place near your home? MIRA: Yes, we hid, we left our home, we were underground with hundreds of other refugees. We could hear bombs all around us. It was absolutely crazy. My mom would prepare us every night. She would prepare us every night and we would have jackets on and food nearby that she would prepare the night before just in case we had to leave right away. My mom is the most incredible woman in the world. CP: You have gone through a lot to get to this point. What do think when you reflect on where you came from and where you are now? MIRA: There was a moment when I was doing the first fashion show, it was pitch black, surrounded by a couple hundred people and I actually teared up and started to cry because I just could not believe where I had come from and all of the things that went into me just standing there alone and it was just quite overwhelming. (This interview has been edited and condensed.)

Follow Huffington Post Canada Style on Pinterest, Facebook and Twitter!

Also on HuffPost

Suggest a correction

HALIFAX — When she was eight, Hafiia Mira didn't know what some mornings would bring as her family sought safety underground as bombs fell around them in Kosovo. Now more than 15 years later, the 24-year-old model and aspiring fashion designer is revelling in newfound fame that has landed her centre stage in Kanye West's orbit. Mira just returned to her adopted home of Halifax from New York Fashion Week, where the former bartender modelled the wares of the musician and clothing designer. She spoke to Alison Auld of The Canadian Press: