Fort McMurray Photographer Builds Movie Theatre Out Of Snow (VIDEO)
Northern Alberta is not exactly a hotbed for outdoor movie theatres, but one film-lover used the chilly weather to his advantage.
Graham Whatmough, an adventure photographer in Fort McMurray built his own outdoor theatre to showcase his work and that of other local filmmakers.
"I really love being outdoors, so any excuse to play in the snow is great," Whatmough told The Huffington Post Alberta.
He built the screen over a week by creating a large pile of snow, compacting it, and cutting it into blocks.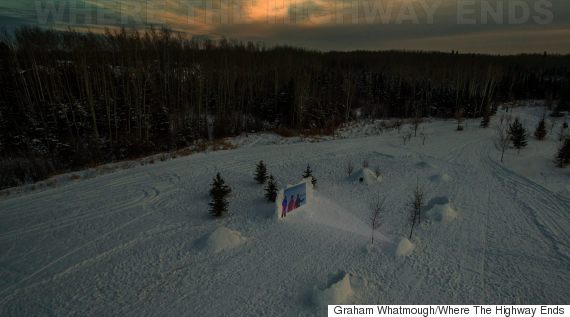 (Photo: Graham Whatmough/Where The Highway Ends)
Whatmough then stacked and staggered the blocks and filled in the cracks.
The amphitheatre measured six metres wide and almost three metres high when it was finished, plus three booths for the audience. There was also space for people to sit on the ground or on lawn chairs.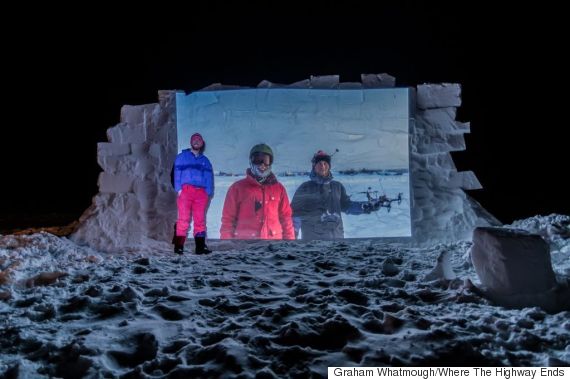 Graham Whatmough stands in front of his snow theatre in Fort McMurray, Alta.(Photo: Graham Whatmough/Where The Highway Ends)
Warm weather and rain in late January caused the theatre to melt, but Whatmough says he's building a bigger and better version.
It will be in a larger public space, and a snow removal company has dropped off a bunch of snow for him to use.
"I will have a radio transmitter set up, so it will be a drive-in made of snow. They'll be able to watch and listen from the warmth of their vehicles."
Inspired? Whatmough has written up instructions for anyone interested in trying it themselves.
Like Us On Facebook

Follow Us On Twitter

Also on HuffPost:
Alberta Winter Activities
Edmonton's Hawrelak Park will be a-glow with an ice castle that lights up at night and offers tunnels, caves and slides for visitors to explore. Built by Ohio-based Ice Castles, about 5,000 icicles are "farmed" each day for the project.

"Come on it's lovely weather For a sleigh ride together with you." Calgary's Horsin' Around (located next to Fish Creek Park) offers horse-drawn sleigh rides to and from a tobogganing hill, followed by pony rides, a petting zoo, a campfire and hot chocolate. Sounds like the perfect way to spend a snowy day.

Gull Lake is one of the best spots to snag whitefish and pike in the province, and it's even more fun in the winter. Adventure Ice Fishing does all the work for you. It rents out daytime or overnight huts (which include all of your equipment, tables, chairs and bunks), and they're are heated with a wood stove. Holes are already drilled in the ice, and there's even an underwater camera ready for you to use!

Winter is the best time to view the northern lights. The University of Alberta offers an email alert service that lets you know when an aurora might be visible. Better pack a go-bag with mittens, a thermos and hot chocolate packets to be ready once an alert goes out!

The best time to explore Banff's Grotto Canyon is actually after the river has frozen over. Rather than struggling over rocky terrain, you can wander down the smooth, frozen creek bed. Highlights of the walk include spotting ice climbers on the frozen waterfalls, a geology lesson on ancient ocean floors, and 500-year-old pictographs.

Some of the province's best snowshoeing trails are actually up in the Rockies. Try the Troll Falls trail near Nakiska. Just a short drive from Canmore (where there are plenty of spots to rent snowshoes if you don't own a pair), this trail is super easy for beginners and not too long — from start to finish the trek is about two hours.

Making maple taffy on snow or "tire d'érable sur la neige" is a francophone tradition that's alive and well in Alberta. St. Isidore, Bonnyville and Grande Prairie all host sugar shack festivals. Or, if you're feeling adventurous, you can try making the treat yourself.