Your 'Harry Potter' House Style Guide: What To Wear According To The Sorting Hat
Two weeks ago, my life went to shambles. After years spent basking in the cold glow of life as a Slytherin, I logged into the new Pottermore to re-affirm my life choices and destiny. I passed up the chance to stick with my old house, confident fate would deal me a winning hand, and proceeded to take the quiz. With every answer I gave, I whispered "Slytherin" (yes, like a snake), and awaited the results I intended on bragging about on the Internet.
And then I was sorted into Gryffindor. And I lost my identity.
Understandably, the emotional fall-out of his realization was bleak. Yes, I embody all the great traits that defined everyone from McGonagall to H.P. himself (duh), but I'd always seen Gryffindors as the athletes too excited about school pep rallies. I'm the kid who sits at the back of the class making fun of the jocks — I can't actually be one.
But then I remembered that McGonagall can turn into a cat, and Hermione held that damn house together, so there might actually be hope for me yet. And then I began thinking about fashion (duh) and beauty (of course) and realized that if I can't control the outcome of Pottermore, I can control the way I think everyone should dress.
Why? Because I told you. I'm Slytherin. And we like to keep everyone looking sharp.
1. Gryffindor
So let's start here (I guess). Brave, mighty, into reds and oranges — basically, imagine what a lion would wear, and that's where we're at. Which makes this easy: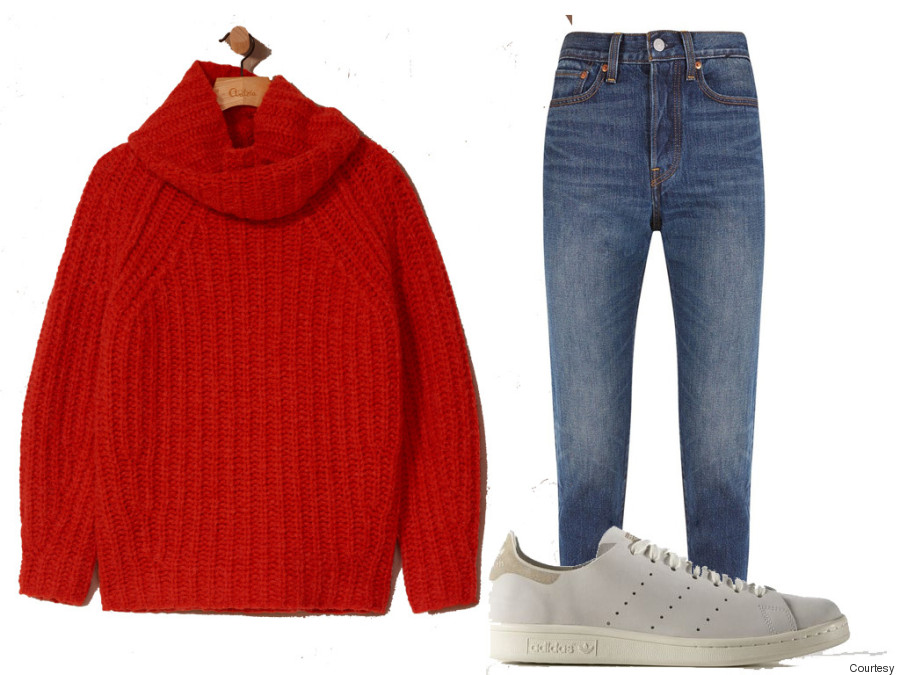 Top: Le Fou Oversize turtleneck sweater, $99.99. Bottoms: Levi's Wedgie Fit jeans, $88. Shoes: Adidas Sam Smiths, $140.
Think fashion and function, especially since we all know any Gryffindor in the game needs to be comfortable while saving the world as we know it. Also, let's admit what we all already know: of all the houses, Gryffindor would gravitate towards the minimalist trends most. So where Ravenclaw would spur them, Slytherin would be monochromatic, and Hufflepuff would channel their inner Cher Horowitz, Gryffs would pick up the new Levis, drape themselves in a sweater, and avoid blisters forever and ever, amen.

2. Slytherin
Imagine trying to inflict one of our trends onto a Slytherin. Imagine the rejection we would face. Imagine the disgust. Okay, now stop. Because we can focus instead on their (probable) style and live in awe, as I do of anyone who's been sorted into this house.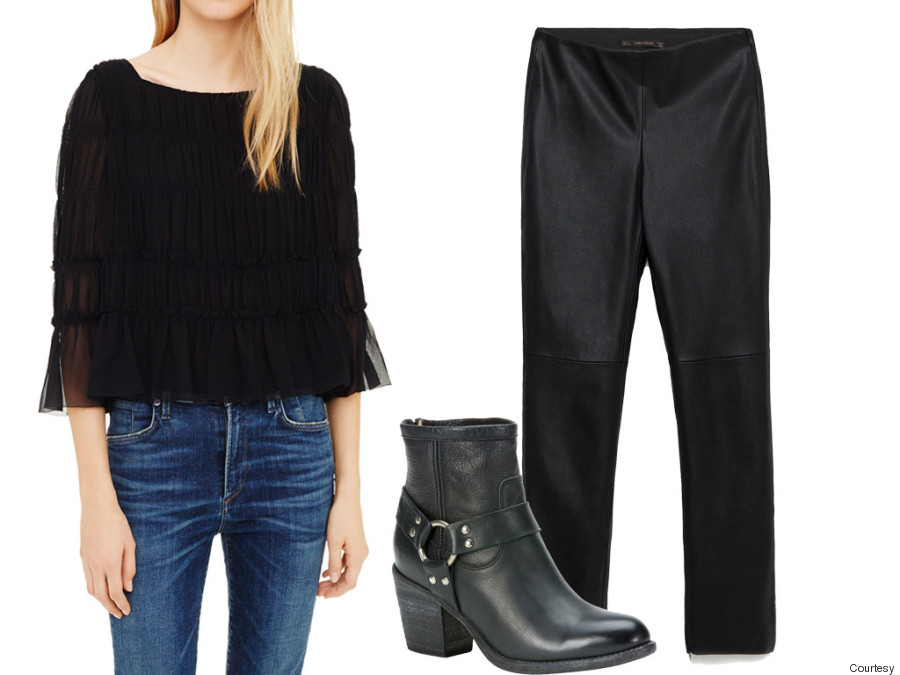 Top: Club Monaco Hylda ruched top, $169.50. Bottoms: Zara faux leather leggings, $45.90. Shoes: Frye Tabitha Harness short boots, $488.
It's true: this outfit is fantastic. Part Bellatrix, part Draco Malfoy (dude's living in motorcycle boots somewhere, let's face it), the Slytherin vibe connotes true badassery by flaunting its witch-centricness instead of playing them down. Will you scare the general public and anybody on the bus? Well, obviously. But as stated best by Nancy in "The Craft," to any haters you just say: "We are the weirdos, mister."

3. Hufflepuff
I know we all joke a lot about Hufflepuff, but let's be honest with ourselves and everybody we love: they're fine. In fact, they're better than us because they all just want to go to school, try their best, and compete in the Tri-Wizard Tournament. Let's lay off Hufflepuffs. Especially since their style is just fine, thank you.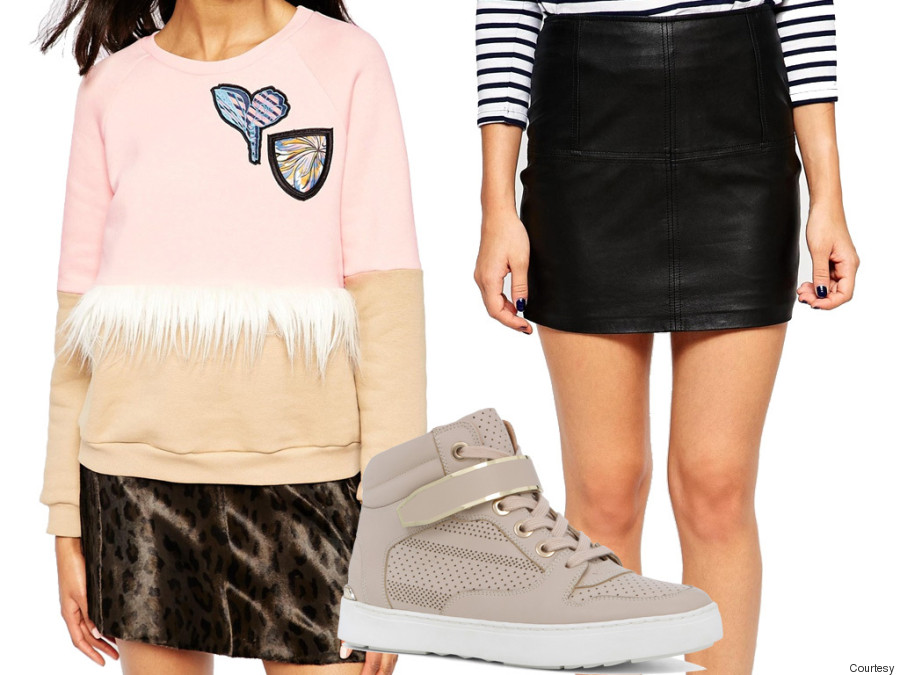 Top: Sportmax two-toned pink, brown, and feathered sweater, $149.30.
Bottoms: ASOS Leather mini skirt, $126.33. Shoes: Aldo high-tops, $120.
See? Trendy, but not trendy to the point of any of us being alarmed. Hufflepuffs like what they like — they don't over-think, and while they obviously put thought into their day-to-day aesthetic, they're not going to condemn trendiness that way some of us (Slytherin) would, since having fun with clothes is as important to style as instilling fear. Just keep the feathers to a minimum.

4. Ravenclaw
It's getting academic in here. These are the leaders of tomorrow; the problem-solvers and academics who, while key to the undoing of Voldemort, landed jobs at Google immediately after. They dress clean and they dress casual, and we're all jealous of how well they've mastered uniform dressing.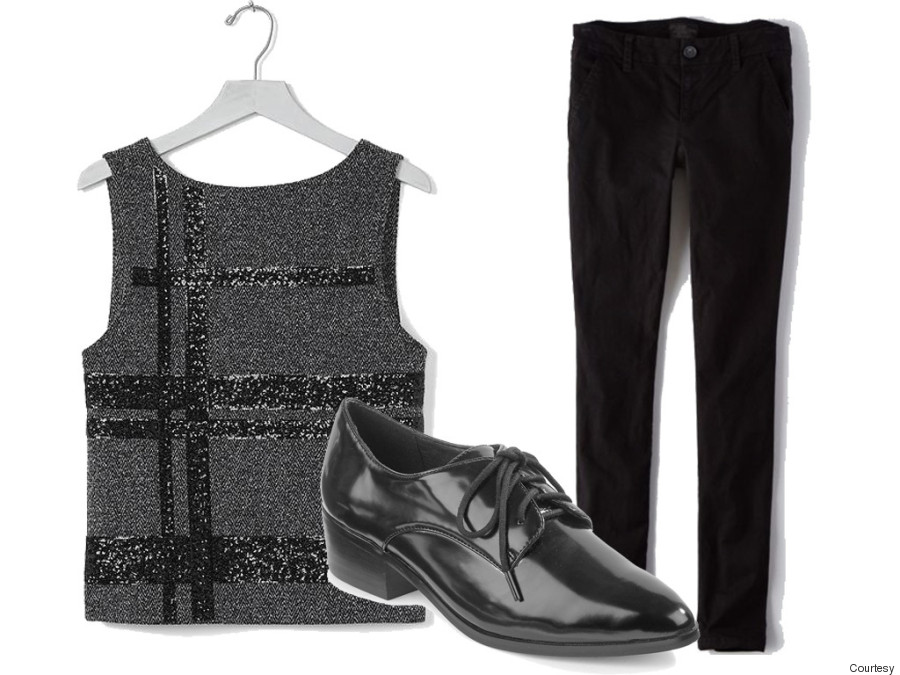 Top: Banana Republic sequin herringbone tank, $69.99. Bottoms: AE black skinny jeans, $54.69. Shoes: Dune London lace-up oxfords, $48.65.
See? Efficient dressing. Business casual, if "business casual" didn't make you want to fall asleep. Ravenclaw knows its vibe, doesn't stray from what they know works, and comes off looking like a total pro -- even if, like Luna, somebody has taken their shoes. (And honestly who can blame them because you will never seen Ravenclaw wearing any shoe that isn't something you will for sure pick up over the next school break, let's be real.)

5. Muggles
Just kidding. We're all a disgrace and we wish we went to Hogwarts. But we don't, so all we have is a piece that tells the world, "Look, I'm a witch and/or wizard, I swear."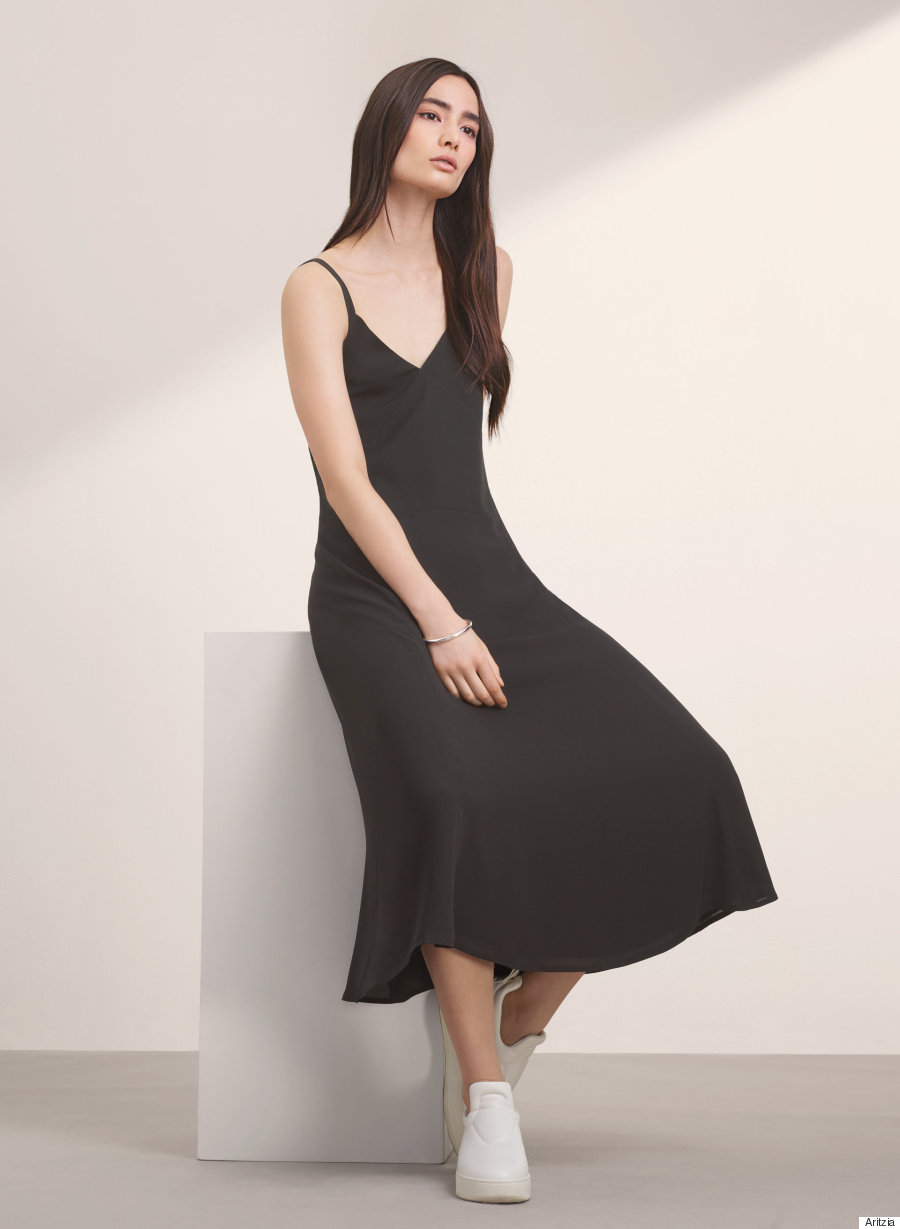 Dress: Babaton Jacorey dress, $115.
See?
No one at Hogwarts actually wears it, but we can pretend and no one can take our dreams away from us. FIN.
Follow Huffington Post Canada Style on Pinterest, Facebook and Twitter!
ALSO ON HUFFPOST:
'Harry Potter': Where Are They Now?
Since appearing as the movies' title character, Daniel has managed to shake off Harry and ensure he's known by his own name - which has been aided by the fact he'll happily get his kit off on-screen and on-stage. After stints in the West End and on Broadway, Daniel recently starred in 'What If', and in 2015, fans will see him take on the role of Igor in 'Frankenstein'.

Since hanging up his wizard's hat, Rupert has made waves on the West End stage, and in 2013 he received rave reviews for his performance in 'Mojo'. He also stowed some his 'Harry Potter' cash away and splashed it on an ice cream truck, fulfilling a childhood dream. Aww!

You'll find Ralph in 'Wrath of the Titans', 'Skyfall' and 'Great Expectations'. It has also been announced he's been cast in the upcoming, as-yet-unnamed, James Bond film.

Sadly, Jamie hasn't fared too well in recent years and in 2012 he was imprisoned after participating in the 2011 London riots.

Sadly, Joshua hasn't faired too well either, and has dropped off the radar as far as acting is concerned.

After being everyone's favourite bad guy in the films, Tom decided to try something a little different and recorded a number of singles, which he shared with fans via YouTube. He's currently filming 'Clavius', where he stars as a character called Lucius. Tom's also really, really good at Twitter.

After getting surprisingly dishy, Matthew now spends his time reminding everyone that he's also hugely talented, making his West End debut in 2012 alongside Arthur Darvill and Laurence Fox in 'Our Boys'. Matthew also took part in one of the best editions of Innuendo Bingo ever on Scott Mills' Radio 1 show.

Bonnie was one of the 'Harry Potter' frachise's younger stars, however, that hasn't stopped her from going on to carve a successful career. While she hasn't quite achieved the worldwide success of the films' leading stars, Bonnie has been applauded for her work as a model and actress. She also writes and directs her own screen plays.

To be honest, Rob's had a rather quiet life since his character's exit left us weeping in the 'Goblet Of Fire' film. After a lot of digging, Robert's main achievement seems to be another franchise entitled 'Twilight'. Nope, we've never heard of it either...

Julie is one of the many huge names who appeared in the 'Harry Potter' films so it's not like her career needed the boost. Since the final film in 2011, Julie's been praised by critics her roles in a whole host of other movies, including voicing the witch in Disney's 'Brave'.

Michael is rumoured to be reprising his role in the upcoming wizrding flick 'Fantastic Beasts and Where to Find Them'. He also plays Howard Mollison in the TV adaptation of JK's novel 'A Casual Vacancy'.

Already a legend, Dame Maggie Smith continues to win fans with her performance as the Dowager Countess in hit TV series 'Downton Abbey'. She's also no stranger to the big screen, and starred in 'The Best Exotic Marigold Hotel' and is set to feature in the upcoming sequel.

Amongst other projects, John has completed three where he was cast alongside other 'Harry Potter' stars; 'Tinker Tailor Soldier Spy', 'The Gruffalo's Child' and 'Labyrinth'.

Since 'Harry Potter', method actor Alan has been part of several projects including 'CBGB', alongside his former co-star Rupert Grint.

After providing the voice of everybody's favourite House Elf, Toby's projects included 'The Hunger Games', 'Snow White and the Huntsman' and 'The Adventures of Tintin'.

Once filming wrapped, Robbie moved over to the Dark Side and joined Voldemort's gang. By which we mean, starred alongside Ralph Fiennes, in 'Great Expectations'. Traitor.

Oh Kenneth, where do we start? Ever since *that* version of 'Hamlet', Brannagh has been one of our favourite stars to swoon over. Since leaving the Wizarding World, Kenneth has turned his attention to directing, as well as starring in flicks such as 'My Week With Marilyn' and 'Jack Ryan: Shadow Recruit'.

In between stints studying for a degree at Brown University in the US, Emma starred in a number of blockbusters including 'The Bling Ring' and 'The Perks Of Being A Wallflower'. Shortly after graduating in 2013, it was announced that Emma has accepted a UN post and will serve as a Women's Goodwill Ambassador.

Gary's a very busy man and has totted up an extensive list of appearances since his Harry Potter days. These include: 'The Dark Knight' and 'The Dark Knight Rises' and 'Dawn of the Planet of the Apes'. He also voiced Viktor Reznov and Daniel Clarke in the 'Call of Duty' games.

David also lent his voice to video games, specifically as the voice of Lord Darius Crowley in 'World of Warcraft: Cataclysm in 2010'. Other projects include 'War Horse' and a role in 'Separate We Come, Separate We Go', a short film directed by Bonnie Wright, who played Ginny Weasley.

Do we really need to tell you what John Cleese has been up to? Seriously?

Mad-eye Moody is actually quite sharp, bagging himself parts in numerous projects including 2014's 'Edge of Tomorrow'. He's also set to star in 'Suffragette', alongside Carey Mulligan and Helena Bonham-Carter.

Geraldine's fleeting appearances as Harry's mum gave the movies some of their most poignant moments. Since then, she's appeared in 'My Week With Marilyn' and 'Grace Of Monaco'.

Natalia evidently knows how to smell out a hit as she's also starred in 'Game of Thrones' as Osha.

David's done barely anything since his time as Barty Crouch Jr. No time as a famous Timelord, no treading the boards in Shakespeare plays and he definitely didn't star opposite Olivia Colman in an award-winning ITV drama series. Lazy moo.

A bit of a cult hit on YouTube, Warwick Davies has been feautured on several channels, most notably the YogsCast. In the land of television he's made guest appearances on shows including 'An Idiot Abroad', 'Top Gear'. He also played Oberon the Ufgood in 'Dwarves Assemble'. More recently he played Old Hamm in 'Jack the Giant Slayer' and can (sometimes) be found teaching charms lessons at the Warner Bros. Studios VIP nights.

Like Ralph Fiennes, Helen also appeared in 'Skyfall'. she also stars in the hit drama 'Peaky Blinders' as Aunt Polly.

What can we say? The inimitable Helena Bonham Carter played the role of Bellatrix to disturbing perfection and played similarly creepy parts in many other movies. To be honest, if Voldy had left her in charge, he probably would have triumphed. Helena was the perfect Madame Thernardier in 'Les Miserables' and also gave a stellar performance as Elizabeth Taylor in a BBC television film.

Shirley Henderson appeared in just a couple of the movies as the ghoul skulking around the toilets. Since then, she voiced the Gruffalo's child in the film of the same name and also starred in 'Soutchliffe', 'Filth' and 'Death In Paradise'.

Since 'Harry Potter' Staunton has voiced Queen Victoria in 'The Pirates! Band of Misfits' and played Knotgrass in 'Maleficent'.