Hidden Mickeys: Disney's Solar Farm Is Unmistakable From The Air
Every Disney fan knows that the company likes to plant hidden Mickeys around its theme parks. From its attractions, hotels and restaurants, the symbol of Mickey Mouse, consisting of three circles for his head and ears, can be spotted throughout.
But while many have hunted for these hidden gems, there's a new addition they might have missed: the one created by Disney World's solar farm in Orlando, Florida.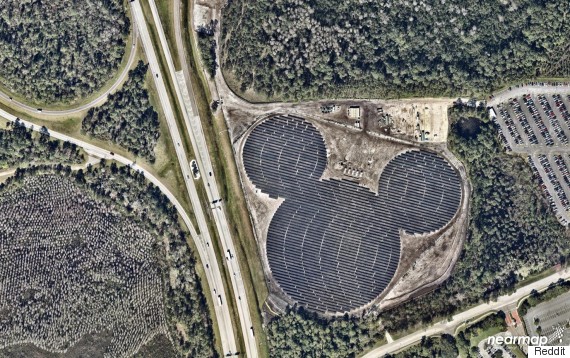 A photo of the hidden Mickey was revealed on Reddit on Thursday. "This is what Disney World's solar farm looks like from the sky," the user wrote.
According to Orlando Sentinel, the solar farm is located near Epcot, the second of the four theme parks at Walt Disney World. Guests entering Epcot pass by the solar panels via World Drive, the road on the left, but of course, the hidden Mickey isn't visible from the ground view.
The ginormous hidden gem, which spans across 20 acres, was a part of a deal between Disney and power company Duke Energy. The 15-year agreement allows Duke Energy to build, own and operate the solar farm on Disney's land. In return, the farm will provide solar power to Walt Disney World.
While some Redditors applauded Disney for having a solar farm, others were more surprised to learn about the large hidden Mickey. "Drive (sic) by this at least 10 times back in January, didn't realize it was a Mickey head," one commenter said. "They were still building it a few weeks ago."
Another wrote: "I love the Hidden Mickeys. My family has always been kind of Disney freaks and when we found out about those about 10 years ago it completely changed our trips."
Although the 20-acre solar farm is a pretty enormous feat, it is not the largest hidden Mickey in existence. The biggest is a 60-acre forest located in Clermont, Florida, just east of U.S. Highway 27.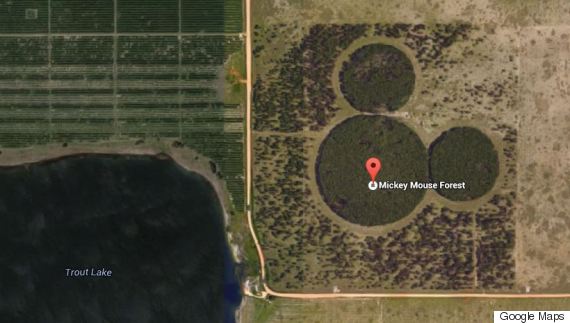 The Mickey Mouse Forest was completed in 1992 and consists of 60,000 trees as part of a reforestation program started by Disney.
If you can't get enough of Disney's hidden Mickeys, flip through the slideshow below to find out where they're hidden in your favourite films.
That spinning wheel in Rapunzel's home is no coincidence! It's a subtle reference to Disney's "Sleeping Beauty."

Does that tea set look familiar? That's because it's Mrs. Potts and Chip from "Beauty and the Beast."

Peg from "Lady and the Tramp" appears in the window of Percy's Pet Shop.

Did you ever notice Beast on the Sultan's tower of toys?

At the wedding of Prince Eric and Vanessa (Ursula in disguise), the King and Grand Duke from "Cinderella" make an unlikely appearance.

Lilo's older sister Nani has a poster of "Mulan" on her bedroom wall.

Funnily, the Chinese restaurant in the film is also named after Mulan.

You've probably seen "Frozen" dozens of times, but have you ever noticed Rapunzel and Flynn from "Tangled" wandering around Arendelle? The two appear very briefly in the film.

Remember this fork in the road? If you look closely, it actually says "Valencia" and "Anaheim." The former is home to California Institute of the Arts where many Disney animators studied, and the latter is home to Disneyland.

In the scene with the Fair Folk, Tinkerbell from "Peter Pan" appears.

Did you ever notice the throw rug in "Hercules" looks oddly similar to Scar from "The Lion King"? That's because it is!

Aladdin's magic carpet and Belle from "Beauty and the Beast" both appear in the scene where Quasimodo sings "Out There."

It's not surprising that Lady and Tramp make an appearance in "101 Dalmatians."

In a brief scene, Hans from "Frozen" can be seen in a "Wanted" ad at the police station.

Remember when Arthur from "The Sword and the Stone" gets turned into a squirrel? Well, somehow he ended up in the "Fox and the Hound" too!

Dumbo certainly is a talented elephant! In "The Great Mouse Detective" he appears as a bubble-blowing toy.

Pumbaa from "The Lion King" appears as a gargoyle in this film.

Pongo from "101 Dalmatians" makes an appearance in NYC while Dodger sings, "Why Should I Worry."

If you look closely, you can see a poster for "The Jungle Book" on the fence.

Here's an Easter egg you likely never noticed before! A photo hanging in Hiro's home shows his cat Mochi dressed up as Stitch. Can't see it? Flip to the next slide.

Hilarious, no?

Aladdin's magic carpet can be seen in the opening of the film.

Ever notice Stitch sitting up on baby Jim Hawkins' shelf?

If you look closely, you'll notice that one of the figures on Oaken's desk looks like Mike Wazowski from "Monsters Inc."

Did you ever notice Dumbo sitting on Lilo's easel?

Bambi and his mother make a short appearance in this film.

Disney's Hidden Mickeys

Mickey's big silhouette is spotted in the shape of the bubbles.

When Rajah is turned back into a life-size tiger, one frame shows him sporting Mickey's iconic nose and ears!

Not only is Mickey spotted here, but Donald and Goofy too!