'Jeopardy!' Can't Take Canadian Applicants Anymore
The answer, for $200.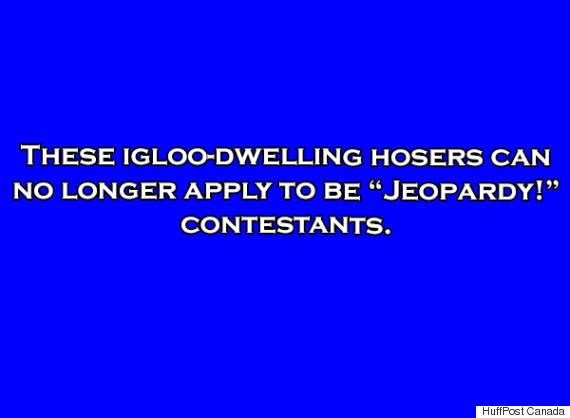 "Who are Canadians?"
"Yes!"
"I'll take 'People Who Just Got Screwed' for $400 please, Alex."
Canadian trivia-nerds everywhere are sure to flip when they find out that they can't apply to compete on "Jeopardy!," the challenging game show hosted by fellow countryman Alex Trebek.
The reason? Canadian privacy laws, apparently.
To play "Jeopardy!," you first have to register, take an online test with 50 questions and then pass an audition to appear on the show.
But if you go to the "Jeopardy!" website, you'll find the following in an FAQ section about being a contestant.
Q: Are Canadians eligible to take the test?

A: At this time we are precluded from accepting registration information from Canadian residents. We are currently evaluating this matter.
It's not entirely clear why. But "Jeopardy!" spokeswoman Alison Shapiro indicated to The Ottawa Citizen that it could have something to do with anti-spam legislation that was passed by Stephen Harper's government in 2014.
"As international laws governing how information is shared over the Internet are ever changing and complex, we are currently investigating how we can accept registrations from potential Canadian contestants," she said in an emailed response.
Trebek himself told Global News and the Citizen that "new rules set down by the Canadian government" have precluded "Jeopardy!" from accepting entrants from the Great White North.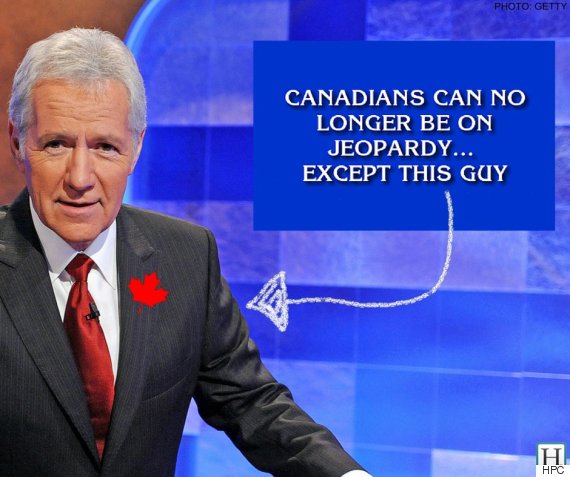 However, he added that contestants remain inside a pool for 18 months, and that seven Canadians have appeared this season. A Canadian will appear on the show Monday, and two more will be at the podia in March.
"We look forward to having more try out as soon as we are sure we can comply with all Canadian online privacy laws," Trebek said.
The anti-spam law restricts the transmission of commercial electronic messages.
The receiver must consent to receiving the message; the party sending it must clearly identify themselves; and those receiving the messages must also have a means of unsubscribing from them.
Internet law expert Michael Geist told Global News it was "strange" the law was being blamed for barring Canadians from competing on "Jeopardy!"
"There is nothing in the law that would preclude Canadians from taking an online test, wherever located," he said. "Indeed, the law is based on obtaining consent."
A person gives their consent when they apply to appear on the show, he added.
Like Us On Facebook

Follow Us On Twitter

Also on HuffPost:
What is cabbage?

What is Swedish?

What is Jelly Belly?

What is calamari?

What are duchess potatoes?

What are taquitos?

What is papaya?

What is cacao?

What is an amphora?

What is Manhattan?

What is Mongolian?

What is Mississippi?

What is Kool-Aid?

What is Red Velvet Cake?

What is Dr. Brown's?

What are mushrooms?

What is Eggs Benedict?

What is an Elberta peach?

What is coconut?

What is lettuce?

What is a wonton?

What is egg?

What is Chile Relleno?

What is noodle?

What are water chestnuts?

What is Hoisin?

What is a sandwich?

What is Bridesmaids?

What are potatoes?

What is the cat's tongue?

What is lychee?

What are almonds?

What is the sole?

What is Derby Pie?

What is a ham?

What is a calzone?

What is a whisk?

What is The Joy Of Cooking?

What is a lime?

What is a corn dog?

What are marshmallows?

What is the Po' Boy?

What are Runts?