a video of cows allegedly being abused
made headlines across the country.
"Our underlying concern with all of this is just whether the Crown is taking this case ... as seriously as it should be," Fricker said. "We had expected there would be some word on charges much sooner."
In June 2014, the B.C. SPCA recommended animal-cruelty charges against Chilliwack Cattle Sales after receiving graphic video of cows being kicked, punched and beaten with rods. In one instance, a cow is hoisted up by a forklift from a chain wrapped around its neck and dragged out of its pen as a worker shouts, "Leave her like that."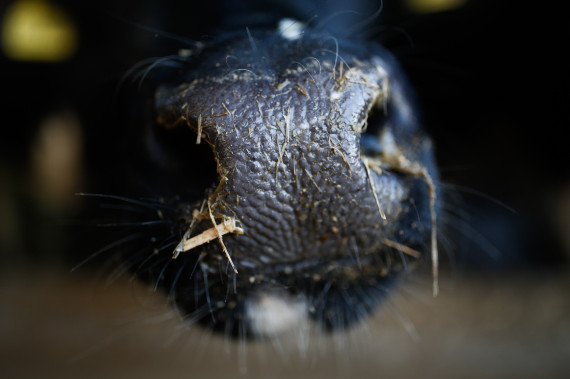 A dairy cow feeds after being milked on a rotary parlour. (Photo: Simon Dawson/Bloomberg via Getty Images)
The footage was collected using secret cameras as part of an undercover operation conducted by the animal-rights activist group Mercy For Animals.
The humane society wrote Attorney General Suzanne Anton late last year inquiring about the delay but Fricker said the organization has received no reply. "While we appreciate that this case may be complex, the extraordinary delay in Crown counsel's response is concerning," read the humane society's letter, signed by executive director Debra Probert. The B.C. Milk Marketing Board announced days after the video went public that it would not accept milk from Chilliwack Cattle Sales until its operations had been independently audited, and that any of the company's milk currently in its possession would be destroyed.
'Horrifying to watch'
The farm's owner, Jeff Kooyman, said at the time the video was "horrifying to watch" and pledged to work with the SPCA on better training for staff. Animal-rights lawyer Anna Pippus was director of legal advocacy with the Canadian branch of Mercy For Animals at the time of the group's investigation and on Thursday called the delay shocking and concerning.
"It would be nice to see this given a real priority by Crown prosecutors."
"This was a very serious crime that was unearthed at Chilliwack Cattle Sales and it would be nice to see this given a real priority by Crown prosecutors," said Pippus, now the director of farmed-animal advocacy at Animal Justice Canada. "It's been a very long time that they've been saying, 'It's just around the corner, it's just around the corner.'" Justice Ministry spokesman Dan McLaughlin said in an email Thursday that a decision from the Crown was forthcoming.

Answer coming next week

"We appreciate that this review has taken longer than what we would normally expect but we anticipate that we will be able to announce a decision on this matter early next week," he wrote. Animal cruelty has become more high profile in B.C. over the past two weeks, with two instances of the province's SPCA raiding dog and cat breeding and boarding facilities. "It will be interesting to see how quickly Crown makes a decision on any charges that are recommended in those cases, which obviously deal with domestic pets," said Fricker of the Vancouver Humane Society. "We would hope that the Crown would not make any differentiation between cruelty to farm animals and cruelty to domestic pets." — Follow @gwomand on Twitter

Also on HuffPost

Animal Cruelty Cases In B.C.

Suggest a correction

VANCOUVER — An animal-rights group in British Columbia is speaking out about a 19-month lag in prosecuting what it calls one of the worst cases of farm-animal cruelty in Canadian history. Peter Fricker of the Vancouver Humane Society said the government has failed to provide a reason for the delay in laying charges against a Fraser Valley dairy farm and eight of its employees after