Quebec Long-Gun Registry Facing Caucus Rifts, New Push From Gun Lobby
MONTREAL — Quebec's bid to create a provincial long-gun registry — seemingly a given not long ago — is being met by grassroots opposition from those who want the government to abandon the initiative.
The province tabled a bill last December aimed at setting up its own log three years after the Conservatives abolished the federal database for non-restricted guns, known as the long-gun registry.
But after unanimity among Quebec lawmakers on the proposal, some politicians are starting to have cold feet.
Caucus rifts
Members of the Parti Quebecois and the Coalition for Quebec's Future have acknowledged caucus strife on the matter and there are reports the governing Liberals have their own divisions. There are even rumblings about a seldom-used free vote on the matter if it the bill gets that far.
The caucus rifts seem centred on a rural-urban divide — one that registry detractors are trying to capitalize on with protests targeting specific riding offices.
Watching eagerly from the sidelines is the national gun lobby, which is admittedly concerned about the repercussions of a Quebec registry.
Canada's National Firearms Association has lent its support to the Quebec movement calling for the bill to be abolished. The group is called 'Tous contre un registre quebecois des armes a feu,' which translates loosely as ''All Against a Quebec Firearms Registry."
"Without registration, you make it a lot easier for guns to fall into the wrong hands because gun owners aren't accountable for their guns.''
"Hunters and sport shooters from all the provinces have their eyes on Quebec,'' said Francis Tenta, a Quebec representative for the National Firearms Association. "If Quebec moves forward with this gun registry, all other provinces will look at it and some may be tempted.''
Guy Morin, vice-president of the Quebec group, says a few donations have come in from Western Canada and that some Ontario gun owners were set to join a weekend protest in Maniwaki, Que.
"They know if it passes in Quebec, they might be next,'' said Morin, who argues there isn't as much support outside Montreal for a registry.
He advocates spending the money on mental health and says Canadian regulations pertaining to the licensing of weapons are sufficient.
"For the past 25 years, people who've favoured a registry and stricter controls have been ignorant about the rules that exist,'' he said. "The money must be invested in the right place. For 25 years they put the focus on the weapon and it was a fiasco (federally), both in terms of money and in terms of registration."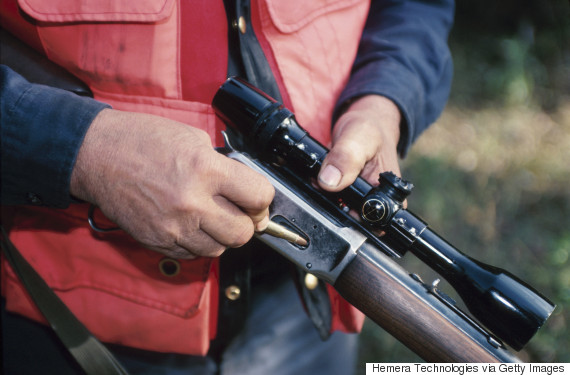 An anti-registry hunter and sport shooter says law-abiding gun enthusiasts feel compelled to take a stand. (Photo: Getty Images)
Gun-control advocates counter that a majority of Quebecers want a registry and that licences aren't enough.
Heidi Rathjen, a spokeswoman for PolyRemembers, says the cornerstone of effective weapons control is to hold gun owners accountable for what they possess.
"You can't have gun control if you're not controlling the guns,'' Rathjen said.
"Without registration, you make it a lot easier for guns to fall into the wrong hands because gun owners aren't accountable for their guns.''
Quebec has often been cast as being more bullish about gun-control legislation than anywhere else in the country, partly because of major mass shootings such as the Montreal Massacre in 1989.
The move to create a provincial registry was lauded by public health organizations, women's groups and law enforcement and Rathjen says there were no signs of cracks.
"I think most of the hunters and sport shooters are fed up being targeted as a threat to public safety."
That said, she isn't surprised by the gun lobby opposition.
"It's the same scenario playing out on the provincial level that played out on the federal level,'' she said.
Gino Marra, an anti-registry hunter and sport shooter, says law-abiding gun enthusiasts feel compelled to take a stand.
"I think most of the hunters and sport shooters are fed up being targeted as a threat to public safety,'' Marra said.
That refrain was heard often during the contentious federal long-gun debate and many elements of that battle are being transposed to Quebec.
Premier 'not at all traumatized' by registering his guns
Opponents argue the registry might end up just as costly as the defunct federal one.
Premier Philippe Couillard's Liberal government says it will cost about $17 million to start and $5 million yearly to operate.
The province fought a protracted legal battle against Ottawa in a bid to preserve the Quebec data from the federal registry, which was eliminated in 2012. It ultimately lost at the Supreme Court.
For his part, Couillard has said he doesn't see what the fuss is all about.
"I have two hunting rifles at my house," said the premier, whose own riding is partly rural. "I'm not at all traumatized by the fact of having to register them."
A petition calling for the bill to be scrapped has garnered more than 36,000 signatures and is expected to presented in mid-March.
—Follow @sidhartha_b on Twitter.
Also On HuffPost:
What Does Gun Registry Bill Do?
We keep hearing about scrapping the long-gun registry, but really what we're talking about is scrapping the requirement for people to register their rifles and shotguns - that's what Bill C-19 aims to do by making amendments to the Criminal Code and Firearms Act. Once passed, people will not have to register their non-restricted or non-prohibited firearms. It also provides for the destruction of existing records in the Canadian Firearms Registry for those firearms. With files from CBC

It's a centralized database overseen by the Royal Canadian Mounted Police that links firearms with their licensed owners. It contains information about all three types of guns that must be registered - non-restricted, restricted and prohibited. (All firearms must be registered.) To register a firearm, you have to have a licence to possess it.

No. Canadian residents need a licence in order to possess and register a firearm or ammunition and that won't change. There are a couple of different kinds of licences because of various changes to laws and regulations over the years.

There are three types of guns under Canadian law: non-restricted, restricted and prohibited. Most common long guns - rifles and shotguns - are non-restricted but there are a few exceptions. A sawed-off shotgun, for example, is a prohibited firearm. A handgun is an example of a restricted firearm. Different regulations apply to different classifications of firearms.

As of September 2011, there were about 7.8 million registered guns. Of those, 7.1 million are non-restricted firearms.

The government says it is wasteful and ineffective at reducing crime and targets law-abiding gun owners instead of criminals, who don't register their firearms.

Police and victims' groups are big supporters of the registry. Police say the database helps them evaluate a potential safety threat when they pull a vehicle over or are called to a residence. They also say it helps support police investigations because the registry can help determine if a gun was stolen, illegally imported, acquired or manufactured. This year, the RCMP says police agencies accessed it on average more than 17,000 times a day.

The government has passed the legislation and the registry no longer exists. Except for in Quebec, where an ongoing court challenge means the owners must still register their guns in the province.

The government is doing this to ensure that no future non-Conservative government can recreate the registry. Public Safety Minister Vic Toews has also made it clear that if any province wants to set up its own registry it would get no help from the federal government. The Conservatives are so fundamentally opposed to the existence of the records, because they say they focus on law-abiding citizens instead of criminals, that they don't want them available for anyone to use.

The registry cost more than $1 billion to set up in 1995 and the cost was the source of much controversy. Public Safety Minister Vic Toews said on Oct. 25 that the government's best estimate is that it costs about $22 million a year to operate. That's the entire registry, not just the long-gun portion, but he noted most of the guns in the registry are long guns. He said he didn't know how much money scrapping the requirement to register long guns would save the government. Conservative MP Candice Hoeppner says there are also "hidden costs" that are borne by provincial and municipal police agencies to enforce the registry.