Nova Scotia Uber And Airbnb Regulation May Be On Its Way. Maybe.
HALIFAX — The Nova Scotia government is studying how best to react to Uber, Airbnb and other "disruptive technologies" without driving away the tourists who have come to rely on them.
Tourism Nova Scotia acting CEO Martha Stevens told a legislature committee Wednesday that the government wants to better understand the impact of the sharing economy, with particular emphasis on Airbnb, and try to learn from the experiences of other jurisdictions.
She said in an interview the government may decide to regulate — but it also may not.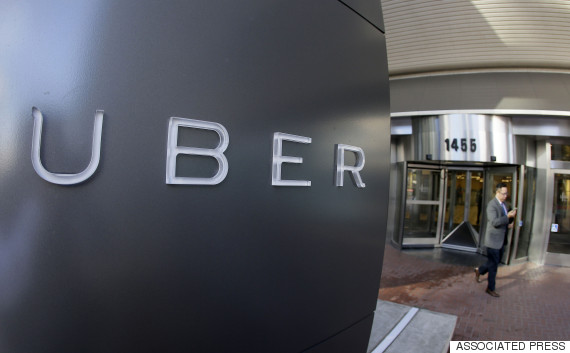 In this Dec. 16, 2015, file photo, a man leaves the headquarters of Uber in San Francisco.
"Our work has just really started ... and we don't want to presume there will be further regulation," said Stevens.
She acknowledged there is a tension between the Crown corporation's hospitality industry partners, who resent the intrusion of unregulated Airbnb rentals, and tourists who embrace the savings associated with a private rental.
Nova Scotia is aiming to double tourism industry revenues from about $2 billion in 2014 to $4 billion by 2024, and Stevens said the government does not want to jeopardize that goal.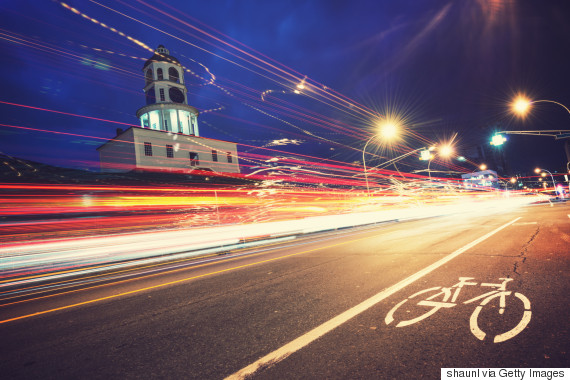 Traffic whizzes by Halifax's Old Town Clock on Brunswick Street.
"It's still only early days, but we want to make sure we're doing the right things for visitors to Nova Scotia, but also for businesses that are operating here today," said Stevens.
"This is not going away, and we want to understand and enhance some of the new technologies because consumers are demanding it."
Last month, Ontario launched a pilot project with Airbnb that will see the home-sharing service tell its 11,000 hosts in the province to pay their taxes. Finance Minister Charles Sousa said the "voluntary" goal is to get Airbnb to comply with Ontario's laws and regulations.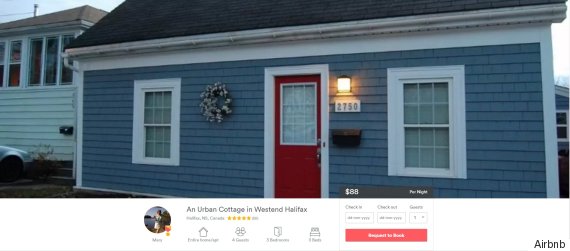 An Airbnb listing in Halifax, N.S.
Sousa said Ontario wants to embrace the sharing economy, but he admits the changes enabled by technology are disrupting existing business models, such as traditional hotels who say they're losing money to Airbnb. He said the Liberal government believes the sharing economy has "significant potential to create jobs and drive growth, productivity and innovation."
The Nova Scotia study is being conducted by Fred Morley, who has been seconded to the Crown corporation from his usual gig as chief economist of the province's Office of Regulatory Affairs and Service Effectiveness.
He is to report back regularly to Tourism Nova Scotia's board, said Stevens.
Also on HuffPost:
Airbnb's 16 Neighbourhoods to Visit in 2016
Not known as a particularly touristy place, this is a central Buenos Aires neighbourhood not far from the more popular Monserrat and San Telmo areas.

A diverse area with food offerings from various countries such as Greece and Vietnam. Cyclists can regularly be seen riding alongside the Yarra River, while rowers heave on its surface. There's also plenty of art throughout the area.

Sit back and relax to the sound of the waves in the Bukit Peninsula. Surfers flock to this locale, where you can find incredible beaches and even a temple that hangs on a cliff.

Not to be confused with "District 9," this Budapest neighbourhood is known as the city's old Jewish quarter. It underwent a change early into the millennium, as old buildings were turned into "ruin bars." The area now plays host to lots of great cafes and places to drink craft beer.

This Atlanta neighbourhood plays host to Druid Hills Baptist Church, a facility that's almost 90 years old, as well as the Beltline Trail, a pedestrian area that also displays plenty of art.

Running. Cycling. Dancing. Oak Lawn has it all. Its Katy Trail is lit 24 hours a day for bikers and joggers, and you can cool off at the Katy Trail Ice House, which is considered one of the city's best patios. Or you can unwind by listening to free music in Klyde Warren Park every Thursday.

One part of the "Colonia Roma," "Roma Sur" is now considered its own neighbourhood, and it's a great place to stay if you want to feel like you live there. There are plenty of family-run coffee shops, or you can grab lunch with the youngsters that frequent Mercado Medellín. There's also an independent cinema, Cine Tonal, which, along with movies, has a strong selection of mezcal, an alcoholic drink made from a Mexican plant.

Meireles is an up-and-coming neighbourhood in the coastal city of Fortaleza, where there are lots of beaches and nearby fishing villages you can reach by boat. Hosts have recommended that visitors buy hammocks at Redes Santa Luzia, and to have a great churrasco-style lunch at Gheller.

It takes a journey through the jungle to arrive at Kaneohe, and it's worth it. This Oahu neighbourhood boasts beaches and hikes such as Friendship Gardens, which take you to a ridge with gorgeous views.

Once known as "Little Venice" due to its canals, this Hamburg neighbourhood is now known as "Hammerbrooklyn," an area where old and and new buildings don't clash, but stand pleasantly alongside one another. The glass Berliner Bogen is a particular attraction you'll find here.

Bullfighting. Flamenco. Both things for which Spain is known. And both can be found in Triana, an area of Sevilla (or Seville) in southern Spain. It has cobbled streets and a great market in the Mercado de Triana, where you can enjoy delicious tapas at various bars.

Sitting close to the Acropolis, the Koukaki neighbourhood has ancient features, but it also plays host to two pedestrian streets that were built recently. Bars and restaurants have since sprung up in the area, making a great place to take a stroll.

"The belly of Bordeaux" is so-named for its food selections. Airbnb recommends visiting La Boulangerie for almond pastries and baguettes, while oysters and other great dishes can be found at the Marche des Capucins. Walk it off with a stroll through squares such as Camille Julian, St Colombe or the Palace Square.

Brickfields, also known as "Little India," is seeing developments that will usher condos, a shopping centre and more into the area. It's a place where you can find Indian clothing stores and restaurants, and fill up on dishes such as curry puffs and banana leaf rice. Don't forget to fold the leaf toward yourself to signal that you're finished.

One of Banglampoo's most prominent features is the Khaosan Road, known worldwide for its bars and marketplace. But the neighbourhood has more than that, like noodle places operated out of apartment buildings and temples hidden from the main street.

This area is home to Osaka Castle, which was built by a 16th-century warlord, and much more. Chūō-ku's Kuromon Market is known as "Gastronome," thanks to a bevy of fresh food you can nosh on there. But the neighbourhood has also seen bars and restaurants spring up along its alleys. In other words, Chūō-ku is a great place to visit on an empty stomach.