Ontario Rental Rates Show How Much Easier It Is To Rent In Smaller Communities
You often hear how expensive it is to rent in big cities.
So why not consider a small town? The move would give much more bang for its buck, according to this Rentseeker infographic.
The chart shows what it takes to rent in different cities across Ontario, comparing them to prices in Toronto.
Click for full size.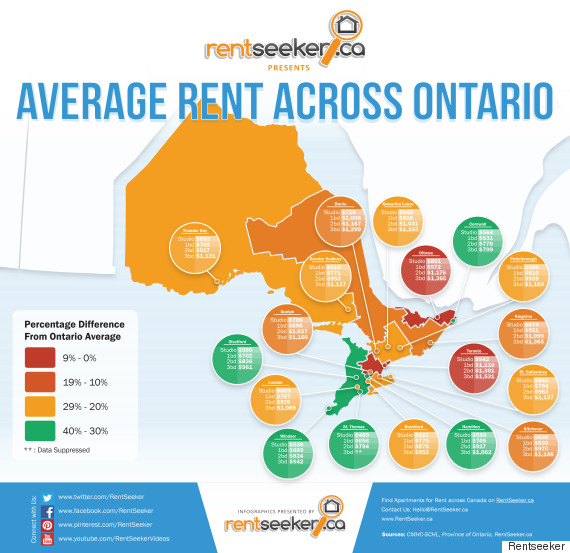 Each is broken down for how much it costs to rent a studio apartment, a one-bedroom unit, a two-bedroom, or a three-bedroom.
Toronto is the most expensive place on the infographic, topping every other city in every single category.
Renting a studio apartment costs $942 per month in the 6ix, while a one-bedroom costs $1,110, a two-bedroom $1,301 and a three-bedroom $1,531.
At the other end of the spectrum, St. Thomas was the cheapest place to rent. There, you can rent a studio for $489, a one-bedroom for $656, and a two-bedroom for $794. There was no data available for three-bedroom units.
In December, Rentseeker produced this infographic, showing rents across Canada.
Click for full size.

Like Us On Facebook

Follow Us On Twitter

Also on HuffPost:
Weird Things Seen By Real Estate Agents
"At my open house, the male neighbour next door [was] tanning nude in the backyard. Not discovered until we stepped into the back deck and....well...then there was nothing left to discover." — Phil, a top agent on the North Shore

"When selling my own home, I cleaned thoroughly only to return — post-showing — to my nail clippers out and a stranger's nails in my sink." — Jack Bernard, Vancouver

"In a developer's presentation centre, a buyer used the display bathroom — which had an open ceiling to the centre — for number two. He struggled and was audibly not enjoying it." — Jack Bernard, Vancouver

"One of my agents and I were out with buyers showing them a number of investment properties in my previous market of Sarasota, Florida. Upon entering one 'handyman special,' we were greeted by animal bones and odd markings. Once we got to the living room, we discovered that someone had broken into the home and performed voodoo ceremonies — complete with altar, stones, voodoo dolls, and more bones. Needless to say, the buyer passed on that particular investment." — Bret Calltharp, business development Specialist for Metro Vancouver Properties (RE/MAX)

"People that lift up toilet seats to look under them. What do they expect to see?" — Shawn Anderson, RE/MAX, Vancouver

"The couple next door with the curtains open while enjoying each other vigorously. The buyers thought it nice that people got along in the neighbourhood, but that perhaps (as proven) it might be a bit loud for them and their children." — Phil, a top agent on the North Shore

"A ghost." — Angie, Metro Vancouver realtor

"One seller's decor had coffee cups on everything, including curtains, cupboards, and each individual tile. On our second meeting, I brought them coffee, but they turned it down — as they don't drink coffee." — Jack Bernard, Vancouver

"On occasion (though not recommended), it's OK when people leave a very small, friendly, and cute dog home while having an open house. However, as I was walking a couple through the home, the fluffy little dear decided to show her disapproval on the living room carpet as we entered the room. Clearly, she was not ready to move." — Phil, a top agent on the North Shore

"I was on tour with some buyers in West Van. The listing realtor, who was related to the seller, met us at the property to unlock. He told us to go in and he'd be out in the garden making some calls. The house appeared almost vacant, just a few pieces of furniture around. We went upstairs into one of the bedrooms and turned the lights on — there was an elderly woman sleeping in the bed. My client screamed at the top of her lungs and then the woman in bed started screaming too. My client was so shocked she ran all the way out and got back in the car. I asked the other realtor why he didn't mention someone was there, he said he didn't think we'd notice his tiny Gramma sleeping and she's a deep sleeper so didn't think she'd notice us...wrong!" — Ian Eggleton, Re/Max, North Shore and Downtown Vancouver

"A buyer and I went to a 400 sq.-ft. studio near Collingwood. We arrived early to familiarize ourselves with the area and waited outside for the listing agent. The broker ran awkwardly up to the home and rushed to the elevator and hurried us up to the suite. Once inside he immediately ducked into the bathroom. Due to the small size, the buyer and I finished our viewing in a few moments. There was a long and uncomfortable few minutes where we sat in silence waiting for the listing broker to finish up. We heard an exasperated sigh and flush, he leaned out of the bathroom and said quite excitedly 'Hey, you guys have to come check out these renovations in here!' A quick no thanks, a lot of laughter and we avoided the amenity viewing and decided to move on. One of my more memorable showings and one we still laugh about." — Jack Bernard, Vancouver

NEXT: Most Expensive Houses In Vancouver, December 2014

This gorgeous 11,081 sq.-ft. mansion, sitting on a 36,216 sq.-ft. lot, will set you back $14.98 million. Some of the highlights include a grand foyer that opens up onto a patio and balcony, and an indoor pool room with rock-faced walls. Oh yes.

This First Shaughnessy Estate is near schools like Shaughnessy Elem School, York House, and Little Flower Academy. It can be yours for just $15.6 million.

This house has everything! You will never want to leave. It has an indoor pool, a full production media room, and even an elevator. Have an extra $15.98 million?

Why pay $12 for the movies when you can watch one in your very own home theatre?

This character house features four bedrooms and four-and-a-half bathrooms, plus an beautiful open layout. The stunning home costs $16.8 million.

This house features over 6,600 sq.-ft. of space including six bedrooms, a large living room, a dining room, a game room, and a conservatory. All yours for $16.8 million.

Built in 1990, this 10,984 sq.-ft. space has nine bedrooms and is placed on a huge 28,924 sq.-ft. lot. Buyer(s) of the home get a view of the ocean and mountains. The house also features a grand tw- storey foyer with crystal chandelier and dome skylight ceiling. Talk about fancy! It'll just cost you about $17.8 million.

A game room, rec room with a wet bar, and a tennis court? What more could you want? This home also includes a grand foyer with about a 20-foot high ceiling and a spiral staircase, as well as a total of nine bedrooms, including two masters. Listing price is $18.68 million.

For just $19.88 million one lucky buyer can feel like a king in this mansion. This home has eight bedrooms, seven-and-a-half bathrooms, and a grand foyer with a high ceiling. For any families concerned about their children's future, no worries, it's close to a bunch of schools.

Although based on this picture, the house doesn't look all too great compared to the others. It costs a whopping $21.8 million, but this picture does not do it justice. Keep clicking.

This beautiful home has a lot to offer. The house is wonderfully furnished, plus has an indoor pool, six bedrooms, and nine bathrooms.