'If I Go Missing': An Indigenous Teen's Letter To Police Chief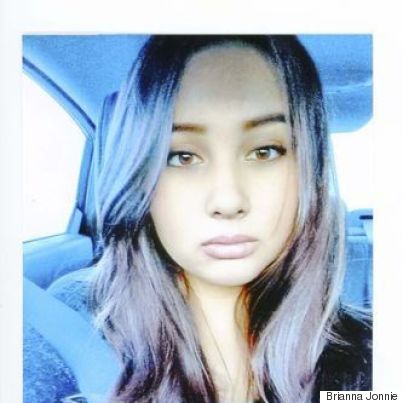 Brianna Jonnie wants change. The 14-year-old student is bothered by how Indigenous women are treated if they go missing in her home of Winnipeg. So she decided to speak up in the form of a startling letter to the city's chief of police, which includes instructions on what to do if she goes missing.
"If I go missing and the [Winnipeg Police Service] has not changed the behaviours I have brought to your attention, I beg of you, do not treat me as the Indigenous person I am proud to be," Jonnie wrote in her two-page letter to Chief Devon Clunis.
"My mom needs me, and I want to have my future. And if I do go missing and my body is found, please tell my mom you are sorry. Tell her I asked to be buried in my red dress, for I will have become just another native statistic."
"If I do go missing and my body is found, please tell my mom you are sorry."
To illustrate her concerns, Jonnie pointed to recent examples of missing Aboriginal women in Winnipeg and how differently their cases were treated.
"Tina Fontaine was reported missing on August 9, 2014. According to media, a WPS request for the public's help was submitted August 13th. Nora Leah Rae was reported missing on August 6, 2014 and the WPS appealed for help on August 22nd. Jaylene Amos was reported missing on January 4, 2016 and a request for help was issued on January 15th," she wrote.
"Cooper Nemeth however, had his image in the paper the next day; Thelma Krull was in online reports less than 24 hours after her disappearance and Alissa Voetberg, the next day."
"It teaches the boys and men who discard girls in rivers, beat them in back lanes and drug them at parties that indigenous girls' lives don't matter — they won't be missed. No one will look for them... It teaches me my life does not matter."
'Provide details that humanize me'
She informed the chief: "The colour of one's skin, their socio-economic status, or whom their legal guardian is, should not determine the level of assistance and resources put in place to find them if they are missing and yet, it does."
"I am not involved in drugs, alcohol, prostitution or other illegal activity... I am not a runaway, nor am I involved with Child and Family Services... Provide details that humanize me, not just the colour of my hair, my height and my ethnicity."
Clunis is away and has not responded to the letter. However, Winnipeg police spokesman Const. Jason Michalyshen told the Winnipeg Free Press: "It's an incredibly compelling letter, and it brings up a lot of great questions. It is quite amazing to see such a young person have passion for her community... It also shows that maybe we need to do a better job of educating the public about why certain investigations unfold the way they do."
The way forward
Jonnie would like to see more than that. In an interview with the CBC, she said that all missing people should be treated the same: "In the future I'd encourage people to not look at who the person that went missing might have been. I'd want them to look at just, 'This is a person, they went missing and we need to look for them.'"
Jonnie also sent copies of the letter to Premier Greg Selinger, Justice Minister Gord Mackintosh, Family Services Minister Kerri Irvin-Ross, Aboriginal and Northern Affairs Minister Eric Robinson and Winnipeg's Mayor Brian Bowman.
Her mom, Amanda McCormick, is proud of Jonnie. She told the CBC: "Maybe after reading her letter … maybe people will start to speak differently when they hear of an indigenous girl who's missing, and they won't just recognize her as indigenous; and they won't just recognize her as another runaway. They'll recognize her as human."
Also on HuffPost:
Aboriginal Concerns In Canada
Aboriginal people are more likely to feel depressed than other Canadians, due to several factors that may include poverty, loss of cultural identity, inadequate health care and more. From 2004 to 2008, the suicide rate among children and teens living in the Inuit homelands was 30 times higher than youth in the rest of Canada, according to the Canadian Press. Several Indigenous communities have also voiced concerns over struggles with addiction. In April, Cat Lake leaders estimated around 70 and 80 per cent of its adults relied on oxycodone-based pain killers, for example.

Roughly one-third of Metis kids and 37 per cent of First Nations children between ages six and eight are obese, according to a 2012 National Aboriginal Health Organization report. As a result of unhealthy habits, aboriginals in Canada are coping with what the Heart and Stroke Foundation called a "full-blown cardiovascular crisis" in 2010. And poor diet, combined with insufficient physical activity, has led to First Nations girls facing higher diabetes rates than other children in Saskatchewan. Poor access to health care has long plagued aboriginal communities, who are now coping with budget cuts to the National Aboriginal Health Organization (NAHO) and the Native Women's Association of Canada's (NWAC) despite increased funding in other areas. Natives march on Portage Ave. towards the Health and Welfare main office located on Main St. Friday morning in Winnipeg to protest cutbacks on Native health care.

The Native Women's Association of Canada has documented 582 cases of murdered or missing aboriginal women in Canada as of 2010. Those women make up about 10 per cent of female homicides in Canada. Others estimate the number of missing or murdered women and children over the last 10 years could reach as high at 3,000. Ontario Aboriginal Affairs Minister Kathleen Wynne attributed the problem to police enforcement problems and social issues, although apathy also remains a major stumbling block. Carol Martin wipes away a tear as she attends a Sisters in Spirit vigil held to honour the lives of missing and murdered aboriginal women in Vancouver, B.C., on Sunday October 4, 2009. Vigils were held in dozens of communities across Canada to highlight the issue of murdered aboriginal women and girls.

As Western provinces pursue natural resource development, aboriginal representatives demand a say. "It's important that First Nations not simply be an afterthought," Shawn Atleo, national chief of the Assembly of First Nations, said. Respecting aboriginal rights, in addition to providing information and opportunities, remain sticking points in oil projects, CBC said. And still, groups remain torn on some projects, such as the Northern Gateway pipeline, which some say will bring prosperity, while others believe will have devastating effects on the land. Aboriginal groups have also raised concerns over their roles in hydro and mining projects around Canada.

After a detrimental history of residential schools resulting in mental and physical damages, Canada's aboriginal communities still struggle with education. As of 2006, 40 per cent of aboriginals aged 20-24 hadn't earned a high school diploma, compared with 13 per cent of non-Aboriginals. A national panel supported by the Assembly of First Nations and the federal government has drawn attention to a lack of funding for First Nations education. In the 2012 budget, the federal government pledged $275 over three years for First Nations education, although many consider it inadequate -- especially as Aboriginal Affairs' budget is trimmed. Some also attribute the education gap to factors such as living conditions and geographic isolation. Statistics Canada said the causes of a high aboriginal high school dropout rate are largely unresearched, but may include household income, nutrition and parents' level of education.

NDP MP Charlie Angus' HuffPost Canada blog drew attention to Attawapiskat's state of emergency regarding inadequate shelter, and a lack of running water and electricity. Other First Nations communities experience similar problems, National Chief of the Assembly of First Nations Shawn Atleo noted. "These conditions are right across the country. We have many Attawapiskats," he said. The issue also raised questions over how communities should efficiently spend government funds, how to fix Canada's infrastructure gap, as well as Attawapiskat's capacity for self-determination.